Nix Biosensors CEO, Meridith Cass, Named to Inc.'s 2023 Female Founder 200 List
April 4, 2023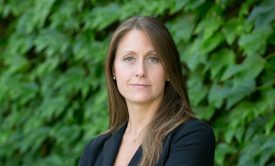 Cass's entrepreneurial leadership at the hydration biosensor company is recognized for making a significant impact in the industry.
BOSTON, MASS — APRIL 4, 2023  /ENDURANCE SPORTSWIRE/ – Inc. today announced its sixth annual Female Founders list, honoring an outstanding group of 200 leaders whose innovations and leadership are creating positive change in the world. The founders cross all industries and bring with them unique stories of success from each stage of the entrepreneurial journey.
Nix Biosensors, the leading consumer hydration biosensor company, is honored to announce the inclusion of CEO, Meridith Cass, to this list of dynamic women. Cass founded Nix with the mission to change the way we practice healthcare by providing new tools to help consumers access, understand, and act on their personal biology outside traditional settings of healthcare. Under her leadership, the company has developed its first product – a revolutionary biosensor and corresponding software app that measures hydration levels in real-time, helping athletes, soldiers, and laborers monitor their hydration needs and avoid the negative effects of dehydration. The Nix Hydration Biosensor launched last December.
Cass is thrilled to be included in this group of accomplished female entrepreneurs and sees it as a testament to Nix's dedication to improving health and wellness through innovative technology. "I am honored to be named to the Inc. Female Founders 200 list alongside so many inspiring women," said Cass. "This recognition is a reflection of the hard work and dedication of the entire Nix team who are committed to empowering people with the tools they need to optimize their health and wellness."
Cass is a graduate of Bryn Mawr College, where she received the Anna Pell Wheeler Prize in Mathematics, a Harvard Business School graduate, a Kauffman Fellow, and a Harvard Business School Blavatnik Fellow. Prior to starting Nix, Cass worked with several Boston and New York based venture capital firms in the creation of seven life science and consumer portfolio companies, leveraging a venture creation model. She is a former collegiate basketball player-turned-runner and has run nine marathons including all of the World Majors. Cass is a staunch believer that truly disruptive innovation in healthcare will be driven by highly personalized data in the hands of the consumer, and that this model has the power to transform today's sick-care system into a practice of proactive health care.
Each year, Inc.editors review thousands of applications highlighting female founders who are challenging the status quo and tackling some of the world's biggest problems. The list features women who have overcome challenges and lifted those around them, while leading impactful organizations across the country. They join the ranks of previous honorees including Jessica Alba, Tracee Ellis Ross, Rihanna, and Shonda Rhimes.
"These 200 female founders have identified solutions to difficult problems and created valuable, industry-changing companies out of them. We congratulate this year's list on their achievements and look forward to their continued success," says Inc. editor-in-chief Scott Omelianuk.
To see the complete list, go to: https://www.inc.com/female-founders
About Nix
Nix is changing the way humans manage health by empowering consumers to access, understand, and act on their personal biology in real time. Nix's first consumer product is a sweat patch that provides athletes, soldiers, and laborers with hydration data in real-time, helping them optimize safety and performance. Headquartered in Boston, Mass., Nix is led by Founder and CEO Meridith Cass, a graduate of Harvard Business School, former VC, and 9-time marathoner. Advisors include Tom Fowler, Former President of Polar; Dr. Bob Murray, Founder and former Director of the Gatorade Sports Science Institute, and Tatyana McFadden, the 5x Olympian and 17x Medalist. Learn more at nixbiosensors.com.
About Inc.
The world's most trusted business-media brand, Inc. offers entrepreneurs the knowledge, tools, connections, and community to build great companies. Its award-winning, multiplatform content reaches more than 50 million people each month across a variety of channels, including websites, newsletters, social media, podcasts, and print. Its prestigious Inc. 5000 list, produced every year since 1982, analyzes company data to recognize the fastest-growing privately held business in the United States. The global recognition that comes with inclusion among the 5000 gives the founders of the best businesses an opportunity to engage with an exclusive community of their peers, and the credibility that helps them drive sales and recruit talent. The associated Inc. 5000 Conference is part of a highly acclaimed portfolio of bespoke events produced by Inc. For more information, visit www.inc.com.
​​Media Contact
Mackenzie Lynch
360.319.3833‬