Monterrey, Mexico hosts GFNY Latin American Championship
February 22, 2018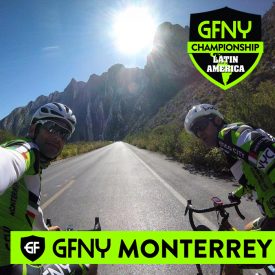 GFNY goes to Mexico this Sunday, February 25 where riders will compete for the GFNY Latin American Championship Crowns in Monterrey
NEW YORK CITY, February 22, 2018 – The GFNY Latin American Championship 2018 will be held at the inaugural GFNY Monterrey this Sunday, February 25th.
The excitement of cyclists arriving in Monterrey for the inaugural GFNY Monterrey on Sunday has reached a fever pitch. The 2018 GFNY Latin American Championship will field 1500 riders from 25 nations. The Championship course in Monterrey, Mexico will start from the famous Cintermex and race through downtown Monterrey before heading north towards Chipinque Park, where the challenging climbing begins.
The long distance route of 126km has 1711 meters of climbing. A 7km climb to the top of Chipinque will be fully closed to the public as GFNY competitors navigate switchback roads and inclines up to 19%. There is a 105km non-competitive medium route available that will not climb up to the top of Chipinque.
Compared to the 10% of finishers in each age group qualifying for the racer corral like at most GFNY World races, the GFNY Latin American Championship at GFNY Monterrey will offer double the spots: top 20% of age group finishers of the long route will qualify for the Racer Corral at the 2018 Campagnolo GFNY World Championship in NYC on May 20th.
"The GFNY Monterrey course is Championship-worthy, with a very challenging, famous climb, but also showcases the beautiful landscape Monterrey has to offer.," said Lidia Fluhme, President and co-founder of GFNY. "Monterrey is an exciting metropolis that is a major tourism attraction not just for cycling but also entertainment, an ideal mix for being the host of the 2018 GFNY Latin American Championship."
Monterrey is Mexico's third largest city and offers a variety of outdoor adventures, boutique restaurants, nightlife and world-class museums – the perfect opportunity for families to travel together and enjoy a vacation before and after the race.
About GFNY
GFNY is the global cycling marathon brand with events held in NYC, Bali-Indonesia, Brazil, Chile, Colombia, Costa Rica, Germany, Samosir-Indonesia, Italy, Jerusalem-Israel, Cozumel-Mexico, Monterrey-Mexico, Panama, Poland and Uruguay.
Riders get to BE A PRO FOR A DAY by competing against others, themselves and the clock in a personal endurance challenge.
At all GFNY events, riders have the chance to qualify for the elite racer corral at the GFNY World Championship in NYC by placing in the top 10% (20% at regional championships) of their age group.
Campagnolo GFNY World Championship NYC
The 8th annual Campagnolo GFNY World Championship New York will be held on May 20, 2018. The race features the world's most international peloton with riders from over 90 countries. Athletes take on a challenging 100-mile route from NYC to Bear Mountain to Fort Lee to compete against each other, the clock and themselves in a personal endurance challenge.
The official GFNY website is: www.gfny.com.
GFNY World 2018 calendar
25 February GFNY LATIN AMERICA CHAMPIONSHIP MONTERREY
18 March GFNY COLOMBIA
18 March GFNY URUGUAY
22 April GFNY COSTA RICA
27 April GFNY MIDDLE EAST-AFRICA CHAMPIONSHIP JERUSALEM 
20 May GFNY WORLD CHAMPIONSHIP NYC
27 May GFNY POLSKA-GDYNIA
5 August GFNY BRASIL
2 September GFNY EUROPE CHAMPIONSHIP DEUTSCHLAND 
2 September GFNY ASIA CHAMPIONSHIP INDONESIA-SAMOSIR
9 September GFNY PORTUGAL
21 October GFNY PANAMA
11 November GFNY COZUMEL-MEXICO 
25 November GFNY CHILE
Further Material for Media Use
GFNY World calendar graphic: here
Previous GFNY press releases: here
GFNY photo archive (credit SPORTOGRAF): here
Media Contact
Gran Fondo New York Inc.
Uli Fluhme
Phone: +1.212.933.4033
Email address:  uli@gfny.com