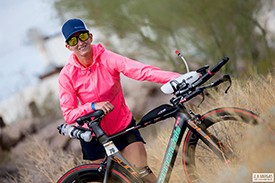 7x IRONMAN Champion will inspire athletes at 2014 IRONMAN® ARIZONA
POTOMAC FALLS, Virginia—RaceQuest, a travel company focused exclusively on the training and race travel needs of endurance sports athletes, is offering race entries and all-inclusive travel support for IRONMAN Arizona on November 16, featuring 6-Time IRONMAN Champion, Meredith Kessler, as special guest pro triathlete and course guide.
Athletes who purchase a race entry travel package with RaceQuest receive a host of amenities such as race entry, ground transportation, welcome dinner, daily full breakfast, bike mechanic services from "SAGMonkey" Nick Nicastro, race course previews, 4-nights of convenient accommodations, bike and gear retrieval after the race, and the celebrated race concierge service RaceQuest Travel is known for.
Backstage Pass: Spend Race Week with Meredith Kessler
Completing this amazing experience, athletes and their guests will enjoy insights and course previews from perennial IRONMAN Arizona contender, Meredith Kessler. Kessler will also attend the RaceQuest welcome dinner and provide race tips and encouragement to athletes throughout race week.
"I'm so honored to be involved with RaceQuest Travel and to be the special guest pro triathlete for IRONMAN® Arizona. I know it's going to be a huge success, and I can't wait to be part of it all," said Kessler.
RaceQuest Travel's "backstage pass" approach to race travel is designed to be a small group experience, allowing clients to prepare for their event under the wing of world-class professionals. Clients and guests receive a level of personal service and access to professional athletes that is unprecedented in the industry.
"Our team works incredibly hard to create the best possible atmosphere for athletes racing an event like IRONMAN Arizona. We could not have partnered with a more knowledgeable pro triathlete for this race than Meredith Kessler. Her years of experience racing in Tempe and her limitless enthusiasm will make for a race week to remember for our athletes and guests. We're thrilled to be working with Meredith and supporting her in Arizona," said Kelli Eldridge, RaceQuest Co-Founder and Director of Marketing.
A limited number of race entry travel packages are now available for the 2014 event. Packages may be reserved with an initial $1,000 deposit by visiting the IRONMAN® Arizona section at www.race-quest.com.
Training Camps, Race Week Support, and Global Endurance Events
RaceQuest Travel also offers race entry travel packages to this year's sold-out IRONMAN® Florida, featuring former Florida champions, Jessica Jacobs and Andrew Starykowicz. The company also offers a race week package to Challenge Family's Atlantic City event in June and the largest long distance triathlon in the world, Challenge Roth. Details can be found at www.race-quest.com.
Upcoming RaceQuest training camps include a Challenge Family Atlantic City prep camp with Chris "Macca" McCormack in June, the Lake Tahoe Women's Triathlon Camp with Jessica Jacobs, also in June, plus camps featuring Chris "Big Sexy" McDonald and Andrew Starykowicz.
Endurance running events for the 2014-15 RaceQuest season include the Coastal Challenge Endurance Run (Costa Rica), and exotic, 6-day stage races in Bhutan and Cambodia. Additional races and special events will be announced for 2015 in the coming weeks.
About RaceQuest
RaceQuest was founded by triathletes Krista Baker-Scheyer, Kelli Eldridge and Scott Coey with the purpose of providing exceptional training and race travel experiences tailored to the endurance sports athlete. The RaceQuest travel team combines years of experience traveling, racing and supporting athletes of every skill level around the globe to deliver world-class travel services. Learn more about the singular focus and passion that drives everyone at RaceQuest at http://race-quest.sqsp.com/who-we-are/. 
Media Requests
For media inquiries, interview requests, and/or media credentials for any RaceQuest event, please contact Krista Baker-Scheyer or Kelli Eldridge at racequesttravel@gmail.com or 703.623.5494.
Connect with RaceQuest:
Twitter: @RaceQuestTravel
Facebook: Race Quest Travel
Online: www.race-quest.com
Email: racequesttravel@gmail.com 
###