Matt Downin Joins RunSignup as Vice President of Business Development
October 24, 2023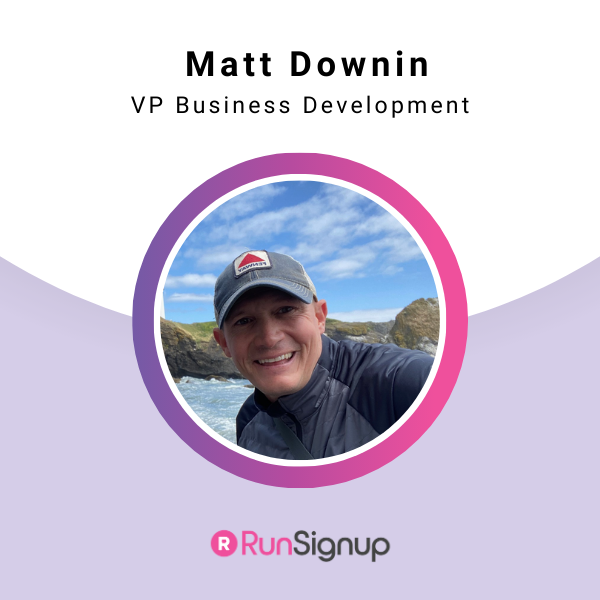 Moorestown, NJ – October 24, 2023 /ENDURANCE SPORTSWIRE/ – RunSignup, the leading registration and technology provider for endurance events in the United States, is pleased to announce the newest addition to their team, Matt Downin, as Vice President of Business Development. Downin will apply his extensive background in the endurance industry to foster relationships with large scale timing and event management companies.
With an impressive career deeply rooted in the running and endurance events industry, Downin brings extensive knowledge and experience to RunSignup. He has worked with well-known organizations such as ChronoTrack/BazuSports/LifeTime Fitness and EnMotive, accumulating more than 15 years of experience in selling, supporting, marketing, and building software and hardware in the endurance event sector.
In his new position as Vice President of Business Development at RunSignup, Downin will play a pivotal role working with existing and new customers. He will concentrate his efforts on the needs of large scale timing and event management companies and will help to optimize their use of RunSignup's broad and advanced technology offerings.
Matt Downin shared his enthusiasm with joining RunSignup, saying, "I am excited to meet new people, learn new technology, and apply that technology to helping great events get even better. I've always admired the RunSignup products, and I can't wait to roll up my sleeves and help customers use them to their fullest extent."
Before venturing into the world of business development, Matt Downin had a remarkable career as a high school, collegiate and professional runner. He was a repeat state champion in high school and ran on a powerhouse Wisconsin team in college. His professional achievements include being the first American at the 2006 New York City Marathon and qualifying for two World Cross Country Championships.
"We are delighted to welcome Matt Downin to RunSignup as a Vice President of Business Development, even if his 10K time is a minute faster than my PR. I always liked his direct, hands-on style when we talked at various conferences and knew he would be a good fit for our company. He's got the experience that can meaningfully help our customers," said Bob Bickel, Founder and CEO of RunSignup.
RunSignup's robust line of technology built for the endurance industry encompasses its RaceDay Suite of products that is uniquely designed for the specific needs of timers and event management organizations.
These include:
RaceDay Scoring
RaceDay Registration
RaceDay CheckIn App (participant and volunteer check-in management system)
Bib Management
RaceDay Results
RaceJoy (participant tracking mobile app)
RaceDay Photos
These combined with its core platform of advanced registration technology, marketing tools, merchandise sales, and ticketing technology provide a complete offering for creating a competitive advantage for large scale timers and event management organizations in the endurance space.
About RunSignup
RunSignup, an employee owned company, is the leading event solution delivering the art of technology to endurance events and nonprofits. More than 28,000 events use our free and open platform to register 8 million annual participants, raise more than $2 Billion and grow their events. Our expertly crafted, open and all-in-one solution powers event revenue generation and supporter engagement through flexible registration, free event websites, free email marketing, integrated fundraising, and a suite of RaceDay tools. No subscriptions, no plans, no monthly fees.
To find out why customers like the Richmond Marathon, American Cancer Society, Vacation Races, and RaceDay Events use RunSignup, visit www.runsignup.com.
###