Mascot Sports' Relaunch of Oaktown Half Ignites Community With Expanded Format
August 16, 2018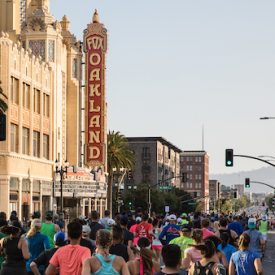 The 2018 edition of the Oaktown Half Marathon weekend included a first-ever Twilight 5K, Youth Mile, and Kids' "Stomper's Stomp" presented by the Oakland Athletics.
OAKLAND (August 16, 2018) – Mascot Sports, a leader in sports and experiential marketing, relaunched the Oaktown Half and 5K on August 11-12, 2018 on the steps of City Hall in Frank Ogawa Plaza. The weekend included the Oaktown Half Marathon in addition to three new events: a 5K, Youth Mile and Stomper's Stomp, presented by the Oakland Athletics. Participants who were up for "The Challenge" went 16.2 miles with the 5K and the half marathon, seeing everything from Jack London Square to Uptown and Lake Merritt.
"The Oaktown Half and 5K weekend created an incredible opportunity for families to get involved and enjoy this special summer tradition in the city of Oakland," said race owner and Mascot Sports CEO Ryan Dawkins. "We couldn't have asked for a better relaunch and our team is ready to keep growing this event to be a summer must-do in The Town."
"Oakland is such a special place and we need events like these so people can see how special it really is," said Oaktown Half runner Cynthia Tiangco-Withers. "When I found out that the Mascot team was back, I got a bunch of my girlfriends to do it again. It's a great race and everything from the course to the shirts to the medals are so well designed. This is definitely one of my favorite races."
The hometown Oakland A's and and their mobile experiential activation 'The Green Machine' were set up near the start with games and prizes for Oaktown Half participants to win. The team brought out their mascots, including 'Stomper' and the 'Hall of Fame Racers,' for fans to run alongside and take photos with.
"We are #RootedInOakland and it's important we stay true to that," said Oakland A's Customer Acquisition Manager Mari Lee. "We want to get out into the community and really make our presence known in Oakland. We had Stomper run in the youth mile and it was great to see him running with all the kids. People love it."
The Oaktown Finish Festival included some of the community's most-loved locals to aid in runners' celebrations and showcase the best of Oakland. Food Truck Mafia, the official Food Trucks of the Oakland Athletics, and a craft beer truck filled with Lagunitas Brewing Company's finest was set up just steps from the finish line while Oakland's own West Grand Bass Band performed live.
"Events like these bring out both locals and people who have never been to Oakland and they check it out and see that Oakland is cool," said Oaktown Half runner Rick Rosenbaum. "People always say, 'I don't really know Oakland.' Come run Oakland and see the different parts of the city. It's great running, some of the best in the Bay area. Then you get to hang out, have a beer and have a great time. What else would you want to do on a Sunday morning?"
To learn more about Oaktown Half Marathon, visit oaktownhalf.com.
About Mascot Sports
Mascot Sports is a leader in sports and experiential marketing igniting the rally for innovation through brands, athletes and events. Based in Oakland, Mascot Sports was founded in 2017 by veteran endurance sports executive and competitive triathlete Ryan Dawkins, also the recipient of Acquisition International's 2015 Business Excellence Award for "Best CEO in the Events Sector." Mascot represents brands, event properties and athletes in the areas of sales, sponsorship, marketing, digital media and strategic consulting. Current programs include: Warner Bros' Wonder Woman Run Series, Livermore Valley Half Marathon, Southern California Half Marathon and the Fast Freddie Challenge in partnership with 4-Time U.S. National Road Race Champion, "Fast" Freddie Rodriguez. For more information, please visit: mascotsports.com.
###