Mascot Sports Innovates Expo Experience for Athletes with Exclusive Partnership with The RunnerBox
August 2, 2018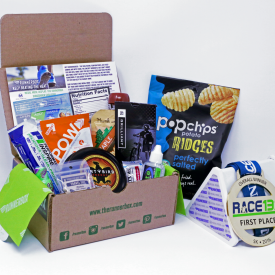 Oaktown Half will be first-ever endurance event to send participants Expo-In-A-Box
Mascot Sports, a leader in sports and experiential marketing, is innovating the expo experience for race participants through an exclusive partnership with The RunnerBox, the first subscription box for endurance athletes. The partnership will launch at the Mascot-owned Oaktown Half and will transform the pre-event packet pick up ritual for runners by delivering everything to participants' front door.  The Oaktown Half will be the first-ever endurance event to send the Expo-In-A-Box to runners weeks ahead of the event. 
All registered participants will receive a RunnerBox complete with bib number, timing chip, Honey Stinger waffle, Oaktown BibBoards, two free Oakland A's tickets good for any game, Oakland A's sunscreen, NUUN tablets, Lagunitas bottle opener, Oaklandish shirt, and more. 
"We are always looking for ways to enhance the experience for our runners," said Mascot Sports CEO Ryan Dawkins. "Expo-In-A-Box saves participants time and money by not requiring them to come to a pre-event expo, pay for parking, or take time off work. We've innovated the process by shipping everything directly to them, including great nutrition samples and other goodies they typically get when attending an expo."
"Getting everything sorted before a race has a tendency to be stressful," said RunnerBox spokesperson Laura Jorgensen. "Runners oftentimes find themselves racing to and from packet pickup and the process of getting everything ready before the race can be more exhausting than the race itself. We love that the folks at the Oaktown Half recognize this and are breaking the traditional expo mold to provide their participants with an option that allows them to relax, kick their feet up, and have the expo come to them."
"This is such a forward thinking organization that always puts its participants first and we couldn't be more thrilled to partner with them on this project," said Jorgensen. 
The Oaktown Half weekend will take place on August 11+12 in Oakland, California and offer a youth mile, 5k, Stomper's Stomp presented by the Oakland Athletics in addition to the half marathon. More information about the Oaktown Half can be found here. 
About Mascot Sports
Mascot Sports is a leader in sports and experiential marketing igniting the rally for innovation through brands, athletes and events. Based in Oakland, Mascot Sports was founded in 2017 by veteran endurance sports executive and competitive triathlete Ryan Dawkins, also the recipient of Acquisition International's 2015 Business Excellence Award for "Best CEO in the Events Sector." Mascot represents brands, event properties and athletes in the areas of sales, sponsorship, marketing, digital media and strategic consulting. Current programs include: Warner Bros' Wonder Woman Run Series, Livermore Valley Half Marathon, Southern California Half Marathon and the Fast Freddie Challenge in partnership with 4-Time U.S. National Road Race Champion, "Fast" Freddie Rodriguez. For more information, please visit: mascotsports.com.
About TheRunnerBox 
The RunnerBox is on a mission to introduce athletes to the best products available to motivate and support active lifestyles. We are proud to claim that we were the first subscription box for endurance athletes and have been faithfully stuffing mailboxes full of endurance goods since 2013. Founded by an elite runner and comprised of a staff who compete across all levels from recreational to professional, The RunnerBox combines a passion for sport with unique industry insight to deliver curated boxes that will keep athletes up to speed with the most current trends and stay on top of their game. For more information, please visit: www.therunnerbox.com