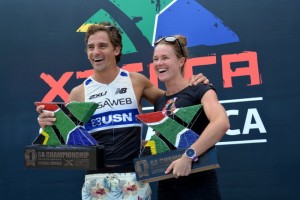 Complete Results / Photos Part I / Photos Part II
February 22, 2015 (Grabouw, Western Cape) – Stuart Marais and Flora Duffy took home the titles at the 12th annual TOTALSPORTS XTERRA South Africa Championship in front of a packed house at the magnificent Grabouw Country Club on Sunday.
Both Marais and Duffy grinded out convincing wins to claim the lions' share of the new and improved R249,000 prize purse but the day's story lines ran much deeper.
The drama started early with a magical African sunrise lighting up the skyline in bright orange and yellow coupled with word that four-time XTERRA World Champion Conrad "the Caveman" Stoltz had pulled from the line-up due to a nasty cold.
With defending champion Dan Hugo also on the sidelines, missing his first showcase event since retiring in the off-season, the race was without not only the two biggest XTERRA stars in South Africa but perhaps the two biggest forces in off-road triathlon over the last decade.
In their place Mother Nature – the constant in all of XTERRA – showed up in full strength as if to express her displeasure with Stoltz and Hugo for not racing.  An unseasonable cold front complete with blustery winds rolled in overnight and dropped the water temps in the small lake by more than two degrees, turning a non-wetsuit swim into a wetsuit optional affair and sending unprepared elites scrambling to find some rubber to swim in.
Eventual winner Stuart Marias was the most notable of those affected but was saved by his mate Niel Swanepoel.
"In the buildup to the event I didn't know it would be a wetsuit event and didn't even pack my wetsuit in so when they announced it would be a wetsuit swim I was caught very off-guard.  Fortunately my mate, who finished second in his age-group today, relinquished his suit just so he could put me on the front foot today," explained an appreciative Marais to the crowd at awarding.
Marias took full advantage and exited the water just 30-seconds or so behind the leaders then took off like a man possessed passing Bradley Weiss, Roger Serrano, and Theo Blignaut in the first 5K of the bike and built an insurmountable lead from there that was never truly challenged.
"Stuart was just one-notch up," said Weiss, the winner of the XTERRA Philippines Championship earlier this month who came in 2nd today.  "He was in control the whole day, and he still had a few gears left that he could turn on for the run if he needed."
In the three previous SA Championship races Marais had finished 2nd twice (last year and 2012) and fourth in 2013.  He said winning it all and joining a cast of local legends like Stoltz, Hugo, and Richard Murray is unforgettable.
"I spent a lot of time out here on this course getting to know every little rock and turn and bit of sand and I suppose that makes the difference between winning and losing.  I did my homework and the plan worked out pretty good," said Marais.
It also seems Marais fits the proto-type of the "built tough" South African to the tee…
"I like to think of myself as a tough folk, I grew up on a farm in Eastern Cape and we were dairy farmers, citrus farmers, and always playing in the mud whether it was on bikes or running barefoot.  That's our vibe and that's what XTERRA is all about.  It's a lifestyle event where the hard guy usually wins and I thought I was a bit harder than everybody else today maybe."
Roger Serrano rode brilliantly all day to finish third, and also pulled off a classy move by sharing his bike bottle with Weiss on the course after Weiss lost his on the route.  Blignaut turned it on during the run and nearly caught Serrano at the finish, placing fourth just 15 seconds back.
Of note, Stoltz was on-hand cheering for his fellow countrymen and women and the visiting international elites he graciously hosted in the week leading up to the race.  Hugo, still in top shape, did the swim as part of a relay team then rode around on course in great support of his extended racing family.  And, the early morning chill burned off into bright sunshine and an absolute stunning day in Grabouw.
Here's a look at the top 20 men's finishers…
Place, First, Last, Time, Division
1 Stuart Marais 2:32:47 PRO M
2 Bradley Weiss 2:35:42 PRO M
3 Roger Serrano 2:37:20 PRO M
4 Theo Blignaut 2:37:35 PRO M
5 Antoine Van Heerden 2:38:34 PRO M
6 Michael Szymoniuk 2:41:13 PRO M
7 Nico Sterk 2:42:35 PRO M
8 Jan Pyott 2:43:55 PRO M
9 Aidan Nugent 2:44:51 PRO M
10 Raoul de Jongh 2:46:48 35-39 M
11 Matt Daneel 2:48:49 25-29 M
12 Jim Thijs 2:50:12 PRO M
13 DESFARGES YANNICK 2:50:40 30-34 M
14 Michael Lord 2:51:14 20-24 M
15 Niel Swanepoel 2:51:48 30-34 M
16 Nicolas Tauty 2:51:56 30-34 M
17 Mitchell Ginsberg 2:52:22 PRO M
18 Charl-Stephan Nienaber 2:56:05 20-24 M
19 Daniel Manwwiler 2:57:20 35-39 M
20 Rohan Kennedy 2:57:54 35-39 M
In the women's race the reigning XTERRA World Champion Flora Duffy was simply unstoppable.  She led everybody – men included – out of the water then rode and ran seamlessly to take the tape in 10th place overall with nearly 20 minutes to spare.
"Everything seemed to work out today.  It's a very technical, challenging bike course so my biggest fear was flatting or having a mechanical so I was concentrating on keeping it smooth in the single track," said Duffy, who has won nine of the 10 XTERRA Championships she has raced in since capturing the SA title last February.
"Fabulous day, this is my favorite XTERRA on the circuit. It's the best organized, the biggest, it's just amazing and I'm so glad I could come here and defend my title.  Last year this race kind of kicked off my year that culminated in winning Maui so to come back here as a World Champion was very special."
Runner-up Mari Rabie, Olympian and XTERRA SA Champion in 2005 and 2010, also had a very special day but for much different reasons.
"I had myocarditis chronic heart disease for seven months and I got cleared three weeks ago now, so just happy to be back racing and I haven't ridden technical in more than a year so my main aim was just to stay on the bike." said Rabie, who was 3rd at XTERRA Worlds in 2012.  "It was a tough couple months, you know, when a doctor tells you that you can't do what you want to do because you might die.   I think you appreciate this so much more when it's taken away from you."
Rabie said her projected window to heal was six months to two years, and she did it in just seven months.  Now she'll chase the Rio Olympics dream before getting back into the dirt.
"If I don't get it I'll swap over to XTERRA to race.  I'm naturally better suited to this type of racing, and definitely after Rio I'll be racing XTERRA," said Rabie, who puts into perspective the huge appeal the sport has in South Africa.
"It has grown exponentially. You rock up at a race like this and see people who you went to school with and everyone who is in sport at all has been bitten by this XTERRA bug.  My Dads' racing and he's 63, my brother was part of a team, my uncle was part of a team, everyone is just so involved.  It's grown massively and this is one of THE multisport events in South Africa right now.  We love being outdoors and love endurance sports."
Carina Wasle, a two-time SA Champ (2009 and 2011), said she didn't have her best day but still managed to finish third overall.  Wasle has made South Africa her perennial training grounds at this time of year.
"I stay here for six weeks from mid-January to early March," said Wasle.  "It's a great place for training and to get ready for the season.  I love this race.  The people here put so much into it.  You can see they love what they do."
Indeed, the love for XTERRA amongst the organizers and crew is very apparent, and the attention to detail is remarkable all the way down to the hot-shower trailer they roll into the remote event.
Through word-of-mouth XTERRA South Africa has quickly turned in to a must-do event for every XTERRA racer.  The arena for it is perfect with epic, memorable trails and a well-rounded challenge.
"If you put all the best parts of the bike courses from Europe together into one you'd still come up short to this course," said well-traveled elite Jim Thijs from Belgium.
"Twenty-years of racing around the world and this is by far, hands down, the greatest course and event I've been a part of," added Jan Pyott from Switzerland.
With mainstream media coverage and a full-slate of TV shows that make stars out of XTERRA athletes the sport is in a perfect place in the Western Cape and poised to get even bigger.
The 2015 TOTALSPORTS XTERRA Grabouw presented by REHIDRAT® SPORT featured a 1.5km swim, followed by a 27km mountain bike discipline and a 12.5km trail run. For further information contact Stillwater Sports on 082 991 0045, email entries@stillwatersports.com or visit www.stillwatersports.com.
Here's a look at the top 20 women's finishers;
Place, First, Last, Time, Division
1 Flora Duffy 2:45:27 PRO F
2 Mari Rabie 3:04:06 PRO F
3 Carina Wasle 3:06:38 PRO F
4 Nicolette Griffioen 3:08:22 PRO F
5 Sandra Koblmueller 3:08:43 PRO F
6 Ladina Buss 3:12:25 PRO F
7 Susan Sloan 3:19:26 PRO F
8 Louise Fox 3:19:30 PRO F
9 Adrienne Moolman 3:21:08 35-39 F
10 Natia Van Heerden 3:21:47 PRO F
11 Hanlie Booyens 3:23:56 40-44 F
12 Daz Parker 3:24:26 PRO F
13 Tanya Rabie 3:32:21 40-44 F
14 Amandine Galindo 3:33:18 30-34 F
15 Sylvia Van Tromp 3:34:03 PRO F
16 Rita Terblanche 3:34:59 35-39 F
17 AMY BURGER 3:35:14 25-29 F
18 Robyn Williams 3:36:48 25-29 F
19 Nicola Harcus 3:38:31 No Cat
20 Sandy Russell 3:39:54 35-39 F
2015 XTERRA WORLD CHAMPIONSHIP QUALIFIERS
The XTERRA South Africa Championship was the second of 42 events where the fastest amateur athletes from around the globe could qualify to race at the 20th annual XTERRA World Championship at Kapalua, Maui on November 1, 2015.
DATE WORLD TOUR EVENT
Jan-25 XTERRA Buffelspoort, Buffelspoort Dam, North West Province, South Africa
Feb-8 XTERRA Philippines Championship, Albay, Luzon+
Feb-22 XTERRA South Africa Championship, Grabouw, Western Cape
Mar-7 XTERRA Motatapu, South Island, New Zealand
Mar-28 XTERRA Saipan Championship, Micro Beach, CNMI+
Mar-29 XTERRA Malta, Mellieha, Malta*
Mar-29 XTERRA Costa Rica, Playa Reserva Conchal
Apr-11 XTERRA Guam Championship, Piti+
Apr-11 XTERRA New Zealand Championship, Rotorua
Apr-18 XTERRA Australia / XTERRA Asia-Pacific Championship, Jervis Bay, NSW, Australia+ XTERRA Australia Championship
Apr-25 XTERRA West Championship, Lake Las Vegas, NV, USA#
Apr-26 XTERRA Reunion, Saint Gilles les bains
May-2 XTERRA Malaysia / XTERRA Asian Tour Championship, Langkawi+
May-10 XTERRA Brazil, Ilhabela, SP
May-16 XTERRA Southeast Championship, Pelham, AL, USA# USAT Cross Triathlon National Championship
May-16 XTERRA Portugal, Golega*
Jun-7 XTERRA Spain Championship, Plasencia, Extremadura*
Jun-14 XTERRA East Championship, Richmond, VA, USA#
Jun-20 XTERRA Greece, Lake Plastira*
Jun-27 XTERRA Switzerland Championship, Vallee de Joux*
Jun-27 XTERRA Norway
Jun-27 XTERRA Mine over Matter – Canadian Cross Triathlon Championships, Ontario, Canada!
Jul-4 XTERRA Freedom Fest, Oahu, HI, USA =
Jul-5 XTERRA Victoria, B.C., Canada!
Jul-5 XTERRA France Championship, Xonrupt, Gerardmer*
Jul-18 XTERRA Mountain Championship, Beaver Creek, CO, USA#
Jul-11 XTERRA Sweden, Hellasgaarden, Stockholm*
Jul-25 XTERRA Ontario Series – Parry Sound, McDougall, Ontario, Canada!
Jul-26 XTERRA Abruzzo, Lago di Scanno, Italy*
Aug-8 XTERRA Mexico, Tapalpa
Aug-8 XTERRA Czech Championship, Prachatice*
Aug-15 XTERRA Germany Championship, Zittau*
Aug-16 XTERRA Canmore, Alberta, Canada!
Aug-22 XTERRA Adventure Fest Maui, Kapalua, HI, USA =
Aug-23 XTERRA Quebec – Quebec City, Quebec, Canada!
Aug-29 XTERRA Ontario Series – Sleeping Giant, Thunder Bay, Ontario, Canada!
Aug-29 XTERRA Denmark, Tilsvilde*
Aug-29 XTERRA Japan, Hokkaido+ (start 2016 Asian Tour)
Aug-30 XTERRA England / European Championship, Vachery Estate, Surrey*
Sep-13 XTERRA Woolastook, Upper Kingsclear, New Brunswick, Canada
Sep-19 XTERRA USA Championship, Ogden/Snowbasin, Utah, USA#
Nov-1 XTERRA World Championship, Kapalua, Maui, Hawaii
* European Tour / + Asian Tour / # America Tour / ! Canada Series / = Hawaii qualifiers
UP NEXT
7-Mar XTERRA Motatapu, South Island, NZL
Worldwide off-road triathlons and trail runs – Full Schedule