Marathon Sports partners with major running expo, February 2023
January 10, 2023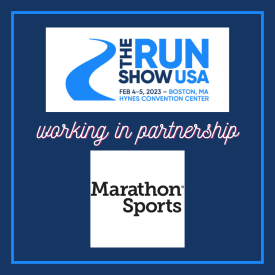 The Run Show USA is heading to Boston Massachusetts, Hynes Convention Center February 4-5 2023
/ENDURANCE SPORTSWIRE/ – The Run Show USA is heading to Boston Massachusetts, Hynes Convention Center February 4-5 2023 welcoming Marathon Sports as the headline retailer for the show. Tickets are now available for the weekend of running inspiration to be held at the Hynes Convention Center.
Set to debut February 4th -5th 2023, The Run Show Boston, the new running expo will welcome runners from Boston and surrounding states who are looking for an epic day out to see the latest gear, tech, apparel, expertise, and inspiration. The show is for those who are just beginning to run or those who are going to complete their next race. The expo is designed to welcome the community of Boston, no matter a runner's ability, sexual orientation, or race.
Marathon Sports is an iconic New England running brand with over 40 years of delivering innovative products and serving the running community. Their 21 New England retail locations are the hub of the running community; offering training groups, clinics, and supporting local events and races. The RightFit is a shoe fitting experience developed by Marathon Sports and utilizes pressure scan data and 3D modelling to find the perfect fit. Visit the Marathon Sports booth to experience the Right Fit and get your personalized foot scan, with heat mapping, and gait analysis powered by Aetrex. Marathon Sports booth will also host brands including Sprints, Goodr, Junk Brands, and Alete Nutrition along with one of a kind graphic tee for runners and fitness aficionados.
Craig Hanratty, Event Director commented 'We're very excited for a long-lasting partnership with Marathon Sports. With their expertise in the running space in Boston and the ability for brands to retail at the show, visitors will be able to purchase and take home the latest products being manufactured by global running brands present at the expo."
The show is heading towards more than 100 brands for this debut event including Altra, Aetrex, Boston Athletic Association, Oofos, Darn Tough, Therabody, PUMA, HOKA, Asics plus Xero Shoes, CEP Compression, CHI Running, Feetures and more.
Marathon Sports commented; "It's a huge win for the Boston community to have the opportunity to hear interesting speakers, experience the newest products and learn about themselves through advanced technology in running. Marathon Sports is thrilled to partner with the Run Show USA and build this event for the years to come."
The expo will also host over 30 speakers who will share inspiration, coaching and skills advice plus stories from incredible athletes including Carl Lewis, Dean Karnazes, Sally McRae, Gary Robbins, The Mirnavator, Dave McGillivray, Jacky Hunt-Broersma and many more. Two main stages 'Marathon, Track & Road Stage' as well as 'Trail & Ultra Stage' will be built to host panel sessions, fireside chats and skills and knowledge will be shared with visitors.
Other interactive features for the community runner, families and children will include Coaches Corner, The Treatment Room, A Kids Active Zone, The Run Clinic, The B.A.A. Gloria Ratti Collection, The Strength Training Zone, Yoga for Runners, The Recovery Zone, a Run Café plus much more to be confirmed.
To get a ticket to the event visit https://runshowboston.seetickets.com/tour/run-show-usa-boston
To sign up for a booth or sponsor the event, contact craig.hanratty@raccoonmediagroup.com
END
About Raccoon Media Group
The Run Show USA was conceived by Raccoon Media Group Founded in 2016, Raccoon Media Group is a dynamic U.K. events business run by a group of exhibition and digital marketing experts with experience in organizing consumer expos worldwide. The company is headquartered at 2 Bell Court, Leapale Lane, Guildford, GU1 4LY, UK. info@raccoonmediagroup.com, +44 0203 770 9303, www.raccoonmediagroup.com @runshowusa
For all media queries about Run Show Boston, if you need any high-res images/logos or have got any interview requests please contact Chloe Hyland, chloe.hyland@raccoonmediagroup.com