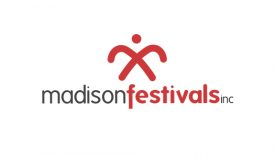 Two Wisconsin organizations continue their longstanding partnership.
Madison Festivals, Inc., (MFI) a Madison, Wisconsin nonprofit and owner of the Madison Marathon, Run Madtown and the Taste of Madison is thrilled to extend its partnership with Wisconsin-based Festival Foods supermarket chain.
Festival Foods is continuing their growing support of MFI's events, which first began in 2015.  "We are ecstatic to continue our partnership with Festival Foods," said CJ Werley, Sponsorship Director for Madison Festivals, Inc.  "We go to tremendous lengths to produce exceptional events that distinguish us from the competition. Festival Foods embraces this philosophy and goes above and beyond to help us make it a reality."
Festival Foods will provide the ultimate finish line experience for Madison Marathon and Run Madtown participants. As a reward for finishers who run a personal best time, participants will get to ring the Festival Foods PR Bell, signifying their accomplishment for the crowd. All participants will also receive a Festival Foods branded bottle water as they cross the finish line to help hydrate them.  At the Taste of Madison, Festival Foods is the presenting sponsor of the 93.1 JAMZ stage, where attendees will enjoy free live music on Labor Day weekend.
"Festival Foods wants to support events that promote healthy lifestyles.  These events are an avenue that allows us to do that," said John "Stosh" Stiloski, Community Involvement Specialist for Festival Foods.  "From the excitement of ringing that PR bell to just crossing the finish line and achieving a goal that you set for yourself.  We wish you all a healthy year of training!"
Last year, Run Madtown presented by SSM Health attracted over 3,000 participants to the Saturday evening Kids Race, Twilight 5K & 10K and a Sunday half marathon over Memorial Day weekend.  The Veteran's Day weekend Madison Marathon and Half Marathon presented by SSM Health continues to grow in size and reputation, with over 4,300 registrants in 2018.  Both races kick off with two-day race expos at the historical Monona Terrace, and host start and finish lines and post-race parties on Madison's iconic State Capitol Square.  
Held since 1983, the Taste of Madison is MFI's flagship event, with over 80 restaurants, 3 entertainment stages and 26 beverage stands drawing over 250,000 to the Capitol Square over Saturday and Sunday of Labor Day weekend.  
About Festival Foods
First opened in 1946, Festival Foods is a family- and employee-owned company currently operates 32 full-service, state-of-the art supermarkets and employs more than 7,500 full and part-time associates.  
About Madison Festivals, Inc.
Incorporated on April 5, 1993, Madison Festivals, Inc. (MFI) was formed exclusively to organize and manage charitable events for the education, participation, and entertainment of the public in the area of Madison, Wisconsin. These events enhance Madison's reputation as a great city to live in and visit, build community around volunteering, supporting local businesses and provide over $100,00 annually to many local charities and non-profits.  MFI owns the Taste of Madison, Madison Marathon and Run Madtown.  The events are managed and produced by contracting with Madison-based event management company, Race Day Events. 
Contact
CJ Werley, Sponsorship Director
Race Day Events | Madison Festivals, Inc.
Phone: (608) 338-8015
cjwerley@madisonfestivals.com