Machines For Freedom Launches New, Fit Inclusive Endurance Bib
June 6, 2022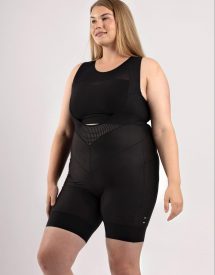 Shape positive meets high performance technology
Los Angeles, Calif (June 6, 2022)/ENDURANCE SPORTSWIRE/ – Machines For Freedom, the inclusive women's cycling apparel brand today launched its new Endurance Bib 2.0. Tested on more than two dozen different body types, the bib sets a new standard for sizing in the cycling apparel space.
With a focus on shape inclusive fit and high-level performance technology such as ultra high density carbon microfiber chamois with bacterio static properties that prevent irritations, Machines For Freedom is giving cyclists of all body types a space to ride in freedom.
"A size medium isn't the same for every person across the board," says Lien Tong, lead apparel designer for Machines For Freedom. "We take into consideration all torso, bust, hip and shoulder proportions in order to ensure our sizing is as inclusive as possible. No woman is built the same, why shouldn't her products flex with her?"
Tong has an impressive background in product design and design specifics, having spent years with companies large and small, studying and designing apparel for Levi's, Everlane and The North Face.
"We are fortunate to have Lien on our team," says Jenn Kriske, founder of Machines For Freedom. Her experience not only makes her a fit expert, she has seen first-hand the industry-wide gaps that have left some body shapes unconsidered. I'm excited to bring a collection to market that proves thoughtful design can beautifully accommodate traditional body proportions, as well as those historically dismissed as outliers."
Compiling data from customer service reviews and tester feedback over the last five years, the new design for the Endurance Bib maintains the original UPF 50+ moisture wicking fabric but incorporates new compression technologies and durable pinhole mesh through the bodice. The updated seaming is engineered to articulate and fit all shapes and sizes for maximum comfort and elasticity.
Designed with the long distance cyclists in mind, the Endurance bib contains silicon gripper hems to keep the material from rolling up. Two rear back pockets and signature Machines For Freedom reflective details complete the bib. Offered in two inseam lengths, a classic length that hits just above the knee, and a shorter inseam that hits mid thigh.
"We think trying on bibs should be fun. When you put something on that makes you feel like your very best self, that confidence is reflected on and off the bike" says Tong.
The same fitting ethos and extensive testing process is being applied to Machines For Freedom's jersey adjustments. Customers can expect updates to the rest of the line soon.
Media Contact: Addi Jenkins | addi@outsidepr.com | 307-760-3275
About Machines For Freedom
Founded in 2013, Machines For Freedom is an inclusive high-performance women's cycling brand based out of California. Women-founded and lead, Machines is achieving its mission in representation and body positivity not only through product design and branding but through storytelling of women cyclists. For more information about Machines For Freedom please visit www.machinesforfreedom.com.