Maccabi USA Seeking Jewish Runners, Cyclists and Triathletes for Pan American Maccabi Games
March 27, 2023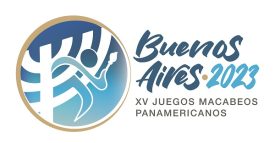 Philadelphia, PA, March 27, 2023 /ENDURANCE SPORTSWIRE/ – Maccabi USA is seeking qualified Jewish runners, cyclists and triathletes to represent the USA delegation at the XV Pan American Maccabi Games in Buenos Aires, Argentina from December 26, 2023 to January 4, 2024. Maccabi USA is currently recruiting for the following teams:
Half Marathon/10k
Cycling: ITT-Road (UCI regulations)
Maccabi Man/Woman: The ultimate endurance event, athletes will be challenged in four events over the course of the Games, including Half Marathon, Open Water Swim, Sprint Triathlon, and Cycling Time Trial.
Depending on the event, competitions will take place in the following age categories: Under 18 (2005-08), Open (2004 and older) and Masters (1988 and older).
"There are so many talented Jewish endurance athletes in the United States and I'm excited to bring them all together to compete in Argentina this winter, and experience the Pan Am Maccabi Games," said Melissa Perlman, Chair of the Pan American Maccabi Games Endurance Team. "For those of us that are returning Maccabi USA athletes, we know how lifechanging the experience can be. For those who will participate for the first time, we welcome you and promise the Maccabi journey is one you will never forget."
Participants will have the opportunity to interact and compete alongside athletes representing 21 different countries from around the world. In addition to athletic competitions, participants will experience the Jewish history and culture of Buenos Aires as well as a community service program.
Learn more about the competitions and apply at https://maccabiusa.com/panam2023/. For more information, please contact Program Director, Steve Graber at sgraber@maccabiusa.com or 215.561.6900 x4148.
About the Pan American Maccabi Games
The 15th edition of the Pan American Maccabi Games is taking place in Buenos Aires, Argentina in December of 2023 – January of 2024. The continental event, hosted by the Federation of Argentine Jewish Centers (FACCMA) and sanctioned by the Latin American Maccabi Confederation (CLAM) is held every four years in a cycle two years apart from the international Maccabiah Games held in Israel. The Pan American Maccabi Games will be the largest Jewish sporting event of the year; an estimated 4,000 participants representing 21 countries, are expected. Maccabi USA anticipates a traveling delegation of 600 athletes, volunteers and supporters.
ABOUT MACCABI USA
Maccabi USA is a 501(c)(3) non-profit organization with an extensive history of enriching Jewish lives through athletic, cultural and educational programs. Maccabi USA is the official sponsor of the United States team to the World Maccabiah Games, the Pan American and European Maccabi Games, and the Maccabi Youth Games, as well as a partner of the JCC Maccabi Games for teens in North America.