Leading road safety sportswear experts Bodylite announce UK launch
September 15, 2023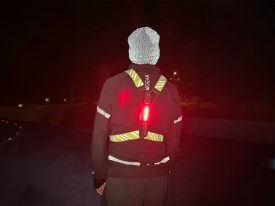 Road safety sportswear brand Bodylite are delighted to announce their launch into the UK, as well as the further development of their industry-leading product range.
September 2023 – UK /ENDURANCE SPORTSWIRE/ – Bodylite are a leading Irish sportswear brand that specialise in visibility products and active gear for runners, walkers, cyclists and outdoor enthusiasts. Founded by Padraic George in 2013, the dedicated team based in Co Carlow, Ireland, have spent many years developing their industry-leading product range, which features everything the active individual needs to stay safe at night; from beanies and vests, to lights and storage belts.
And new for September 2023, the Bodylite team are delighted to announce their launch into the UK, with all products now available to purchase via their website. Building on their huge successes in Ireland, this is a really exciting development, aptly timed to coincide with the start of the autumn and winter months and the return of shorter days and dark mornings/nights.
Padraic George, Founder and Managing Director of Bodylite said, "This is an incredibly exciting time for the Bodylite team, expansion into the UK is something I've wanted to do for a very long time and I feel that the time is perfect for us. Our products have proved to be extremely popular over here in Ireland, they've been reviewed incredibly highly, and have genuinely helped to transform the way that our customers are able to train across the day. I'm very much looking forward to seeing the continued development of our brand, and to welcoming many brand new customers to the Bodylite family"
And to further celebrate their launch into the UK, Bodylite are also expanding upon their product range, with the introduction of NightVision products. Designed to "enhance visibility to others whilst not compromising visibility to the road ahead", the multi-use system features five core products, including a NightVision light, which can be attached via a robust velcro design. The NightVision light features an upgraded battery life, three light mode options and wide angle illumination, allowing users to experience visibility without the bouncing and fading of light, making the surroundings much brighter and visible. Compatible items in the range include a NightVision jacket, vest, belt and bike mount.
Padraic is really pleased to be launching the NightVision range, and he continues, "As a father of a young family my running has always had to fit around life commitments so I found myself having to train at times of the day which lacked light and potential safety risks. The NightVision range has been designed to further improve the road safety options available to our customers, who like myself, want to feel as safe and seen as they possibly can whilst out and about. With the clocks set to go back in only a few weeks time, I'm really looking forward to seeing how this new range is received by both our new and existing customers!"
To celebrate their launch, the team at Bodylite are offering 10% off orders, for those that sign up to their newsletter. This offer is valid until midnight on 31st October 2023, terms and conditions apply.
For more information about Bodylite, and their road safety collection, visit www.bodylitegear.com . The team can also be found on Facebook and Instagram.
———————————————————-ENDS————————————————————-
CONTACT
Name: Kate Allan
Email: kate@competepr.com
Phone: +447754 072648
EDITOR'S NOTES
Bodylite was founded in 2013 by Co Carlow Ireland-based Padraic George, following three years of extensive testing and brainstorming. Also the Managing Director of Cheetah Electronics, George came up with the concept for Bodylite through his own experiences as a runner. He discovered that there were limited high quality options available for those that found themselves training very early or late in the day, and he said: "Just because of the nature of my work I have to exercise either extremely early in the morning or late at night. A lot of my training would have been done running along back roads in a very rural part of Carlow, which had little or no street lighting. I have used both my phone and hand torch in the past to be visible to traffic, but if you do it often enough, you'll realise that it's not efficient, and really, from a safety perspective, it's not ideal. So I just felt there had to be a solution, and given my background in electrical engineering and owning my own electronics company, I felt I had the tools to design something that might be helpful to people in a similar situation."
Bodylite now has a wide range of products purpose-built for pedestrian safety, including belts, vests, reflective headbands and dog leads.
The team are committed to supporting the safety of pedestrians and believe that everyone should feel safe and visible on public roads, estates, and footpaths in both rural and urban settings.