Lance Armstrong to Open 2017 TBI Conference
November 30, 2016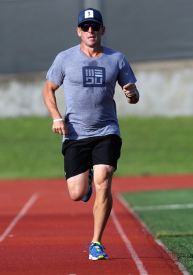 Early bird registration extended to December 9
AUSTIN, TX – November 30, 2016 – Triathlon Business International (TBI) today announced that Lance Armstrong will attend its 7th Annual Conference presented by ACTIVE Network®, January 22 – 24, 2017 at the Fairmont Hotel in Dallas, TX. TBI also announced that it is extending Early Bird registration through December 9.
Armstrong will sit down with Slowtwitch.com publisher Dan Empfield for a discussion about the future of endurance sports. He will also talk about what has brought his attention back to his original sport of triathlon.
Conference attendees will have the opportunity to interact with Armstrong during a Q&A period.
"It's an exciting time to be in the triathlon and broader endurance space, dreaming up new ways to give athletes the experiences and information that celebrates the multisport lifestyle," says Armstrong.  "I've been passionate about the endurance world since I was a kid growing up in Texas."
With the theme Profitability & Success in Triathlon – Sharing Solutions to Shape the Future of Multisport, TBI Conference attendees will hear from key industry leaders including USA Triathlon CEO Rob Urbach, ACTIVE Network's Sam Renouf, World Champion and Paralympic triathlete Melissa Stockwell, to name a few. Important and timely topics will be addressed, including the future of triathlon – growth, technology, globalization; diversity markets including African American, Latino and women; monetizing the entire event lifecycle; corporate wellness programs for multisport participation growth; working with municipalities; new and redefined retail models; alternative race formats to offer participants; and many others. More topics and keynote speakers will be announced in the coming weeks.
The conference is also the optimum place for important business conversations, to make valuable connections and to immerse in two days of networking.
For the first time, TBI and USA Triathlon are collaborating to consecutively present their respective annual conferences. USA Triathlon's Race Director Symposium, the leading educational event for multisport race directors in the United States, will be held from Jan. 20-22, with joint programming on Sunday, Jan. 22, with TBI.
There are discounted rates for those who want to attend both events. Discounted registration packages are available on TBI's and USA Triathlon's registration sites. The combination conference package will allow an attendee to register for the second conference in a single transaction at a 25% discount.
Registration Early Bird fees for the 7th annual TBI event are $595 for current TBI members and $695 for nonmembers.  Early Bird registration has been extended through Dec. 9.  Registration includes all sessions, meals, the networking events and one ticket to the Ron Smith Awards celebration.  Once you register for the TBI Conference you can register for the USA Triathlon Symposium at a 25% discount. Special conference hotel rates at the Fairmont Dallas are available through January 7, 2017.
Register for the 2017 Annual TBI Conference presented by ACTIVE Network today and save.
Oct. 11 – Dec. 9:  $595 members (member number required / $695 nonmembers)
Dec. 10 – Jan. 10:  $695 for members / $795 non-members
Jan. 11 and after:  $795 for members / $895 non members
About Triathlon Business International
Triathlon Business International is an industry organization dedicated to promoting the sport and the business of triathlon. Founded by a coalition of industry leaders, Triathlon Business International advocates for the interests of triathlon businesses, provides educational and informative programs, and encourages increased participation in the sport. For more information, please visit https://www.triathlonbusinessintl.com.  Companies interested in TBI conference sponsorship or Expo space should contact at feedback@triathlonbusiness.intl.com.
###