KOZ Events Announces the Celebration of the 45th Anniversary of the Birth of Triathlon
July 16, 2019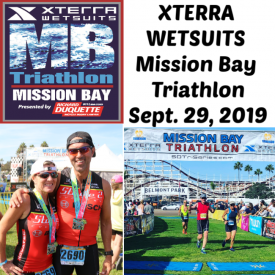 XTERRA WETSUITS Mission Bay Triathlon
San Diego, Calif. – KOZ Events today announced the 32nd Annual 2019 XTERRA WETSUITS Mission Bay Triathlon on September 29, 2019 is celebrating the 45th anniversary of the birth of the sport of triathlon in the United States.
At 5:45 PM on September 25th, 1974, members of the San Diego Mission Bay Track Club completed a 5.3-mile run, a 5-mile bike ride, and a 600-yard swim in Mission Bay. A portion of the run was run barefoot over grass and sand. Improbably, this event sparked a sport that now has more than 2.5 million participants worldwide.
"We are beyond honored to continue the tradition of the first-ever triathlon with the XTERRA WETSUITS Mission Bay Triathlon," said Carrie Panek, co-owner of KOZ Events. "The sport had its organic origin in San Diego, and to be able to nurture Triathlon into its 45th year is a true gift. Even though the sport of triathlon has become incredibly sophisticated, we can tell you that if you sign up for the 2019 XTERRA WETSUITS Mission Bay Triathlon, you will connect with the pure joy the sport of triathlon is based on."
In its first ever event in 1974, 46 athletes attempted the distance. This year, Panek expects over 2,000 athletes to celebrate their sport by toeing the line on September 29th at Mission Bay. Ironman Hall of Fame inductee, USA Triathlon Hall of Fame inductee, historian, and founder of both Challenged Athletes Foundation and Competitor Magazine, Bob Babbitt has competed in the Mission Bay Triathlon year after year.
"The Mission Bay Triathlon is where it all began," said Babbitt. "What's great about this event is that it's still a classic. You swim in the bay, ride through one of the most scenic parts of San Diego, and finish under a roller coaster by the boardwalk. If you are going to do one triathlon this year, you want to do the race that started everything and that's the Mission Bay Triathlon."
Within a few years of its first-ever event in Mission Bay, triathlon became one of the fastest growing sports in the world. Fifteen years later, the International Triathlon Union (ITU) was formed in 1989. ITU now has over 140 affiliated National Federations on five continents and is the youngest International Federation in the Olympic Games. In 1995, triathlon was included in the Buenos Aires Pan American Games, and in 2000, triathlon made its Olympic debut in Sydney, Australia. Paratriathlon, featuring challenged athletes, was accepted into the Paralympic Games in 2016.
"USA Triathlon is proud to sanction the XTERRA Wetsuits Mission Bay Triathlon, an iconic race held at the birthplace of the sport," said Rocky Harris, USA Triathlon CEO. "This race has changed dramatically since 1974, but the spirit behind the original event — and the sport itself — is very much present. The Mission Bay Triathlon is a perfect example of how triathlon is evolving while staying true to its original intent, which is the pursuit of our own personal potential in swim, bike and run."
Voted "San Diego's Best Triathlon" in 2015, XTERRA WETSUITS Mission Bay Triathlon will feature a calm, 1000-meter swim in Bonita Cove, a 38K bike ride – including a loop around Fiesta Island – and a 9K run. The race will finish under the iconic Belmont Park Rollercoaster, just off the boardwalk.
The event will also include a Sprint Triathlon, a Sprint Duathlon, a Sprint Aquabike, a Mini Sprint Triathlon for kids 11 and older and an Itsy Bitsy Triathlon for kids 7-10. The XTERRA WETSUITS Mission Bay Triathlon is the final event of the Triple Crown, which includes the XTERRA WETSUITS Spring Sprint Triathlon, which took place in May, and the Chula Vista Challenge, which takes place on August 11th.  All of the Triple Crown races are part of the San Diego Triathlon Points Series.
New XTERRA WETSUITS Mission Bay Triathlon Sponsor
This year, the XTERRA WETSUITS Mission Bay Triathlon is proud to announce a new, presenting sponsor. The Law Firm of Richard L. Duquette has been an advocate of bike safety and an enthusiastic supporter of endurance sports in the San Diego community for over three decades. Richard Duquette and his wife Kim are passionate about the sports of triathlon, road and mountain bicycling and representing triathletes who need legal support. Mr. Duquette also hosts one of the largest bicycle injury podcasts in the nation, entitled Bicycling and the Law and publishes illustrative self-help, legal articles.
"I feel it's my duty as a lawyer and an athlete to help protect others and give back to the sport," said Mr. Duquette, who raced in one of the most epic Ironman events of all time in 1989, when Mark Allen edged out Dave Scott, in what became known as the "Iron War." "As a longtime supporter of KOZ enterprises, it's a privilege to be involved with the XTERRA WETSUITS Mission Bay Triathlon in its 45th year. It's going to be a great race."
KOZ Events want everyone of all levels to come out and join the triathlon family. They offer  free clinics for beginner and intermediate triathletes through the San Diego Tri Series. For training dates, check the San Diego Triathlon Series Meetup page.
Additional sponsors of the race include, XTERRA WETSUITS, NUUN Hydration, Pulse Endurance Sports, Rehab United, Brain J Lewis Realtor , Road Runner Sports, and Triathlon Club San Diego.
About KOZ Events
KOZ Events is San Diego's premier full-service special events company providing race management in San Diego County. Founded in 1981, KOZ Events specializes in multi-sport events including: triathlons, duathlons, aquabikes, runs, walks, and cycling events. In addition, KOZ provides expert operational, logistical, and event setup/breakdown assistance on a contract basis. Learn more at www.kozevents.com
About the Law Firm of Richard Duquette
Richard L. Duquette has been fighting for his clients since 1983.  Richard's methodical approach has allowed him to succeed at obtaining favorable results in various legal matters. To date, he has recovered millions of dollars in jury verdicts and settlements for his bicycle injury clients.  Learn more at https://www.911law.com/personal-injury/bicycle-accidents/.
###