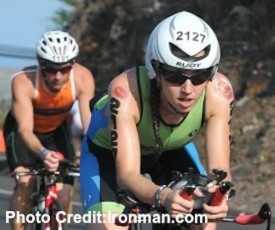 Jocelyn McCauley Chooses XRCEL's Advanced Technology to Fuel Her 2016 Season
Charleston, SC (March 2, 2016) – New World Consumer Products would like to announce its new partnership with Professional Triathlete Jocelyn McCauley as an XRCEL Athlete Fuel Brand Ambassador. Jocelyn will be using and educating other athletes about XRCEL Athlete Fuel, an extended-release sports performance fuel based on New World Pharmaceutical's patented formulation technology.
Jocelyn McCauley is a professional triathlete who has impressed the race community with her incredibly fast rise from amateur to pro. Her speedy ascent to the Kona World Championships, her victory among amateur racers there, and her subsequent transition to professional racing have collectively gilded Jocelyn as a powerful force in the triathlon field. New World Consumer Products could not be more pleased to have partnered with such a dynamic and energetic young athlete to help further its mission to help athletes perform at a higher level.
"I am so excited to be an ambassador for XRCEL. I love that XRCEL has science and results supporting it. Because of my extensive exercise science and health care experience, I understand and appreciate the science behind XRCEL. With my own empirical data and having extensively used the product I can say I have had the best workouts when fueled by XRCEL and have had amazing results using it." – Jocelyn McCauley, Professional Triathlete Brand Ambassador, XRCEL Athlete Fuel.
"I am thrilled to have Jocelyn McCauley join the XRCEL ambassador team, said Laura DeMeo Business Development Manager – Endurance Sports for Team XRCEL. After winning her first amateur Ironman World Championship, her success in triathlon skyrocketed and she joined the professional ranks by her 3rd year of competition. Combining her raw talent and skill with XRCEL's extended release formulation, she is poised to have a great year and we're excited to support her along the way!
###
About Jocelyn McCauley
Jocelyn McCauley grew up in College Station where she set multiple school and state records in Cross Country before attending Brigham Young University and eventually The University of Cincinnati to run Cross Country. Looking for a challenge she eventually returned to school for a BS in Nursing where her time as race support for her sister Meredith Gardner inspired her to try her first Half Ironman.
Shortly after giving birth to her first child, Jocelyn completed her first Half Ironman, in under 5 hours. Once the triathlon ball started rolling it was hard to stop and she signed up for IM Texas May 2014 where she qualified for the World Championships in Kona by winning her age group and being the 2nd amateur female overall. In her second Ironman ever, the World Championship race, she finished first among amateur females and decided to embark on the journey as a professional triathlete.
###
About XRCEL® Athlete Fuel
XRCEL Athlete Fuel is a revolutionary extended release carbohydrate supplement formulated with patented pH and temperature responsive micro-gel technology developed by New World Pharmaceuticals, LLC.  XRCEL is a caffeine and banned substance free supplement designed to provide athletes with extended release muscle and brain fuel so that they may get the most out of their training and competitions. 
New World Pharmaceuticals is based in Charleston, South Carolina. For more information, please visit http://www.NewWorldPharma.com.
For More Information 
Media Inquiries:
Lisa Sexton
843.737.6192 Ext 104