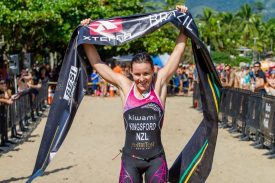 Sam Osborne and Samantha Kingsford from New Zealand captured the 15th annual XTERRA Brazil elite titles on the island of Ilhabela, on Saturday, May 11, 2019.
Sam Osborne and Samantha Kingsford from New Zealand captured the 15th annual XTERRA Brazil elite titles on the island of Ilhabela, on Saturday, May 11, 2019.
It's the ninth XTERRA World Tour win for Osborne in his career and his second in a row this season following his victory at XTERRA New Zealand in April. It's the second career major title for Kingsford, who won her first at XTERRA Albay last year.
In the men's race Osborne came out of the water in second place about 30-seconds behind Brazilian elite Marcus Fernandez, and just ahead of German road tri standout Sebastian Neef.  Once on the bike it was all Osborne, as he took the lead in the first K and never looked back.
"Tried to settle into my rhythm as best I could on this course, which really has two parts.  The first half is more traditional but the second has some horrendously steep climbs," said Osborne.  "We had a fair bit of rain leading into race day which turned the technical parts into some proper hectic descents. It dried a bit & become much more playable on race day, but I spent a couple of nights dreaming about how to tackle them and managed to crack them. I knew there was a lot of time to be had if you could ride the technical sections well, and if it scared me a bit, it must have scared the others too."
Osborne posted the fastest bike split of the day (1:16:57) and survived the grueling run to take the tape in 2:19:54, just 40-seconds in front of three-time XTERRA Brazil Champ Felipe Moletta, who posted the fastest run split of the day in 39:26.
"Heading into the run, I think it is famous how steep & long the first hill is," explained Osborne. "Splits were scarce, or maybe it was my lack of Portuguese, but I couldn't see anyone at the top of the climb so from there I just tried to run consistently, but safe. It is one of the few places where hitting the deck on the run could be more dire than the bike."
Osborne celebrated down the finish stretch alongside a huge local cheering section and added that, "the Brazilians have been incredibly hospitable, and I have enjoyed my time here. Also got to experience something new today watching the rolling traffic management up ahead as two motorbikes were in front of me clearing the roads, stopping traffic, and trying to keep the feral dogs away from us. They did an impressive job of keeping us safe during the race."
Moletta was solid in second, with Neef two minutes behind him in third, Diogo Malagon – the 2015 Brazil Champ – in fourth, and Marcus Fernandez in fifth.
XTERRA Brazil Elite Men's Results
| | | | |
| --- | --- | --- | --- |
| Place | Name | Time | Points |
| 1 | Sam Osborne, NZL | 2:19:54 | 100 |
| 2 | Felipe Moletta, BRA | 2:20:34 | 90 |
| 3 | Sebastian Neef, GER | 2:22:59 | 82 |
| 4 | Diogo Malagon, BRA | 2:28:18 | 75 |
| 5 | Marcus Fernarndez, BRA | 2:29:14 | 69 |
| 6 | Rafael Juriti, BRA | 2:31:45 | 63 |
| 7 | Alejandro Bulacio, BRA | 2:33:54 | 58 |
| 8 | Hugo Barbosa, BRA | 2:37:06 | 53 |
| 9 | Alex Rhodes, GBR | 2:38:13 | 49 |
| 10 | Raul Furtado, BRA | 2:41:23 | 45 |
| 11 | Edivando Cruz, BRA | 2:43:06 | 41 |
| 12 | Ronaldo Ferreira, BRA | 3:10:00 | 37 |
In the women's elite race Kingsford dominated from start to finish, posting the fastest swim-bike-and-run splits on the day to take the tape in 2:53:57, more than five minutes ahead of XTERRA Chile Champion Valentina Carvalho in second.
"Probably the hardest XTERRA course I have done, so I was happy to take the win at this race," exclaimed Kingsford.  "That course definitely made you work hard for every inch, which made the win feel even better."
Kingsford started so strong in the swim she was mixing it up with the elite men and by the time she got to the midway point and the notorious pier-jump to start the second-lap there were no other elite women in sight.
"The jump off the famous pier mid-swim gave me a chance to have a glimpse back to see if any other women were with me but I couldn't see any, so I knew I was in a good spot."
Kingsford came out of the water with a two-minute lead and rolled from there, but the day wasn't without its anxiety.
"I was a bit nervous about this bike course because it is a brutal course," she said.  "It has a lot of tough, long, and steep climbs which take a lot out of you and then you get into some very technical descents that keep you on your toes."
Although she had a sizeable lead on the bike, Kingsford didn't know it so pushed hard the whole way.
"It was hard not knowing how far back the second woman was from me. I was getting a few splits here and there but not enough to give me a clear idea as to what my lead was. I knew I just had to stick to my own rhythm and ride smart and safe."
The bike course in Ilhabela is full of flavor as it has a bit of everything, including a trip through the town and back streets, through the forest and into single track in the jungle.
"I definitely enjoyed my time here in Brazil," said Kingsford.  "The organizers and locals have been so welcoming and hospitable to us Kiwis, and we will definitely have to come back to this race again!"
Sabrina Gobbo came in third, putting an end to her five-year win streak (2014-2018) to an end. Laura Mira finished fourth and sits atop the Pan Am Tour elite women's standings after three events with 203 points, and Mirian Gomes rounded out the top five.
XTERRA Brazil Elite Women's Results
| | | | |
| --- | --- | --- | --- |
| Place | Name | Time | Points |
| 1 | Samantha Kingsford, NZL | 2:53:57 | 100 |
| 2 | Valentina Carvalho, CHI | 2:59:22 | 90 |
| 3 | Sabrina Gobbo, BRA | 3:09:16 | 82 |
| 4 | Laura Mira, BRA | 3:29:03 | 75 |
| 5 | Mirian Gomes, BRA | 3:46:03 | 69 |
All-time XTERRA Brazil Elite Winners
Year – Man/Woman
2019-Sam Osborne/Samantha Kingsford
2018-Kieran McPherson/Sabrina Gobbo
2017-Felipe Moletta/Sabrina Gobbo
2016-Albert Soley/Sabrina Gobbo
2015-Diogo Malagon/Sabrina Gobbo
2014-Felipe Moletta/Sabrina Gobbo
2013-Conrad Stoltz/Shonny Vanlandingham
2012-Felipe Moletta/Shonny Vanlandingham
2011-Ben Allen/Carina Wasle
2010-Dan Hugo/Shonny Vanlandingham
2009-Rom Akerson/Maria Omar
2008-Alexandre Manzan/Carla Prada
2007-Mike Vine/Candy Angle
2006-Nico Lebrun/Candy Angle
2005-Conrad Stoltz/Jamie Whitmore
Moletta, Mira Sit Atop XTERRA Pan America Tour Elite Standings
Brazilians Felipe Moletta and Laura Mira sit atop the 2019 XTERRA Pan America Tour elite standings after the first three events of the season.
Elites count their best six races of the 10 events to determine series winners.  Find full tour rules doc here.
Up Next: XTERRA Oak Mountain, May 18 in Pelham, Alabama
PAN AM TOUR ELITE STANDINGS
After 3, as of 5.11.19
ELITE MEN
PL
NAME, NAT
TOT
AR
CH
BR
1
Felipe Moletta, BRA
212
61
61
90
2
Alejandro Bulacio, ARG
156
51
47
58
4
Rafael Juriti, BRA
153
39
51
63
3
Rom Akerson, CRC
150
75
75
x
7
Kieran McPherson, NZL
134
67
67
x
6
Sam Osborne, NZL
100
x
x
100
5
Alex Roberts, NZL
99
56
43
x
8
Will Ross, USA
99
43
56
x
9
Alex Rhodes, GBR
85
36
x
49
10
Sebastian Neef, GER
82
x
x
82
11
Diogo Malagon, BRA
75
x
x
75
12
Marcus Fernandez, BRA
69
x
x
69
13
Hugo Barbosa, BRA
53
x
x
53
14
Lucas Mendez, ARG
47
47
x
x
15
Raul Furtado, BRA
45
x
x
45
16
Edivando Cruz, BRA
41
x
x
41
17
Ronaldo Ferreira, BRA
37
x
x
37
 ELITE WOMEN
PL
NAME, NAT
TOT
AR
CH
BR
1
Laura Mira, BRA
203
67
61
75
2
Valentina Carvallo, CHI
165
x
75
90
3
Samantha Kingsford, NZL
100
x
x
100
4
Sabrina Gobbo, BRA
82
x
x
82
5
Erika Simon, ARG
75
75
x
x
6
Mirian Gomes, BRA
69
x
x
69
7
Johandri Leicester, RSA
67
x
67
x
8
Javiera Gainza, CHI
56
x
56
x
XTERRA World Championship Qualifying Series Schedule
XTERRA Brazil was the nihth of 30 races around the world where amateur athletes could qualify for XTERRA Worlds.
Date              Race / Location – Winners
24-Feb           XTERRA South Africa – Brad Weiss/Hayley Preen
9-Mar             XTERRA Motatapu – Flavio Vianna/Emma Weston
23-Mar           XTERRA Argentina – Rom Akerson/Erika Simon
30-Mar           XTERRA Asia-Pacific Championship Brad Weiss/Penny Slater
31-Mar           XTERRA Chile Rom Akerson / Valentina Carvallo
6-Apr              XTERRA New Zealand Sam Osborne / Jacqui Allen
7-Apr              XTERRA Cyprus Filippo Rinaldi / Carina Wasle
21-Apr            XTERRA Greece Arthur Serrieres / Lesley Paterson
11-May           XTERRA Brazil Sam Osborne / Samantha Kingsford
18-May           XTERRA Oak Mountain # GOLD / Pelham, Alabama, USA
18-May           XTERRA Malta * Silver / Majjistral Nature Reserve
26-May           XTERRA Italy – Lake Garda * Silver / Toscolano
31-May           XTERRA Tahiti + Silver / Moorea
1-Jun              XTERRA Portugal * Silver / Golega
8-Jun              XTERRA Belgium * Silver / Namur
16-Jun            XTERRA Denmark * Silver / Aarhus
29-Jun            XTERRA Switzerland * Silver / Vallee de Joux
7-Jul               XTERRA France * GOLD / Xonrupt
7-Jul               XTERRA Victoria # Silver / Victoria, B.C., Canada
14-Jul             XTERRA Quebec # Silver / Quebec City, QC, Canada
20-Jul             XTERRA Beaver Creek # GOLD / Beaver Creek, CO, USA
21-Jul             XTERRA Italy – Scanno * GOLD / Abruzzo
3-Aug             XTERRA Mexico # GOLD / Tapalpa
3-Aug             XTERRA European Championship * GOLD / Prachatice, Czech
4-Aug             XTERRA Conquer the Crater / Sudbury, ON, Canada
17-Aug           XTERRA Germany * GOLD / Zittau
18-Aug           XTERRA Canmore / Alberta, Canada
24-Aug           XTERRA Sleeping Giant / Thunder Bay, Ontario, Canada
25-Aug           XTERRA Hawaii Island / Hapuna, Big Island
1-Sep             XTERRA Dominican Republic # Silver / Samana
1-Sep             XTERRA Luxembourg * Silver / Rosport
7-Sep             XTERRA Pan Am / USA Championship # GOLD / Utah, USA
14-Sep           XTERRA Netherlands * Silver / Ameland Island
15-Sep           XTERRA Japan * Silver / Marunuma
22-Sep           XTERRA Kunming + GOLD / Yunnan Province, China
22-Sep           XTERRA Altifort (Long Distance) / Megeve, France
27-Sep           XTERRA Korea / Wonju City
28-Oct            XTERRA World Championship / Kapalua, Maui, Hawaii