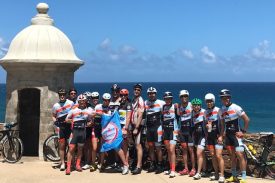 Team Coaches credit PB's, Podium Spots, and overall Wins to selecting the right fuel
Charleston, SC (March 15, 2018) New World Consumer Products, LLC (NWCP), the makers of XRCEL Athlete Fuel, announces their continued sponsorship of the KIS Performance Triathlon Team for the 2018 season.
"We're excited about our continued sponsorship of the KIS Performance team. They are a talented and spirited triathlon team based in NYC and has grown to include members and coaches on the West coast.  Not only are we proud to have played a role in fueling the KIS team to new personal bests, podium finishes, and wins, we're also proud of their tangible humanitarian relief efforts to rebuild the devastated communities of Puerto Rico. We wish them best of luck as many of their athletes race IRONMAN 70.3 Puerto Rico this weekend", said Laura DeMeo, Business Development Manager – Endurance Sports for Team XRCEL.
"As a Full Distance triathlete in order to achieve the best results you need to dialed in not only with your Swim, Bike and Run but also with your nutrition plan. Many well trained athletes prepare for months for a race and end up falling apart due to a gastrointestinal issue. As a Coach, and athlete, I have experimented with many different nutritional products but was always dissatisfied with the results. Finally I came across XRCEL and it's patented energy release technology and the GI issues were gone. XRCEL not only tastes great but goes down easy. I loved it so much that I introduced all the athletes on the KIS Performance Team to it and now it's an essential part of our nutritional plan.  We use it during training session, races and for immediate recovery", said Sam Cordona, Co-Founder KIS Coaching.
This weekend the KIS Performance Team will be heading down to sunny San Juan to race at the Ironman 70.3 Puerto Rico. A group of athletes and volunteers will be heading down to bring much needed relief, repairs and hope. So far in conjunction with Ironman Foundation, NY Health & Racquet Club, Firehouse Subs Public Safety Foundation along with donations from fans like you they have raised over $120,000!! These funds will be used to promote rebuild projects throughout the island and to foster hope to the hit hardest by the hurricane.
XRCEL is proud to be a sponsor of the KIS Coaching Athletes as we help to fuel their passion and dreams. Best of luck to Coach Sam Cardona, Louis Mancuso, Micheal Vallane, Sean McGirt, Kristen Jessen, Mike Patch, Mike Levesque Jr and Patrick Burlingham.
http://ironmanfoundation.org/puerto-rico-relief-effort/
### 
ABOUT KIS Coaching
Keep It Simple Coaching was founded in 2016 by Professional Triathletes Scott DeFilippis, Brad Williams, along with coach Sam Cardona, a well-accomplished age group triathlete.  The mission of Keep It Simple Coaching is to guide athletes, from beginner to professional, to achieve their personal goals in triathlon while living a balanced life.  This is achieved through our simple approach of building training plans around YOUR life and schedule. At KIS coaching, we stress to our athletes that love of the sport and having fun must come first! We guide our athletes with an understanding that the sport of triathlon can be a very healthy lifestyle, but should never consume or define who they are.
For more info on KIS Coaching visit them at www.kiscoaching.com
For More Information
Media Inquiries:
Sam Cardona
212-203-2615
http://samcardona9@gmail.com 
About XRCEL® Athlete Fuel
XRCEL Athlete Fuel is a revolutionary extended release carbohydrate supplement formulated with patented pH and temperature responsive micro-gel technology developed by New World Pharmaceuticals, LLC.  XRCEL is a caffeine and banned substance free supplement designed to provide athletes with extended release muscle and brain fuel so that they may get the most out of their training and competitions. 
New World Pharmaceuticals is based in Charleston, South Carolina. For more information, please visit http://www.NewWorldPharma.com.
For More Information
Media Inquiries:
Lisa Sexton
843.737.6192 Ext 104
Lisa@XRCEL.com