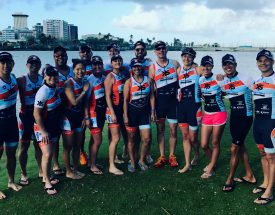 Great Athletes, Great Coaches and Great Fuel is the Recipe for Racing Success
Charleston, SC – New World Consumer Products XRCEL Athlete Fuel is proud to have qualified 15 XRCEL Athletes for the Ironman 70.3 2017 World Championship, 14 from our XRCEL sponsored KIS Coaching Team, plus 2017 NJ State Sprint Champion Brian Norling.
These athletes competed against more than 130,000 athletes in over 85 events in locations such as Australia, Germany, South Africa and Latin America to grab a Qualification Slot.
For the first time, the championship race was a two-day event with the Professional and Age Group Women racing on Saturday, September 9 and the Professional and Age Group Men racing on Sunday, September 10th.
"Here at KIS Coaching we believe in putting in the effort and keeping things simple," said Sam Cardona, KIS Coach and Team Manager. "We do this by focusing on the task at hand; whether it be swimming, biking or running. When it comes to race day nutrition – we keep this simple too. We prefer to use XRCEL Athlete Fuel before and during our racing as it delivers the energy we need for high performance. Fifteen minutes before a swim our athletes consume one serving (4.75 oz). Since there is no caffeine in the product, it helps us keep our heart rate down in the crucial beginning of the swim. On the bike we take a serving, once per hour, to top off our energy reserves. Because of its patented energy release technology, we get the energy we need, when we need it most. XRCEL also limits GI issues so that we can comfortably absorb the energy and nutrients we supply our bodies. This year we have a total of 14 KIS athletes that qualified for the Ironman 70.3 World Championships. We're proud to use and to be sponsored by XRCEL Athlete Fuel."
"We are thrilled for the KIS Coaching team and Brian Norling, for having such an action-packed race season full of PR's, wins, podium finishes, and State championships," said Laura DeMeo Business Development Manager – Endurance Sports for Team XRCEL. "We congratulate these 15 athletes, and all of the others, who qualified and competed among the best at Ironman 70.3 World Championships!"
"When you combine great athletes, with great coaching, and you give them the best fuel available, it's no surprise that you get awesome results," said Fred Sexton, President & Founder of New World Consumer Products, the makers of XRCEL Athlete Fuel. We're glad we had the opportunity to work with and fuel the coaches and these athletes, and to play a part in their winning season."
XRCEL's cutting edge technology is the only carbohydrate supplement that delivers BOTH Immediate and Extended Release glucose via patented micro-gels. Athletes are fueled longer and more efficiently. Glucose, the body's first choice of fuel during exercise begins conversion to ATP (energy) immediately while the patented glucose loaded micro-gels target the receptor sites in the gut, responding to each individual's pH, body temperature, and unique fuel requirements, providing steady fuel exactly when and where it is needed. Efficient long lasting fueling means eliminating peaks and valleys in performance. XRCEL's Ready to Drink, No Mix Formula, is only 4.75 ounces providing additional benefits: GI friendly, no stomach upset or feeling of fullness, helps prevent cramping, provides additional electrolytes, and tops off glycogen reserves for when needed later, and aides in recovery. Muscles and brain are fed for more power and better focus, resulting in athletes being able to push harder and longer in both training and competition. It's the perfect fuel for triathletes of all levels.
###
ABOUT KIS Coaching
Our History
Keep It Simple Coaching was founded in 2016 by Professional Triathletes Scott DeFilippis, Brad Williams, along with coach Sam Cardona, a well-accomplished age group triathlete.  The mission of Keep It Simple Coaching is to guide athletes, from beginner to professional, to achieve their personal goals in triathlon while living a balanced life.  This is achieved through our simple approach of building training plans around YOUR life and schedule. At KIS coaching, we stress to our athletes that love of the sport and having fun must come first! We guide our athletes with an understanding that the sport of triathlon can be a very healthy lifestyle, but should never consume or define who they are.
For more info on KIS Coaching visit them at www.kiscoaching.com
For More Information
Media Inquiries:
Sam Cardona
212-203-2615
http://samcardona9@gmail.com
About XRCEL® Athlete Fuel
XRCEL Athlete Fuel is a revolutionary extended release carbohydrate supplement formulated with patented pH and temperature responsive micro-gel technology developed by New World Pharmaceuticals, LLC.  XRCEL is a caffeine and banned substance free supplement designed to provide athletes with extended release muscle and brain fuel so that they may get the most out of their training and competitions. NCAA & WADA Compliant.
New World Pharmaceuticals is based in Charleston, South Carolina. For more information, please visit http://www.NewWorldPharma.com. 
For More Information 
Media Inquiries:
Lisa Sexton
843.737.6192 Ext 104
Lisa@XRCEL.com