Kane Footwear Brings Recovery Footwear to Nordstrom
February 16, 2023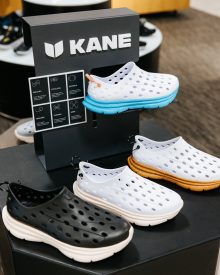 Kane celebrates first major retail partnership with exclusive colorway available at Kane and Nordstrom
Westport, CT /ENDURANCE SPORTSWIRE/ – Kane Footwear, a leader in active recovery footwear, is now available in 12 select Nordstrom stores and Nordstrom.com, having expanded to six additional brick and mortar stores this week. In celebration of launching with their first major retailer, Kane has designed an exclusive Olive colorway that will only be available at Kane's website and Nordstrom.
Kane strives to partner with retailers that align on their mission to deliver functional, aesthetic activewear that exceeds expectations. Nordstrom, known for being a leader in shoes by inspiring customers with a curated selection of the world's best brands across price points, fit the bill as a match for their first major retailer.
"We're excited to bring the unique style of the Revive to Nordstrom," John Gagliardi, CEO and Founder of Kane Footwear, said. "As more people look to essentials that provide everyday comfort and functionality, we want to make the Revive recovery accessible for all types of people on the move."
Nordstrom's growth into recovery footwear is a fitting expansion as the athleisure market reports continuous growth. The Revive was designed with this new movement in mind and meets the needs of athletes and gym-goers looking for a recovery-on-the-go option. The soft, dual-density foam of the Revive reduces the impact of walking on hard concrete surfaces, and nodes on the sole of the shoe help to promote blood flow, so you can recover while on your feet.
Kane's exclusive Olive/Olive Speckle shoe is available for purchase on http://www.kanefootwear.com and Nordstrom.com, as well as at select Nordstrom locations. You can also check out the current availability at Nordstrom HERE.
About Kane Footwear
Headquartered in Westport, CT, Kane is a footwear brand dedicated to the recovery of body and planet. Implementing expert driven design, biobased manufacturing, and modern aesthetics, Kane is creating active recovery footwear for mindful movers. Their flagship Revive slip-on, designed in collaboration with Board Certified foot and ankle surgeon Dr. Dan Geller, is built with eco-based materials and an active recovery design that promotes healing. John Gagliardi, Kane's founder and CEO, spent over two years to research materials, design and develop the Revive. You can learn more at www.kanefootwear.com.