Kane Footwear and Honey Stinger Announce Collaboration
October 19, 2023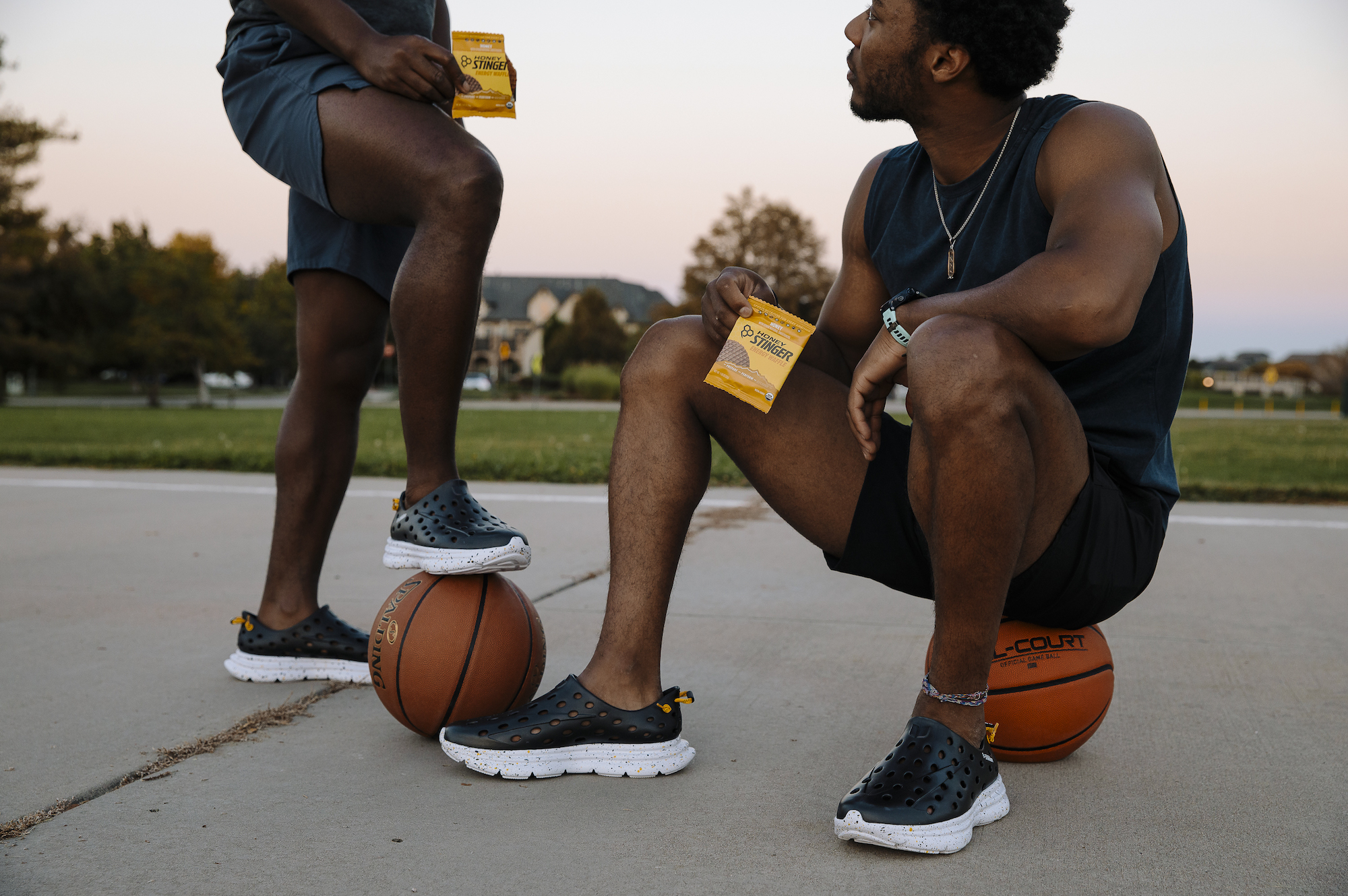 The two active lifestyle brands release collaborative, limited-edition recovery shoe
Westport, CT and Steamboat Springs, CO (October 19, 2023)/ENDURANCE SPORTSWIRE/ – Kane Footwear, the leader in active recovery footwear, and leading sports nutrition brand, Honey Stinger, today announce the launch of their collaborative Honey Stinger x Kane Revive recovery slip-on. The shoe features Honey Stinger's signature black and honey yellow colors: a black upper and a white sole with black and yellow speckles.
The brands were joined by a shared mission to offer the best products to support the performance needs of an active lifestyle.
"It was an easy choice to partner with Honey Stinger for a collaborative shoe design," John Gagliardi, Founder and CEO of Kane Footwear, said. "They not only share our vision to bring recovery solutions to everyday athletes, but they make high-quality, good-tasting products. I've been using Honey Stinger products for over a decade, and their energy waffles fueled me through my years playing professional lacrosse. We're excited to bring the Honey Stinger x Kane Revive to fans of both brands."
Kane and Honey Stinger both promote recovery as a core tenet of their brand. The Honey Stinger x Kane Revive shoe features dual density cushioning for a plush, supportive feel, a 10mm heel-to-toe drop to reduce achilles tendon stress, and raised nodes on the sole that encourage circulation. The shoe was designed in collaboration with sports podiatrist Dr. Dan Geller to promote full lower body recovery.
"These two brands have a trusted following in college and professional sports, and we are thrilled to team up to deliver functional recovery footwear for athletes," said Luke Cherry, Sr. Director of Sports Marketing & Team Sales at Honey Stinger. "All Honey Stinger products fit into either the prepare, perform, or recover category, and we're always searching for ways to deliver added value to our athlete community. This custom Kane Revive shoe is a no-brainer to help our athletes come back even stronger!"
The Honey Stinger x Kane Revive features the Honey Stinger logo on the side of the shoe and on the rubber hangloop. The limited-edition shoe retails for $90 and is available for purchase at HoneyStinger.com and KaneFootwear.com, while supplies last.
###
Honey Stinger Press Contact: Wendy Mayo | wmayo@honeystinger.com | 510.332.9851
Kane Footwear Press Contact: Madison Sprague | madison@purpleorangepr.com | 707-580-9580
About Kane Footwear
Headquartered in Westport, CT, Kane is a footwear brand dedicated to the recovery of body and planet. Implementing expert driven design, biobased manufacturing, and modern aesthetics, Kane is creating active recovery footwear for mindful movers. Their flagship Revive slip-on, designed in collaboration with Board Certified foot and ankle surgeon Dr. Dan Geller, is built with eco-based materials and an active recovery design that promotes healing. John Gagliardi, Kane's founder and CEO, spent over two years to research materials, design and develop the Revive. You can learn more at www.kanefootwear.com.
About Honey Stinger:
Fueling more than 1,000 professional teams and collegiate athletic teams as well as countless athletes and fitness enthusiasts alike, Honey Stinger makes great-tasting, convenient sports nutrition to help athletes Prepare, Perform, and Recover™ at their best. Based in Steamboat Springs, Colorado since 2001, Honey Stinger's products can be found at top retailers including grocers, convenience stores, and sports retailers. Explore Energy Waffles, Energy Chews, Bars, Gels and Hydration at www.honeystinger.com