Kaiser Permanente San Francisco Half Marathon Grows Registration for the Third Consecutive Year
February 8, 2019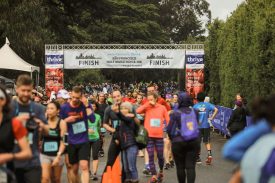 SAN FRANCISCO— The views of Golden Gate Park and the Pacific Ocean continue to inspire athletes of all abilities at the Kaiser Permanente San Francisco Half Marathon. The 2019 edition took place on February 3, with record participation of more than 8,000 registrants.
The rain and blustery weather system moving through San Francisco did little to quell any enthusiasm along the course. Trevor Halstead, 25, of Stanford won the men's half marathon in 1:08:31, while Liza Reichert, 31, from Los Altos Hills, California, took the women's victory in 1:16:41 in a tune-up for an Olympic Trials qualifier attempt in March at the Napa Valley Marathon.
Along with the 13.1-mile distance, the event also offered a 5K and a new 10K distance, which drew more than 2,000 runners. Teresa McWalters of San Francisco placed first in the 10K and local journalist and running media personality Mario Fraioli won the men's division.
This is the third year that Blistering Pace Race Management has directed the event. Michelle La Sala, BPRM president, said it's an honor to celebrate the San Francisco running community each Super Bowl Sunday.
"Top-notch runners as well as first-timers come together for a quintessential tour of the best of San Francisco, making it a continual favorite, must-do race for thousands," La Sala said. "We couldn't be more thrilled with the growth of the event during this time in the running industry and we are already looking forward to 2020."
The Kaiser Permanente San Francisco Half Marathon, 10K & 5K also benefit four local charities. Pamakid Runners will donate more than $100,000 to San Francisco nonprofit organizations. Long-time title sponsor Kaiser Permanente not only provides the event financial support, but contributes to on-course medical care and buses employees to the race to take part.
"We are so fortunate to give back to the city of San Francisco and all its neighbors in the Bay Area," La Sala said.
Registration for the 2020 Kaiser Permanente San Francisco Half Marathon, 10K & 5K is open. The event will take place on February 2, 2020.
###
About Blistering Pace Race Management: Founded in 2016, BPRM works in a variety of race management capacities, ranging from staffing to full operational oversight. Clients include the Kaiser Permanente San Francisco Half Marathon, 10K & 5K, the Napa Valley Marathon and Half Marathon, the Big Sur Marathon Foundation, and the New York City Marathon. For more information, visit the website.