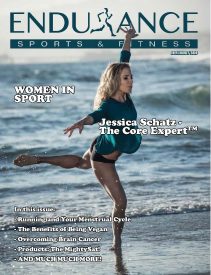 Read about The Women in Sport Issue!
July 6, 2018 – Washington DC – Endurance Sports & Fitness Magazine (ES&F), a globally-distributed magazine focusing on all aspects of ultra-distance running, cycling, triathlon and adventure racing today launches its July/August issue entitled, Women in Sport.
"The May/June issue of ES&F was dedicated to men. This issue, the Women in Sport issue, is dedicated to stellar female athletes!" said Alix Shutello, CEO and Publisher.
The cover model, Jessica Schatz, of Core ExpertTM, is a well renown expert in core exercise programs and wellness. "When Jessica's agents sent me photos of her I knew she needed to be on the cover," Shutello said. "I vetted a draft cover with my Facebook audience and everyone loved it."
The issue focuses on a number of women who are stellar athletes in their 40s and 50s. Almost all of them follow vegan diets; many of whom chose this dietary lifestyle because their current eating habits were causing health issues.
"Two athletes we feature, Jackie Bustos and Julia Khvasechko, were experiencing some severe health effects from poor eating," Shutello explained.  "I am convinced that Julia Khvasechko's life was saved from changing her diet."
Khvasechko is an endurance athlete who conquered cancer and has run over 200 marathons. Khvasechko was diagnosed with an inoperable brain tumor in her 20s. After researching her cancer, she saw the benefits of cleaning up her diet and went vegan. Khvasechko states in her article that at first she was merely eating to survive, and through time, completely removed processed sugar and other foods from her diet.  A couple of months after changing her diet, the size of the tumor shrunk considerably. She was able to have surgery to have it successfully removed and is now cancer-free.
"I've been impressed by how many vegan athletes approached me about covering their quest to change their lifestyle," Shutello said. "It's inspiring and for many, the absolute right thing to do to maintain optimum health."
The article lineup is listed below:
EDITORS LETTER
The women in sport issue
By Alix Shutello
Endurance science
Women on the Move
By Frederick C. Surgent
COACHES CORNER
Managing the Endurance Lifestyle
By Gary Dudney
Running Around the Menstrual Cycle
By Dr. Jason Karp, Ph.D.
featuRe
The Core ExpertTM, Jessica Schatz
By Alix Shutello
IN FIRST PERSON
Cancer Didn't Bring Me to My Knees, It Brought Me to My Feet
By Julia Khvasechko
The Philosophy of Endurance Running
By Eileen Francisco
Athlete Profiles
Jackie Bustos: Why I am A Vegan Athlete
By Alix Shutello
Competitive Athlete, Renee Idone, is Ready to Tackle Ultras
By Alix Shutello
Deborah Battaglia – Being 50 and Extreme
By Alix Shutello
interview
Debunking the Myth that All Vegans are Frail, Not Fit: An Interview with Vegan Athlete Trish Knight
By Alix Shutello
race report
Gemma Game's Return to the Marathon De Sables
By Susie Chan
Purchase a digital issue at: https://shopendurancesportsandfitness.com/products/digital-subscription
Learn more about advertising: https://shopendurancesportsandfitness.com/pages/advertising
For more information about advertising and article submissions, email AlixShutello@gmail.com.
###
In addition to building awareness, ES&F is also looking to raise seed money to add more reporters, columnists and photographers to the publishing team. To do this, ES&F started a GoFundMe campaign. To learn more about Endurance Sports and Fitness Magazine, visit www.EnduranceSportsandFitness.com. All past digital issues can be found on Titlestand.
About Endurance Sports & Fitness Magazine (ES&F)
ES&F covers content on all aspects of endurance racing and training. Our stories discuss the mental aspects of training, nutrition, books, gear, race calendars and more. Our magazine offers more than just content; we also offer advertising, marketing and ad design services. We also have a prolific following on Facebook and LinkedIn. ES&F publishes 6 times a year. Issues are published in January/February, May/June, July/August, September/October and November/December.