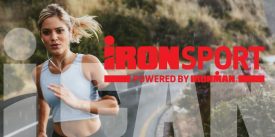 IRONMAN taps Graj + Gustavsen to create and serve as licensing agency for the new brand
TAMPA, Fla./NEW YORK, N.Y. (March 21, 2018) – IRONMAN, a Wanda Sports Holdings company, announced today it has teamed up with Graj + Gustavsen (G+G), a full-service strategic and creative branding and licensing agency, to create a new brand that extends IRONMAN® to additional audiences. The new brand, IRONSPORT™: Powered by IRONMAN® was created to deliver outstanding products and services to those who are passionate about living a fun, active, fitness-fueled life. The brand slogan of "I CAN" speaks to the mindset that it's not about being the fastest, the strongest or going the furthest, but about YOUR fastest, strongest and furthest.
IRONSPORT will allow consumers to engage and be inspired in new ways through the association with the world-class and highly aspirational active brand IRONMAN that celebrates human achievement and the mantra that ANYTHING IS POSSIBLE®.
"IRONSPORT is about discovering your best self. We are looking forward to the new product offerings that will be born from a culture of endurance sport but are designed for everyday performance," said Nathalie Wolderling Bishman, Sr. Director of Global Licensing at IRONMAN. "As we continue to expand our brands globally and across product categories, the G+G team is helping us create new and innovative ways to bring our unique philosophy to consumers across all athletic levels. G+G is known for its out-of-the-box thinking, strategic partnerships, and tremendous creative capabilities and we look forward to what we can do collectively to bring this new brand to life."
In addition, G+G will serve as the exclusive licensing agency for the brand in the United States and Canada working across all categories from apparel to healthy food alternatives and beyond.
"We are very excited and honored to have the opportunity to build new intellectual property for a world-class brand and work with the amazing team at IRONMAN," said Scott Todd, SVP of Licensing at Graj + Gustavsen.
IRONSPORT is joining an impressive licensing legacy shared by the IRONMAN family of brands. Since the 1986 launch of the top-selling Timex IRONMAN watch, IRONMAN has developed a licensing program that generates more than $300 million annually in global retail sales. The IRONKIDS® brand, which promotes healthy and active lifestyles among youth, also produces a successful licensing initiative – including the popular IRONKIDS Gummy Vitamins. Today, IRONMAN is the 72nd largest licensor in the world as reported by Global License Magazine.
###
About Graj + Gustavsen
G+G is a full-service strategic and creative brand consultancy that offers brand and business growth solutions by delivering vision and insight in the areas of strategy, design, brand extensions and consumer experience. For nearly 30 years, G+G has partnered with brand owners, investors and operators to maximize brand value, creating brand experiences and extensions that connect deeply with consumers. For licensing inquiries please contact Scott Todd at scott@ggny.com or visit www.GGNY.com  
IRONSPORT
The newest member of the IRONMAN family of brands, IRONSPORT™, "Powered by IRONMAN", was inspired by the ANYTHING IS POSSIBLE® spirit of IRONMAN, continuing the tradition of quality and excellence that the IRONMAN brand has come to embody since 1978. IRONSPORT was created to reach people everywhere who are passionate about living a fun, active, fitness-fueled life. IRONSPORT will be licensed to best-in-class partners from apparel to healthy food alternatives and beyond.
IRONKIDS
After being acquired from the Sara Lee Corporation, which owned the event series since 1985, IRONKIDS® launched in 2009 with nine events. Since the inaugural year, IRONKIDS has seen more than 60,000 participants and has grown to over 80 events worldwide including races in Africa, Asia, Australia, Europe and North America. Further expansion is planned to for the launch of 100 new IRONKIDS events in China by 2020. The brand creates positive experiences for youth while fostering self-esteem through achievement. The IRONKIDS mission is to inspire and motivate through sport to live an active, positive and healthy lifestyle. For more information, visit www.ironkids.com.
About IRONMAN Consumer Products Licensing
IRONMAN is a top 100 Global Licensor with retail revenues of licensed product exceeding USD$300 million per year. IRONMAN Licensed Products have been around since the inception of the brand and are manufactured and distributed through global, regional and local licensing partners across a variety of channels including food, drugstore, mass, and specialty as well as online and through IRONMAN owned retail channels. IRONMAN aims to create products that expand the brands exposure and enhances core and casual fans' relationship with the brands beyond the mass participation event offerings. IRONMAN products span categories such as watches, eyewear, compression apparel, apparel accessories, fitness accessories, running strollers, fragrances, bags and luggage as well as wellness products to aid in an athlete's nutrition and recovery. Most notably, the Timex IRONMAN Watch was launched in 1986 and continues to be the #1 selling sport watch in the world. For more information contact licensing@ironman.com.
IRONMAN
A Wanda Sports Holdings company, IRONMAN operates a global portfolio of events that includes the IRONMAN® Triathlon Series, the IRONMAN® 70.3® Triathlon Series, 5150™ Triathlon Series, the Rock 'n' Roll Marathon Series®, Iron Girl®, IRONKIDS®, International Triathlon Union World Triathlon Series races, road cycling events including the UCI Velothon Series, mountain bike races including the Absa Cape Epic®, premier marathons including the Standard Chartered Singapore Marathon and other multisport races. IRONMAN's events, together with all other Wanda Sports Holdings events, provide more than a million participants annually the benefits of endurance sports through the company's vast offerings. The iconic IRONMAN® Series of events is the largest participation sports platform in the world. Since the inception of the IRONMAN® brand in 1978, athletes have proven that ANYTHING IS POSSIBLE® by crossing finish lines at the world's most challenging endurance races. Beginning as a single race, IRONMAN has grown to become a global sensation with more than 200 events across 50 countries. For more information, visit www.IRONMAN.com.
About Wanda Sports Holdings
Wanda Sports Holdings is the world's leading sports business entity, founded to capture the opportunities in the global sports industry and to contribute to the prosperous international sports landscape – in three key areas: 1) Spectator Sports (media & marketing business), 2) Participation Sports (active lifestyle business), 3) Services (digital, production and service business). Wanda Sports Holding incorporates the international sports marketing company Infront Sports & Media, the iconic endurance brand IRONMAN, and Wanda Sports China. The headquarters are in Guangzhou, China.