IRONMAN Foundation Celebrates 20 Years of IRONMAN Lake Placid
July 13, 2018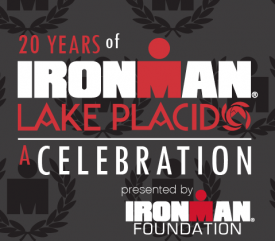 $110,000 in grant funding to support local organizations and service project
TAMPA, Fla. – To commemorate the 20th year of IRONMAN® Lake Placid, the IRONMAN Foundation® will distribute more than $110,000 in charitable giveback to non-profit initiatives and groups in the greater Lake Placid region in conjunction with the 2018 IRONMAN Lake Placid triathlon taking place on Sunday, July 22. This year's grant funding brings the total giveback to more than $1.6 million in the region since inception.
"It's an honor to support so many incredible local community organizations and causes," said Sarah Hartmann, acting Executive Director for the IRONMAN Foundation. "Together we are creating a tangible and lasting impact in Lake Placid. It will be a highlight to celebrate with the community and offer athletes and their families two service project opportunities during race week."
The IRONMAN Foundation Community Fund provides community and volunteerism grant opportunities to non-profit organizations where IRONMAN events are held. In 2018 the IRONMAN Foundation will distribute more than $1.7 million in grant funding to support the needs of IRONMAN race communities. Community grants will be awarded to 27 organizations within Lake Placid and the surrounding areas. The grantees include:
Adirondack Wildlife Inc.
Ausable River Association
Educational Opportunity Fund for The Lake Placid Central School District
Essex County Sheriff's Office Benevolent Fund, Inc.
I WILL Foundation
Keene Public Library
Lake Placid Community Beautification Association, Inc.
Lake Placid Cross Country Team
Lake Placid Essex County Quality Destination, Inc.
Lake Placid Outing Club
Lake Placid PBA
Lake Placid Village, Inc.
Lake Placid Volunteer Ambulance Service
Lake Placid Volunteer Fire Department
Lake Placid/Wilmington Connecting Youth and Communities Coalition, Inc.
Little Peaks Preschool
Morrisonville-Schuyler Falls Volunteer Ambulance Service
New York Conservation Officers Association
North Country SPCA
NYS Trooper Foundation
Outbackriders Inc.
Town of Black Brook
Town of Jay
Town of Keene
United States Luge Association
Village of Lake Placid Fire Department
Wilmington Fire and Rescue
20 Years of IRONMAN Lake Placid presented by the IRONMAN Foundation
To celebrate the 20th year of the event, the IRONMAN Foundation will host a special "20 Years of Lake Placid" reception to honor the event's founders and key stakeholders. Notable attendees include Graham Fraser, a pioneer who put IRONMAN events on the map in North America, two-time IRONMAN Lake Placid Champion, IRONMAN World Champion and IRONMAN Hall of Famer Heather Fuhr, and New York City Firefighter Matt Long. In 2005, Long was struck by a 20-ton bus as it was making an illegal turn. After more than five months in the hospital and 40 operations, he finished IRONMAN Lake Placid in 2009. A silent auction will showcase entries into select IRONMAN and IRONMAN 70.3® events, hotel stays, VIP packages and various commemorative items. Proceeds from the auction will provide additional giveback to the local community.
Service Projects
The IRONMAN Foundation will partner with the Lake Placid Outing Club to host a water safety and stand-up paddle boarding clinic for local youth on Thursday, July 19 at Mirror Lake as part of IRONMAN Lake Placid race week. The service project will conclude with a paddle-board race for the children as they put their newly acquired skills to the test. The Lake Placid Outing Club will be presented with 10 mountain bikes through the Bike for a Kid program, as well as a $4,000 Community Grant to be used to support their mission in empowering youth through wilderness activities.
"We are excited to have the opportunity to work with the IRONMAN Foundation on this community service project," said Dave Balestrini, Chairman of the Board at Lake Placid Outing Club. "Local kids will greatly enjoy and learn from this experience. The Lake Placid Outing Club is also grateful for the continued support of the IRONMAN Foundation as it allows us to reach more youth in our community and expand the experiences that we are able to offer them."
Bike for a Kid presented by FLO Cycling
Additionally, the IRONMAN Foundation, in partnership with FLO Cycling, will host a "Bike for a Kid" pop-up service project in the IRONMAN Village on July 19 and July 20. IRONMAN Lake Placid athletes, along with their families and friends, are invited to visit the IRONMAN Foundation booth to assemble a bike for local kids in need. A total of 50 bikes will be built and distributed to children within the region including several active duty military families through a partnership with Blue Star Families, providing a tangible link between athletes and the host race community.
For more information on IRONMAN and The IRONMAN Foundation, please visit www.ironman.com and www.ironmanfoundation.org. For media related inquiries, please contact [email protected].
###
About Lake Placid Outing Club
Lake Placid Outing Club (LPOC) is a parent led, outdoor organization providing a safe, positive, lifelong learning experience for our youth through wilderness activities. LPOC builds self-esteem through the satisfaction of achievement, caring for others, and stewardship of the environment. All is accomplished in the setting of having fun in the mountains.
About the IRONMAN Foundation
The IRONMAN Foundation® creates positive, tangible change in IRONMAN race communities by engaging athletes and volunteers to participate in programs that demonstrate service through sport and commitment to community. Since 2003, over $50,000,000 has been provided through IRONMAN charitable giveback programs including the IRONMAN Foundation to more than 6,300 local, regional, national and global nonprofit initiatives. Through these partnerships, IRONMAN athletes are powerfully linked to the community and together we leave the IRONMAN legacy behind in our race communities long after event day. For more information on IRONMAN Foundation programs, including Team IMF, Community Fund, Your Journey Your Cause, and Women For Tri, visit www.ironmanfoundation.org.
About IRONMAN
A Wanda Sports Holdings company, IRONMAN operates a global portfolio of events that includes the IRONMAN® Triathlon Series, the IRONMAN®70.3® Triathlon Series, 5150™ Triathlon Series, the Rock n' Roll Marathon Series®, Iron Girl®, IRONKIDS®, International Triathlon Union World Triathlon Series races, road cycling events including the UCI Velothon® Series, mountain bike races including the Absa Cape Epic®, premier marathons including the Standard Chartered Singapore Marathon, and other multisport races. IRONMAN's events, together with all other Wanda Sports Holdings events, provide more than a million participants annually the benefits of endurance sports through the company's vast offerings. The iconic IRONMAN® Series of events is the largest participation sports platform in the world. Since the inception of the IRONMAN® brand in 1978, athletes have proven that ANYTHING IS POSSIBLE® by crossing finish lines at the world's most challenging endurance races. Beginning as a single race, IRONMAN has grown to become a global sensation with more than 230 events across 53 countries. For more information, visit www.ironman.com.
About Wanda Sports Holdings
Wanda Sports Holdings is the world's leading sports business entity, founded to capture the opportunities in the global sports industry and to contribute to the prosperous international sports landscape – in three key areas: 1) Spectator Sports (media & marketing business), 2) Participation Sports (active lifestyle business), 3) Services (digital, production and service business). Wanda Sports Holding incorporates the international sports marketing company Infront Sports & Media, the iconic endurance brand IRONMAN, and Wanda Sports China. The headquarters are in Guangzhou, China.