IRONMAN Announces 2023 IRONMAN and IRONMAN 70.3 Broadcast Schedule
March 1, 2023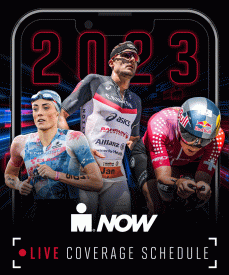 - Live broadcast programming continues in 2023 featuring 12 full-distance IRONMAN triathlons around the globe, including both the men's and women's 2023 VinFast IRONMAN World Championship races on IRONMAN.com/LIVE, YouTube and Facebook - 13 IRONMAN 70.3 triathlons to be broadcast on Outside Watch, debuting with the 2023 Athletic Brewing IRONMAN 70.3 Oceanside triathlon, Saturday April 1, and will also include VinFast IRONMAN 70.3 World Championship in Lahti, Finland
TAMPA, Fla. (March 1, 2023) /ENDURANCE SPORTSWIRE/ – IRONMAN announced today its broadcast schedule for the 2023 season. The 2023 full-distance IRONMAN® triathlon broadcast schedule will feature 12 stops around the globe including both the men's and women's 2023 VinFast IRONMAN World Championship, which will be available on IRONMAN.com/LIVE, and IRONMAN YouTube and Facebook channels. The 2023 season IRONMAN 70.3® triathlon broadcast schedule will feature 13 events around the world, including the two-day VinFast IRONMAN 70.3 World Championship triathlon in Lahti, Finland, available for the second straight year on Outside Watch. The broadcast season will kick off in California on April 1, with the Athletic Brewing IRONMAN 70.3 Oceanside triathlon.
"We're excited to deliver another full year of live race programming for both full-distance IRONMAN Series and half distance IRONMAN 70.3 Series globally," said Julia Polloreno, Vice President, Content Production and Distribution for The IRONMAN Group. "The broadcasts will feature some of the top race destinations around the globe and bring audiences closer our racing than ever before. We couldn't think of a better place to start than with the iconic 2023 Athletic Brewing IRONMAN 70.3 Oceanside triathlon in Southern California, where the origins of the sport lie."
Race coverage will immerse viewers in all the action and local scenery of the global portfolio of race venues while following the professional competition. Coverage will begin with a pre-race show that previews the pro field and course while also including exclusive interviews with triathlon personalities and other special guests.
The live broadcasts will be hosted by a team of the sport's greats, including IRONMAN World Champions and Hall of Famers Greg Welch and Michellie Jones, as well as IRONMAN champions Dede Griesbauer and Michael Lovato. Matt Lieto will also be providing analysis from both on the course and in the studio throughout the 2023 season. Various guest commentators such as three-time IRONMAN World Champion Mirinda Carfrae, will bring additional perspectives and insights to the live coverage, which will showcase the epic battles of the professional athletes as they swim, bike, and run iconic full-distance IRONMAN and IRONMAN 70.3 courses all around the world.
For each broadcast event, IRONMAN Now's "A Fighting Chance" race-week series will return bringing viewers exclusive behind-the-scenes footage into the inner, everyday lives of elite triathletes for a real, unfiltered glimpse at athletes chasing their triathlon goals and attempting to turn dreams into reality.
Here are the IRONMAN events that will be broadcast live in 2023:
2023 IRONMAN Triathlon Series Broadcast Schedule
Date
Event
Location
April 1
Athletic Brewing IRONMAN 70.3 Oceanside North American TriClub Championship Southwest
Oceanside, Calif., USA
April 22
Memorial Herman IRONMAN The Americas Championship Texas
The Woodlands, Texas, USA
May 6
Intermountain Health IRONMAN 70.3 North American Championship St. George
St. George, Utah, USA
May 13
Visit Panama City Beach IRONMAN 70.3 Gulf Coast
Panama City Beach, Fla., USA
May 21
IRONMAN 70.3 Chattanooga
Chattanooga, Tenn., USA
June 4
IRONMAN Hamburg European Championship – Men's Race
Hamburg, Germany
June 10
IRONMAN 70.3 Boulder
Boulder, Colo., USA
June 18
IRONMAN 70.3 Luxembourg – Region Moselle
Region Moselle, Luxembourg
June 18
Cairns Airport IRONMAN Cairns Asia-Pacific Championship
Cairns, Australia
June 25
IRONMAN Coeur d'Alene
Coeur d'Alene, Idaho, USA
June 25
IRONMAN 70.3 Elsinore
Elsinore, Denmark
July 2
Mainova IRONMAN European Championship Frankfurt – Women's Race
Frankfurt, Germany
July 9
IRONMAN Switzerland Thun
Thun, Switzerland
July 16
IRONMAN Vitoria-Gasteiz
Vitoria-Gasteiz, Spain
July 23
Athletic Brewing IRONMAN Lake Placid
Lake Placid, N.Y., USA
July 30
IRONMAN 70.3 Maine North American TriClub Championship Northeast
Augusta, Maine, USA
Aug. 20
IRONMAN Mont Tremblant WPRO
Mont-Tremblant, Quebec, Canada
Aug. 26
VinFast IRONMAN 70.3 World Championship – Women's Race
Lahti, Finland
Aug. 27
VinFast IRONMAN 70.3 World Championship – Men's Race
Lahti, Finland
Sept. 10
VinFast IRONMAN World Championship – Men's Race
Nice, France
Sept. 17
IRONMAN 70.3 Knokke-Heist, Belgium
Knokke-Heist, Belgium
Sept. 24
IRONMAN 70.3 Augusta
Augusta, Ga., USA
Oct. 14
VinFast IRONMAN World Championship – Women's Race
Kona, Hawai`i, USA
Oct. 21
IRONMAN Portugal – Cascais
Cascais, Portugal
Dec. 9
IRONMAN 70.3 Taupo
Taupō, New Zealand
For additional details on the 2023 IRONMAN and IRONMAN 70.3 events around the globe that will be broadcast live, visit here.
For more information on the IRONMAN brand and global event series, visit www.ironman.com. Media related inquiries may be directed to press@ironman.com.
###
About The IRONMAN Group
The IRONMAN Group operates a global portfolio of events that includes the IRONMAN® Triathlon Series, the IRONMAN® 70.3® Triathlon Series, 5150™ Triathlon Series, the Rock 'n' Roll® Running Series, IRONKIDS®, World Triathlon Championship Series, premier running events including the Standard Chartered Singapore Marathon™ and City2Surf®, UTMB® World Series events including the Canyons Endurance Runs™, Tarawera Ultra and Ultra-Trail Australia™, Epic Series™ mountain bike races including the Absa Cape Epic®, road cycling events including Haute Route®, and other multisport races. The IRONMAN Group is the largest operator of mass participation sports in the world and provides more than a million participants annually the benefits of endurance sports through the company's vast offerings. Catering to the full athlete experience, the company portfolio also includes FulGaz® virtual cycling, the most realistic indoor riding experience connected fitness application aimed at preparing athletes for real-world events. Since the inception of the iconic IRONMAN® brand and its first event in 1978, athletes have proven that ANYTHING IS POSSIBLE® by crossing finish lines around the world. Beginning as a single race, The IRONMAN Group has grown to become a global sensation with hundreds of events across 55+ countries. The IRONMAN Group is owned by Advance, a private, family-owned business. For more information, visit www.ironman.com/about-ironman-group.
About Advance
Advance is a private, family-held business that owns and invests in companies across media, entertainment, technology, communications, education and other promising growth sectors. Our mission is to build the value of our companies over the long-term by fostering growth and innovation. Advance's portfolio includes Condé Nast, Advance Local, Stage Entertainment, The IRONMAN Group, American City Business Journals, Leaders Group, Turnitin, 1010data and Pop. Together these operating companies employ more than 17,000 people in 29 countries. Advance is also among the largest shareholders in Charter Communications, Warner Bros. Discovery and Reddit. For more information visit www.advance.com.