IRONMAN 70.3 Oregon Triathlon extended in Salem for an additional five years
August 9, 2023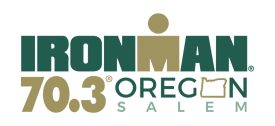 IRONMAN and Travel Salem agree to five-year host venue agreement to keep the IRONMAN 70.3 Oregon triathlon in Salem through 2028
SALEM, Ore. / TAMPA, Fla. (August 9, 2023)/ENDURANCE SPORTSWIRE/ – IRONMAN and Travel Salem have agreed to a five-year agreement to keep the IRONMAN® 70.3® Oregon triathlon in Salem, Oregon through 2028. The event, which has sold out every year since it was first announced in 2021, remains one of the most popular IRONMAN 70.3 events on the circuit. Athletes continue to flock to the Mid-Willamette Valley for its stunning scenery and landscape hoping to cross the finish line at this unique IRONMAN 70.3 triathlon experience. The next edition of the IRONMAN 70.3 Oregon triathlon is scheduled for Sunday, July 21, 2024, with general registration for the event scheduled to open on August 30, 2023*.
"We are thrilled to continue our partnership with Travel Salem for five more years," said Tim Brosious, Northwest Regional Director for The IRONMAN Group. "The IRONMAN 70.3 Oregon event continues to be one of the most sought-after race experiences in our portfolio and the demand for this event is incredible. Athletes also continue to vote IRONMAN 70.3 Oregon as one of the best courses in North America with good reason. The flat and fast course with a swift downriver swim makes it a great event for athletes looking for their next personal best. We are honored to work with our partners at Travel Salem and the Willamette Valley Visitors Association to continue to offer an IRONMAN 70.3 triathlon in this scenic and beautiful Pacific Northwest community."
"We're so excited that Salem will continue to serve as the host city for IRONMAN 70.3 Oregon," said Travel Salem CEO Angie Villery. "The past three years have been outstandingly successful, infusing more than $31 million in estimated economic impact into the local economy. We look forward to showcasing our region's natural beauty and premier recreational assets to the visiting athletes and their families each year."
Salem is the second largest city in the state and located in the Willamette Valley. The State of Oregon has more than 360 state parks and a rugged Pacific Ocean coastline. A short drive to the coast and proximity to national forestland make Salem a unique and beautiful race location. The diverse landscape and scenic views are just a few reasons why Oregon calls to the adventurer-at-heart. The IRONMAN 70.3 Oregon triathlon takes place in Oregon's capital city of Salem. Athletes will experience this flat, fast course beginning with a 1.2-mile downriver swim in the Willamette River, followed by a 56-mile ride through Oregon's beautiful wine country, and cap off their race with a 13.1-mile run featuring Minto-Brown Island Park. The 2024 IRONMAN 70.3 Oregon triathlon will offer Age Group Qualifying slots to the 2025 IRONMAN 70.3 World Championship triathlon.
The 2023 edition of IRONMAN 70.3 Oregon took place on Sunday, July 23, and featured more than 2,500 athletes. Danielle Lewis (USA) won the women's professional race with a finishing time of 03:59:41, while Lionel Sanders (CAN) topped the podium in the men's professional race with a time of 03:33:37. The men's professional race featured an exciting exchange on the bike as Lionel moved into the lead and retained it through the run to finish in first. Danielle began her lead on the run and won by more than 7 minutes.
The IRONMAN 70.3 Oregon triathlon will return in 2024 on Sunday, July 21. For more information on the 2024 IRONMAN 70.3 Oregon triathlon, visit www.ironman.com/im703-oregon. For more information on the IRONMAN brand and global event series, visit www.ironman.com. Media inquiries may be directed to press@ironman.com.
*Subject to change
###
About Travel Salem
Travel Salem is a non-profit organization that promotes Salem and Marion & Polk counties for leisure tourism and convention, sports and event business. The local annual economic impact of the greater Salem area visitor industry is $782.3 million. Travel Salem manages the Official Salem Area Visitors Center located at 630 Center Street NE, in downtown Salem, and the Official Salem Area Website www.TravelSalem.com.
About The IRONMAN Group
The IRONMAN Group operates a global portfolio of events that includes the IRONMAN® Triathlon Series, the IRONMAN® 70.3® Triathlon Series, 5150™ Triathlon Series, the Rock 'n' Roll® Running Series, IRONKIDS®, World Triathlon Championship Series, premier running events including the Standard Chartered Singapore Marathon™ and City2Surf®, UTMB® World Series trail-running events including the Canyons Endurance Runs™ by UTMB®, Tarawera Ultra by UTMB® and Ultra-Trail Australia™ by UTMB®, Epic Series™ mountain bike races including the Absa Cape Epic®, road cycling events including Haute Route®, and other multisport races. The IRONMAN Group is the largest operator of mass participation sports in the world and provides more than a million participants annually the benefits of endurance sports through the company's vast offerings. Catering to the full athlete experience, the company portfolio also includes FulGaz® virtual cycling, the most realistic indoor riding experience connected fitness application aimed at preparing athletes for real-world events. Since the inception of the iconic IRONMAN® brand and its first event in 1978, athletes have proven that ANYTHING IS POSSIBLE® by crossing finish lines around the world. Beginning as a single race, The IRONMAN Group has grown to become a global sensation with hundreds of events across 55+ countries. The IRONMAN Group is owned by Advance, a private, family-owned business, and Orkila Capital, a growth equity firm focused on building great brands. For more information, visit www.ironman.com/about-ironman-group.
About Advance 
Advance is a private, family-held business that owns and invests in companies across media, entertainment, technology, communications, education and other promising growth sectors. Our mission is to build the value of our companies over the long-term by fostering growth and innovation. Advance's portfolio includes Condé Nast, Advance Local, Stage Entertainment, The IRONMAN Group, American City Business Journals, Leaders Group, Turnitin, and Pop. Together these operating companies employ more than 17,000 people in 29 countries. Advance is also among the largest shareholders in Charter Communications, Warner Bros. Discovery and Reddit. For more information visit www.advance.com.