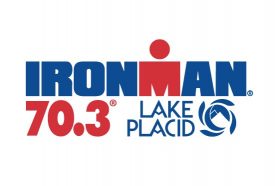 TAMPA, Fla. (January 29, 2019) – At a ceremony held at the 9th annual TBI Conference in Tempe, AZ over the weekend, it was revealed that the IRONMAN® 70.3® Lake Placid triathlon was awarded the Triathlete Business International's (TBI) Triathletes Choice Best-of Events for Best Large Event. Over 3,000 triathletes from across the world cast votes to give the iconic IRONMAN 70.3 event held in the Adirondack Mountains the prestigious honor and its first award. 
"We are both honored and excited to receive this award," said Audra Tassone, Northeast Regional Director for IRONMAN "The town of Lake Placid is a truly spectacular host and we are pleased to be recognized by our peers within the triathlon community. The success of IRONMAN 70.3 Lake Placid is in no short part due to the hard work of the entire area who continues year after year to support the event."
IRONMAN 70.3 Lake Placid was honored to be selected above six other highly-regarded events including; Chicago Triathlon (Chicago, IL), Escape the Cape Triathlon (Cape May, NJ), IRONMAN 70.3 Lake Placid (Lake Placid, NY), New Jersey State Triathlon (West Windsor, NJ), Patriots Triathlon (Williamsburg, VA) and Trifest for MS (Bentonville, AR). 
Located in the heart of the Adirondack Mountains, IRONMAN 70.3 Lake Placid has highlighted the charming upstate New York town of Lake Placid since its first edition in 2017. With its famous Adirondack climbs, the event has become known for having one of the most scenic and challenging courses in the IRONMAN 70.3 circuit. Athletes are treated to a course that highly resembles its full-distance sister race, IRONMAN Lake Placid, with each discipline being a one single loop of the course. 
For more information on Triathlete Business International 9th Annual conference can be found on TBI's conference website here: www.triathlonbusinessintl.com/2019-conference.html   
For more information on IRONMAN 70.3 Lake Placid, visit www.ironman.com/lakeplacid70.3. For more information on the IRONMAN brand and global event series, please visit www.ironman.com. Media may contact press@ironman.com. 
About IRONMAN
As part of Wanda Sports Holdings, the IRONMAN Group operates a global portfolio of events that includes the IRONMAN® Triathlon Series, the IRONMAN® 70.3® Triathlon Series, 5150™ Triathlon Series, the Rock 'n' Roll Marathon Series®, Iron Girl®, IRONKIDS®, International Triathlon Union World Triathlon Series races, road cycling events including the UCI Velothon® Series, mountain bike races including the Absa Cape Epic®, premier marathons including the Standard Chartered Singapore Marathon, trail running like Ultra-Trail Australia™, and other multisport races. IRONMAN's events, together with all other Wanda Sports Holdings events, provide more than a million participants annually the benefits of endurance sports through the company's vast offerings. The iconic IRONMAN® Series of events is the largest participation sports platform in the world. Since the inception of the IRONMAN® brand in 1978, athletes have proven that ANYTHING IS POSSIBLE® by crossing finish lines at the world's most challenging endurance races. Beginning as a single race, IRONMAN has grown to become a global sensation with more than 230 events across 53 countries. For more information, visit www.ironman.com.
About Wanda Sports Holdings
Wanda Sports Holdings is the world's leading sports business entity, founded to capture the opportunities in the global sports industry and to contribute to the prosperous international sports landscape – in three key areas: 1) Spectator Sports (media and marketing business), 2) Participation Sports (active lifestyle business), 3) Services (digital, production and service business). Wanda Sports Holding incorporates the international sports marketing company Infront Sports & Media, the iconic endurance brand IRONMAN, and Wanda Sports China. The headquarters are in Guangzhou, China.