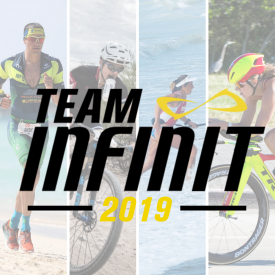 The Pro and Elite Race Team Roster Includes Top Athletes from Various Endurance Sport Disciplines
March 6 2019, Cincinnati, OH — INFINIT Nutrition is excited to introduce the 2019 Team INFINIT. This elite roster will be representing INFINIT Nutrition for the 2019 season, as the company celebrates their 15th anniversary fueling athletes with their line of natural custom-blended nutrition solutions.
The team consists of twenty-five high caliber athletes from a range of athletic disciplines, from triathlon to paddle board. Team INFINIT will be welcoming back a number of returning members, while also adding some fresh faces who are making waves in their respective sports, including the addition of eleven female athletes.
INFINIT Nutrition has deep roots in the sport of triathlon, and this is evident in the incredible roster of professional and elite level triathletes that were selected for the team. The roster includes athletes whose expertises range from full IRONMAN, to 70.3 and Olympic distances. These athletes have rose to the top of the extremely demanding sport of triathlon, and all have impressive individual race resumes that speak to their accomplishments. The team includes big names like Olympian and IRONMAN champion Andy Potts, new Team INFINIT member, Matt Russell, along with 70.3 all-stars Lauren Goss and Rudy Von Berg.
Team INFINIT is excited to welcome athletes from a variety of other endurance sports, including mountain biking, road cycling, and adventure sports. Colorado-based professional mountain bikers Ryan Petry and Kyle Trudeau are familiar faces in the endurance MTB race circuit. The two are no strangers to the podium, and are often accompanied by the friendly competition of their teammate, Taylor Lideen.
"In mountain bike races it can be almost impossible to eat and drink enough while navigating rocky, twisty singletrack. I love that I can get my calories and fluids at the same time. It gives my pockets more room for essentials and helps prevent littering. Not to mention no more goopy, sticky hands and pockets. Less fumbling around, more racing" explained Petry who took first at both Barnburner 100 and Silver Rush 50 last year.
Continuing the expansion of the INFINIT brand across the endurance sports landscape, Team INFINIT also welcomes Rachel Langdon, Jenn Lee and Rowan Jones to their ranks. Rachel Langdon is a professional cyclist partaking in road racing, cyclocross and mountain biking. Lee is a world ranked professional stand-up-paddle, surfski and outrigger canoe racer. Multisport athlete, Rowan Jones is an elite trail runner, marathon racer and xterra triathlete, and has multiple podium finishes in all three fields.
"The team has developed over the period of 15 years into a diverse squad of athletes. In many ways our team reflects our company, always changing and evolving." explained Michael Folan, President and CEO of INFINIT. "We are excited to be expanding our support into brand new areas of endurance and ultra-endurance sports. These select athletes exemplify the "We are INFINIT" mindset.
The 2019 Team INFINIT pro and elite roster:
Matt Russell (pro triathlete), Andy Potts (Olympian, pro triathlete), Lauren Goss (pro triathlete, Rudy Von Berg (pro triathlete), Dede Grisbauer (pro triathlete), Chris McDonald (pro triathlete), Alycia Hill (pro triathlete), Christine Cross (pro triathlete), Amber Ferreira (pro triathlete), A.J. Baucco (pro triathlete), Brittany Warly (pro triathlete), Kayla Bowker (elite triathlete), Ginny Cataldi (elite triathlete), Olympia Von Berg (elite triathlete), Eric Engle (elite triathlete) , Nick Chase (elite triathlete), Ryan Petry (pro mountain biker), Taylor Lideen (pro mountain biker), Kyle Trudeau (pro mountain biker), Maddy Frank (cat 1 mountain biker), Josh Tostado (pro mountain biker) , Tyler Phillips (pro mountain biker), Jenn Lee (pro SUP),  Rowan Jones (elite trail runner/XTERRA triathlete), Rachel Langdon (pro cyclist)
About INFINIT Nutrition
INFINIT Performance Nutrition specializes in providing customizable nutrition-solutions that naturally maximize the performance of athletes worldwide. INFINIT's unique customizable system gives athletes the ability to design their own sports fuel formulas, made with all-natural ingredients, to their exact specifications. Developed with the patented Osmo-FITTM system, INFINIT products and formulas are designed to be isotonic and easy to digest, even in the most grueling conditions. For more information about INFINIT Nutrition, visit infinitnutrition.com or on social media @infinitnutrition