Inaugural GFNY Portugal to be held on September 9, 2018
December 15, 2017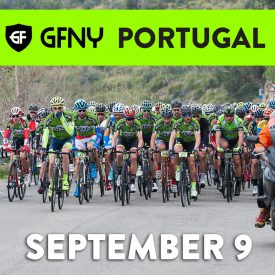 GFNY Global Cycling Marathon Series heads to the coastal resort town of Cascais, Portugal
NEW YORK CITY, Dec 15, 2017 – GFNY, the global cycling marathon series continues to expand its GFNY World event calendar with the inaugural GFNY Portugal to be held on September 9, 2018.
The race will start and finish in Cascais. Cascais is situated 30km from the capital of Portugal, Lisbon. Once an important seaside resort of kings and queens, it's nowadays famous as the Portuguese Riviera, with beautiful beaches, great cuisine, cosmopolitan character and a glamorous marina. Cascais is also arguably the best cycling destination in Portugal.
The long route will cover 162km with 2281 meters of climbing and serves as a qualifying race for the Racer Corral Qualification at the 2019 Campagnolo GFNY World Championship in NYC. The non-competitive medium route covers 82km and 1120 meters of climbing.
"We are very excited to bring GFNY to Cascais," said Lidia Fluhme, President and co-founder of GFNY. "Cascais is arguably the best cycling destination in Portugal. With many cycling route options for pre- and post-race cycling, a trip to GFNY Portugal will make for a fun and breathtaking cycling-vacation. The course will showcase the beauty of Cascais and the surrounding villages and at the same time provide a great challenge for everyone. Cascais has fun in store for everyone with stunning beaches, superb restaurants and cultural sights."
As competitors leave behind the glamorous Marina in Cascais, they will head towards Lisbon before returning to Estoril, passing the iconic Formula 1 racetrack. Riders will continue to Mafra toward the Atlantic Coast, passing through the coastal villages of Ericeira and Azenhas do Mar. The Serra de Sintra is the course's most challenging climb. The route is a perfect celebration and tour of Portugal's palaces, historical ruins and coastal villages.
"I am thrilled to unite two great passions of mine: cycling and Portugal. Cascais is a popular tourist destination and we look forward to welcoming cyclists from all over the world for our inaugural event." Said Ana Paula Cavalcanti, Event Director of GFNY Portugal. "Special thanks to the Cascais Municipal Camara, Lisboa Cycling Association (ACL) and the Portuguese Cycling Federation (FPC) for the partnership, without their support, GFNY Portugal would not be possible."
Registration for GFNY Portugal is now OPEN.
About GFNY
GFNY is the global cycling marathon brand with events held in NYC, Argentina, Bali-Indonesia, Brazil, Chile, Colombia, Costa Rica, Germany, Samosir-Indonesia, Italy, Jerusalem-Israel, Malaysia, Cozumel-Mexico, Monterrey-Mexico, Poland and Uruguay.
Riders get to BE A PRO FOR A DAY by competing against others, themselves and the clock in a personal endurance challenge.
At all GFNY events, riders have the chance to qualify for the elite racer corral at the GFNY World Championship in NYC by placing in the top 10% (20% at regional championships) of their age group.
Campagnolo GFNY World Championship NYC
The 8th annual Campagnolo GFNY World Championship New York will be held on May 20, 2018. The race features the world's most international peloton with riders from over 90 countries. Athletes take on a challenging 100-mile route from NYC to Bear Mountain to Fort Lee to compete against each other, the clock and themselves in a personal endurance challenge.
The official GFNY website is: www.gfny.com.
GFNY World 2018 calendar
4 February GFNY BALI
25 February GFNY LATIN AMERICA CHAMPIONSHIP MONTERREY
18 March GFNY COLOMBIA
18 March GFNY URUGUAY
22 April GFNY COSTA RICA
27 April GFNY MIDDLE EAST-AFRICA CHAMPIONSHIP JERUSALEM 
20 May GFNY WORLD CHAMPIONSHIP NYC
27 May GFNY POLSKA-GDYNIA
5 August GFNY BRASIL
2 September GFNY EUROPE CHAMPIONSHIP DEUTSCHLAND 
2 September GFNY ASIA CHAMPIONSHIP INDONESIA-SAMOSIR
9 September GFNY PORTUGAL
21 October GFNY PANAMA
11 November GFNY COZUMEL-MEXICO 
25 November GFNY CHILE
Further Material for Media Use
GFNY World calendar graphic: here
Previous GFNY press releases: here
GFNY photo archive (credit SPORTOGRAF): here
Media Contact
Gran Fondo New York Inc.
Uli Fluhme
Phone: +1.212.933.4033
Email address:  uli@gfny.com