Inaugural GFNY Polska-Gdynia to be held on May 27, 2018
November 30, 2017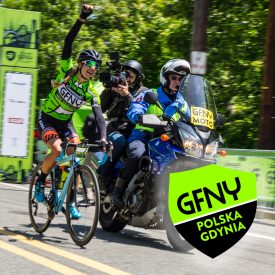 GFNY Global Cycling Marathon Series heads to the City of Sea and Dreams in Gdynia, Poland
NEW YORK CITY, Nov 30, 2017 – GFNY, the global cycling marathon series continues to expand its GFNY World events with the inaugural GFNY Polska-Gdynia to be held on May 27, 2018.
Sport Evolution, one of the leading sports marketing agencies in Poland will deliver the inaugural GFNY Polska-Gdynia. Gdynia is regarded as a young and dynamic city at the Baltic Sea and part of the 'Tri-City' that consists of Gdynia, Sopot and Gdańsk.
The race will start and finish at the popular main tourist spot, Kosciuszko Square. The long route will cover 136km with 1607 meters of climbing and serves as a qualifying race for the Racer Corral Qualificaion at the 2019 Campagnolo GFNY World Championship in NYC. The medium route covers 80km and 831 meters of climbing.
A popular tourist destination, Gdynia, is well known for being the sunniest city in Poland. Located 15km from Gdansk airport, there are also numerous ferry connections with Scandinavia for those traveling to the event. The route will take riders outside of the city into the countryside and through the hilly and picturesque Kashubia region on fully closed-to-traffic roads.
"We are thrilled to bring GFNY to my homeland of Poland," said Lidia Fluhme, President and co-founder of GFNY. "This is going to be a very special race on many levels and we are excited for GFNY to be on the sporting map in Gdynia, with so many other well known endurance events."
The heart of Gdynia is the Southern Wharf where visitors can find a 630-meter long pier jutting out into the sea. It is a popular meeting and recreation spot where families and visitors can spend the whole day taking in the Gdynia Aquarium and then walking around the near-by marina and municipal beach.
"We are truly excited to join the GFNY World family and to stage the first ever GFNY event in Poland," said Michał Drelich, CEO at Sport Evolution. "Gdynia is no stranger in the world of global sporting events and has always proved to be a great host city for mass participation sport events. We look forward to a great cycling weekend in May 2018 and look forward to seeing many international athletes at the race and discovering Gdynia, the sunniest Polish city."
About GFNY
GFNY is the global cycling marathon brand with events held in NYC, Argentina, Bali-Indonesia, Brazil, Chile, Colombia, Costa Rica, Germany, Samosir-Indonesia, Italy, Jerusalem-Israel, Cozumel-Mexico, Monterrey-Mexico and Uruguay.
Riders get to BE A PRO FOR A DAY by competing against others, themselves and the clock in a personal endurance challenge.
At all GFNY events, riders have the chance to qualify for the elite racer corral at the GFNY World Championship in NYC by placing in the top 10% (20% at regional championships) of their age group.
Campagnolo GFNY World Championship NYC
The 8th annual Campagnolo GFNY World Championship New York will be held on May 20, 2018. The race features the world's most international peloton with riders from over 90 countries. Athletes take on a challenging 100-mile route from NYC to Bear Mountain to Fort Lee to compete against each other, the clock and themselves in a personal endurance challenge.
The official GFNY website is: www.gfny.com.
GFNY World 2018 calendar
Further Material for Media Use
Media Contact
Gran Fondo New York Inc.
Uli Fluhme
Phone: +1.212.933.4033
Email address:  uli@gfny.com