Inaugural GFNY Chile to take riders on a tour through famous wine country
November 22, 2017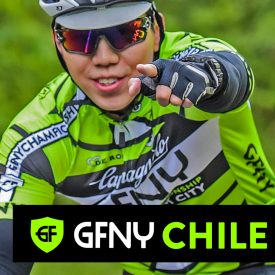 Casablanca, hosts the inaugural GFNY Chile this Sunday, November 26th
NEW YORK CITY, November 22, 2017 – GFNY heads to Casablanca, Chile for the inaugural GFNY Chile that will close out the season of the Global Marathon Cycling Series this Sunday, November 26th.
A sold-out field of 1500 riders from 23 nations will take on GFNY Chile this weekend in the province of Valparaiso. Casablanca, the host town, is known around the world for its wine and exceptional cycling. The Casona Viña Veramonte Winery plays host to the start and finish line of the event with stunning Casablanca Valley views and Premium wine service included in the post-race meal.
Riders will take on the long route of 157km, encompassing 1935 meters of climbing or the medium route of 84km and 597 meters of climbing. Lush vineyards will provide a stunning postcard backdrop for riders. GFNY Chile's long route is a qualifier for the racer corral at the 2018 Campagnolo GFNY World Championship in NYC.
The pre race expo is located in Chile's capital, Santiago. Here participants will be able to enjoy the city life of Santiago. On race day the wine region of Valparaiso is a one-hour drive away where GFNY Chile will start.
"Casablanca is the South American 'Napa Valley', with many options for great cycling throughout Chile's picturesque vineyards and countryside," said Lidia Fluhme, President and co-founder of GFNY. "GFNY Chile is the final race of the GFNY 2017 calendar and we couldn't be more excited to conclude a great year in this beautiful country."
About GFNY
GFNY is the global cycling marathon brand with events held in NYC, Argentina, Bali-Indonesia, Brazil, Chile, Colombia, Costa Rica, Germany, Samosir-Indonesia, Italy, Jerusalem-Israel, Malaysia, Cozumel-Mexico, Monterrey-Mexico and Uruguay.
Riders get to BE A PRO FOR A DAY by competing against others, themselves and the clock in a personal endurance challenge.
At all GFNY events, riders have the chance to qualify for the elite racer corral at the GFNY World Championship in NYC by placing in the top 10% (20% at regional championships) of their age group.
Campagnolo GFNY World Championship NYC
The 8th annual Campagnolo GFNY World Championship New York will be held on May 20, 2018. The race features the world's most international peloton with riders from over 90 countries. Athletes take on a challenging 100-mile route from NYC to Bear Mountain to Fort Lee to compete against each other, the clock and themselves in a personal endurance challenge.
The official GFNY website is: www.gfny.com.
GFNY World calendar
2017
November 26 GFNY CHILE
2018
February 4 GFNY BALI
February 25 GFNY MONTERREY
March 18 GFNY COLOMBIA
March 18 GFNY URUGUAY
April 22 GFNY COSTA RICA
April 27 GFNY JERUSALEM
May 20 GFNY NYC WORLD CHAMPIONSHIP
August 5 GFNY BRASIL
September 2 GFNY DEUTSCHLAND
September 2 GFNY ASIA CHAMPIONSHIP INDONESIA-SAMOSIR
November 11 GFNY COZUMEL-MEXICO
Further Material for Media Use
GFNY World calendar graphic: here
Previous GFNY press releases: here
GFNY photo archive (credit SPORTOGRAF): here
Media Contact
Gran Fondo New York Inc.
Uli Fluhme
Phone: +1.212.933.4033
Email address:  uli@gfny.com