iFIT Nominated for 2022 Sports Emmy® Award For A Trek to Everest Interactive Treadmill Workout Series
April 12, 2022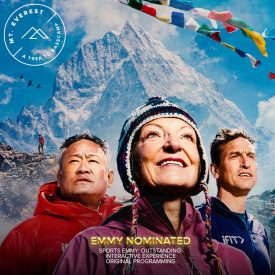 First Ever Sports Emmy Nomination for A Connected Fitness Platform
LOGAN, UT /ENDURANCE SPORTSWIRE/ – iFIT, a global leader in connected fitness software, content and equipment, today announced it has been nominated for a Sports Emmy® by the National Academy of Television Arts & Science for iFIT: A Trek to Everest Base Camp, the first time programming originating from a connected fitness platform has been so honored.
The nomination category "Outstanding Interactive Experience— Original Programming" awards "original interactive sports content, multimedia storytelling, as well as significant and innovative social integration."
"We are deeply honored by this nomination because it represents a significant commendation of iFIT's unique approach to connected fitness," said Mark Watterson, President and Chief Experience Officer. "The interactivity among our software, content and fitness equipment provides an unmatched, immersive experience, and elevates the thousands of workout series we have shot on location all over the world, including Mt. Everest. Our members appreciate the cultural journeys iFIT workouts offer, and we are equally thrilled to be recognized by our peers in television and video production for excellence."
In May 2021, iFIT streamed the world's first live interactive workout from Mount Everest and filmed the beautiful 18-part progressive series for treadmill trekking, as showcased in the nomination video.
The iFIT platform is available on NordicTrack, ProForm and Freemotion fitness equipment, through the iFIT app, and is distinctive in the world of connected fitness. When iFIT content, such as the Everest trek, streams through the touchscreen console, iFIT technology automatically adjusts the treadmill incline to match the incline shown in the content. This technology provides a truly interactive workout that recreates the trek to Everest Base Camp for 7 million iFIT members around the world.
In addition, a trio of experts with 23 Everest summits among them bring deep meaning and historic context to every workout episode of iFIT: A Trek to Base Camp. Kenton Cool has summited Mt. Everest a total of 15 times in his mountaineering career, once reaching the daunting peak twice in the same week. He is currently on the mountain in Nepal, preparing to embark on a record-breaking 16 Everest summits. Lydia Bradley is the first woman to successfully summit Mt. Everest without supplemental oxygen. She is also the only woman to have successfully guided a group of climbers to Everest's summit five times. Ang Tshering Lama has summited Everest three times and in 2017 was part of the world's highest-altitude rescue, during which he and his team saved two climbers at 28,215 feet elevation on Everest.
For more information go to iFIT.com.
About iFIT
iFIT® is a global fitness and well-being subscription technology company that provides unmatched fitness experiences and solutions to its growing community of over 7 million members in over 120 countries. iFIT's industry-leading brands – NordicTrack®, ProForm®, Sweat®, Freemotion®, Weider® and 29029® – are powered by the iFIT integrated health and fitness platform, which seamlessly connects the company's proprietary software, experiential content and interactive hardware. Based in Logan, Utah, with offices in Paris, Shanghai, Sydney and Leeds, the company offers immersive, adaptive, personalized workout experiences for every fitness level and interest. iFIT delivers these interactive experiences through an extensive offering of live and on-demand content across the industry's broadest range of connected fitness modalities. iFIT is a leader and pioneer in the health and well-being industry with more than 400 issued and pending patents.
Media contacts
Colleen Logan, VP, PR and Corporate Communications