iFIT Adventures Launches, Allowing Members to Travel to Destinations First Discovered Through iFIT Workouts
March 22, 2022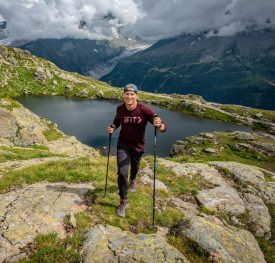 iFIT invites members to step off their NordicTrack, ProForm and Freemotion equipment and explore the globe in all-inclusive, iFIT trainer-led adventures
Logan, Utah /ENDURANCE SPORTSWIRE/ – iFIT, one of the global leaders in connected fitness software, content, and equipment, today announced the launch of iFIT Adventures – a new series of in-person travel fitness experiences that explore destinations around the globe, bringing iFIT's favorite, most-streamed Global Workouts to life.
Led by iFIT's in-demand trainers, iFIT Adventures are all-inclusive, premium travel experiences that give members the opportunity to step out from behind their exercise screens and into real-life fitness excursions. iFIT members have experienced the world through iFIT's patented technology that automatically adjusts speed, incline, decline and resistance of NordicTrack, ProForm, and Freemotion fitness equipment to match the natural topography of real-world terrain shown in streaming iFIT workouts. Now, they can take the next step in their iFIT journey as they embark on an iFIT Adventure, the in-person version of the iFIT Global workouts they virtually hiked, rowed, ran, or cycled.
"As a natural next step in the iFIT ecosystem, we're pulling back the digital curtain and opening the door to in-person adventures with an iFIT edge," said Mark Watterson, President and Chief Experience Officer at iFIT. "Now, with iFIT Adventures, we've expanded our platform to bring destination workouts to our community, both on and off screen."
The Adventures series kicks off on May 5-8, 2022  with a four-day, three-night hiking trip in Zion and Bryce Canyon National Parks in Utah. Led by iFIT trainer Casey Gilbert.
Attendees will experience the adventure of a lifetime while taking in the magic of two of America's most spectacular national parks. The extensive activity program includes guided hikes, restorative sunrise yoga and meditation sessions, daily chef-prepared meals and accommodations at a private "Glamp Camp," created especially for the iFIT adventure.
iFIT Adventures planned for 2022 include:
Zion and Bryce Canyon, Utah (May 5-8)
Costa Rica (May 18-22)
The French Alps (July 15-20)
Iceland (August 15-21)
Mount Kilimanjaro (September 15-21)
Everest Base Camp (November 1-13)
The launch of iFIT Adventures follows the Global Wellness Institute's new data that suggests the wellness tourism market will hit $817 billion in value by the end of 2022. With the introduction of iFIT Adventures and the recent launch of iFIT Retreats, iFIT continues to expand its Global Workout offerings by taking its beloved virtual travel series and creating exclusive, in-person experiences.
iFIT redefines the hybrid fitness model by adding outdoor to home and club workout experiences. Regardless of location, iFIT delivers best-in-class, interactive workouts with its travel-based, trainer-led content. From hiking Everest Base Camp, to cycling the French Alps, to rowing along the Zambezi River, Global Workouts have been filmed in over 60 countries.
Registration for the 2022 iFIT Adventures is open now. iFIT Adventures packages will range from $3,995 to $8,995, with pricing varying by location. iFIT Adventures are premium, all-inclusive packages that include all activities, ground transportation, lodging, food, beverages, and all of the specialty equipment needed for an extraordinary experience. Air travel to/from destinations is not included. For more information or to make a reservation, please visit https://adventures.ifit.com, or call 470-826-1029.
Media Contacts: 
iFIT
Colleen Logan
About iFIT
iFIT® is a global fitness and well-being subscription technology company that provides unmatched fitness experiences and solutions to its growing community of over 6 million members in over 120 countries. iFIT's industry-leading brands – NordicTrack®, ProForm®, Sweat®, Freemotion®, Weider® and 29029® – are powered by the iFIT integrated health and fitness platform, which seamlessly connects the company's proprietary software, experiential content and interactive hardware. Based in Logan, Utah, with offices in Paris, Shanghai, Sydney and Leeds, the company offers immersive, adaptive, personalized workout experiences for every fitness level and interest. iFIT delivers these patented interactive experiences through an extensive offering of live and on-demand content across the industry's broadest range of connected fitness modalities. iFIT is a leader and pioneer in the health and well-being industry with more than 350 issued and pending patents.
# # #