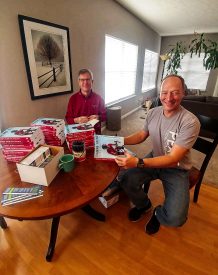 March 14, 2019
BOSTON, MA:  Pioneering cycling endurance coach Hunter Allen, CEO and Founder of Peaks Coaching Group, will be speaking to the Harvard University Cycling Association on March 14, 2019.
– Room:  Northwest B101 at 52 Oxford Street, Cambridge, Massachusetts, 02138
– Time: 6:30p-9pm
– Open to the public!
– No admission or previous registration necessary
– Facebook event:  https://www.facebook.com/events/410563343032672/
Allen is in Boston from March 14 through March 24 promoting the newest edition of the book that, most would say, has launched a new era in the sport of cycling; Training and Racing with a Power Meter (TRWPM). The new edition will be available for purchase at the speaking event, and Hunter will have a limited number of autographed copies as well.
"Harvard holds a special place in the history of thought in the United States of America," says Hunter Allen.  "And it's a great honor to be asked to speak about the very ideas and principles that have shaped so much of modern-day training and racing, not only on the road, but other sports as well like CX and MTB."
Since the last edition of TRWPM, there has been almost ten years of new data.  The data does two things: further verify the science behind the earlier editions and simultaneously point to new, exciting areas of research.
Topics to be discussed at the Harvard event:
The latest power metrics: FRC, Pmax, mFTP, Power Duration Curve, and more
Discussion of the new power tools chapter: Learn how power is measured from each power meter
Discussion of the science behind the latest in power training metrics.
Methods of power duration testing, a new testing method to pinpoint weaknesses for a variety of short- and long-distance race formats
Training plans to raise your Functional Threshold Power
New case studies: Masters and Triathlon
First published in 2006, Training and Racing with a Power Meter is the pioneering, cutting-edge guide that makes it possible for any rider to exploit the incredible value of any power meter. Coach Hunter Allen and exercise physiologists Drs. Andy Coggan and Stephen McGregor show how to use a power meter to profile your strengths and weaknesses, how to measure fitness and fatigue, how to optimize your daily workouts, how to peak for races, and how to set and adjust your racing strategy while you are racing.
Hunter will be speaking at several locations in the Boston area, including: Harvard University, Fit Werx, Assabet River Bicycles and several Landry's Bicycles locations.
About Harvard Cycling
The Harvard University Cycling Association (also known as HUCA) is a student-run club sport for cyclists of all levels. The team competes in the Eastern Collegiate Cycling Conference in the spring, and some members go on to compete in local-, regional-, and even national-level events in the summer.
Anyone is welcome to join HUCA! Many of our fastest racers began as complete novices with little to no athletic background. Team rides throughout the fall are dedicated to helping new riders become stronger and more comfortable on their bicycle.
Our racing season is supported by a number of generous individuals, as well as companies who have generously offered their products at a steep discount. Please visit the Supporters Page to learn more about the people and companies whose generous support enables us to race!
About Hunter Allen
Legendary cycling coach Hunter Allen is the co-author of Training and Racing with a Power Meter, which has sold over 120,000 copies and is available in over 20 languages. He co-authored Cutting-Edge Cycling and co-developed the industry-standard TrainingPeaks' WKO+ software.  In March of 2019, a new, 3rd edition of Training and Racing with a Power Meter will be released, offering even more pioneering insight to the principles of power training.
Widely known as one of the top experts in the world in coaching endurance athletes using power meters, Hunter Allen's goal has always been to teach athletes how to maximize their training and racing potential through professional analysis of their power data. This goes hand in hand with his philosophy that a power meter helps athletes discover their true strengths and weaknesses, quantitatively assess their training improvements, and refine and maximize the focus of their training.
About Peaks Coaching Group
In 1996 after retiring from professional cycling, Hunter Allen founded Peaks Coaching Group, and has partnered with some of the bike industries most pioneering companies, such as PowerTap. In 2017 PCG partnered with CVR World Cup to create training plans for riders specifically to use in Zwift and held the first real-world/Zwift fantasy camp and race at the Velodrome in southern California. Most recently, PCG has partnered with LEOMO for development and testing of the TYPE-R real-time motion analysis device.
It's now 2019 and Peaks Coaching Group has affiliate locations in Brazil, Japan, Germany and the United Kingdom.
The cycling world continues to evolve and Peaks Coaching Group, with our great partners and sponsors, is at the forefront of data-driven training!
For more information, please visit www.peakscoachinggroup.com or contact info@peakscoachinggroup.com or follow us on social media @peakscoaching.
Media Contact:
Lee Sandstead – lee@peakscoachinggroup.com – 434-228-3512