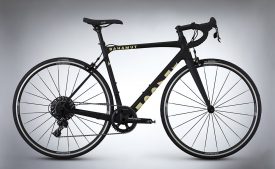 Dragon Bicycles aims to take full advantage of the current direct-to-consumer paradigm shift, thanks to online innovation and fiercely competitive pricing.
Seattle, Washington – November 2018 – Dragon Bicycles builds high-performance, custom-fit road bikes that are delivered 98% assembled, fully tuned, and RideReady straight out of the box — at a price far below market. How? First, an innovative online fitting tool uses a few ordinary measurements and riding preferences to create a custom-fit bicycle designed for optimal comfort and durability. Next, and the more important piece for Dragon, is the innovative RideReady shipping box, allowing all of Dragon's bicycles arrive fully tuned and 98% assembled. Pedals, handlebars, and rear wheels arrive installed on the bike – an industry first! Adjust your seat, install the front wheel, and you're off!
It's no secret that the direct to consumer business model that's emerging around mountain and road bicycles represents a drastic shift. The reason that big name brands don't stand to gain a ton from this change is that their sales process and online experiences are still embroiled in the same disadvantages that drove them to this new model in the first place; exclusivity, a glut of redundant and repetitive product choice, and of course, exorbitant prices.
"Dragon's goal is to simplify the entire process of obtaining a high-performance roadbike, a product you can trust and rely upon, via the internet," says CEO and Founder David Engelstein. "In doing so, our underlying aim is also incredibly simple: get more people riding and falling in love with their bikes. Unless you're a deeply experienced road-bike enthusiast, going to your local shop to get a custom fit or traversing the myriad of specifications online, is unnecessarily intimidating. Make no mistake, a Dragon bicycle is a premier level product – the difference is that you don't need to have expert level knowledge, or pay expert-level prices, to get the very best."
Armed with his lifetime love of cycling, his MBA in Entrepreneurship from Seattle University, and a lifetime involvement in family business, David started Dragon Bicycles a year ago in response to the online direct-to-consumer shift and inflated prices. While some of the industry's biggest and most noteworthy brands have incorporated a DTC sales process into their business, none offer fully tuned and practically fully assembled bikes delivered to your front door at a reasonable price.
Therein lies Dragon's differentiators – High-quality affordable bikes, the Dragon Fitting Tool, and RideReady shipping box. While other brands overburden users with a myriad of form fields, body measurements, and overpriced generic-fit bikes, Dragon goes for simple and effective, and in doing so provide the same high-quality, custom-fitted bikes you'd find in the shop.
Each Dragon is handmade with optimal materials and features the rock-solid SRAM Apex 1 component group. Following our mission of simplicity, Dragon is pleased to provide free shipping and a 30-day test ride on all orders, as well as a six-year guarantee covering your Dragon.
A fully assembled, fully-tuned, custom-fit carbon road Dragon is currently $1,499. Our 4130 Chromoly double-butted steel road Dragon is $999. Make sure to visit DragonBicycles.com to learn more and get your fit, or call the team at 1-206-905-1469.