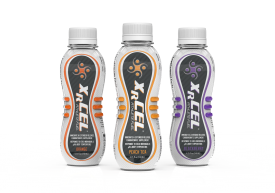 Schein's Athletics and Schools Division to Expand Reach and Use of XRCEL
Charleston, SC –New World Consumer Products announces its new strategic relationship with Henry Schein Inc.(HSI) to expand XRCEL Athlete Fuel distribution to more Universities, Professional teams and High Schools across the country. As a Fortune 500 company with more than 19,000 Team Schein Members, and as a trusted provider of sports fitness supplies and equipment, HSI will now be on the leading edge bringing this new and superior product to its customers.
XRCEL's cutting edge technology is the only carbohydrate supplement that delivers BOTH Immediate and Extended Release glucose via patented micro-gels. Athletes are fueled longer and more efficiently. Glucose, the body's first choice of fuel during exercise begins conversion to ATP (energy) immediately while the patented glucose loaded micro-gels target the receptor sites in the gut, responding to each individual's pH, body temperature, and unique fuel requirements, providing steady fuel exactly when and where it is needed. Efficient long lasting fueling means eliminating peaks and valleys in performance. XRCEL's Ready to Drink, No Mix Formula, is only 4.75 ounces providing additional benefits: GI friendly, no stomach upset or feeling of fullness, helps prevent cramping, provides additional electrolytes, and tops off glycogen reserves for when needed later and aides in recovery. Muscles and brain are fed for more power and better focus, resulting in athletes being able to push harder and longer in both training and competition.
"The strategic relationship with HSI and its Athletics & Schools division is a key part of our distribution strategy," said Fred Sexton, President of New World Consumer Products. HSI's deep roots in medical and pharmacy based products make them a natural fit for understanding and educating athletes, coaches, and trainers at the Professional, NCAA & High School level on the superior performance potential in XRCEL. Plus, the energy and passion for performance improvement in the HSI Athletics & Schools division make them a perfect fit for our company and XRCEL Athlete Fuel.
As a result of this relationship, institutions and teams across the country can work with an HSI rep to easily place and fill orders. HSI reps are nationwide and available for in-person visits, and their tele-reps are always available as well. Coaching staff and players will be able to place orders with ease and remain confident that with XRCEL they will be safely getting the best and most efficient fuel for fast, long lasting performance, with no distracting side effects.
###
About XRCEL® Athlete Fuel
XRCEL Athlete Fuel is a revolutionary extended release carbohydrate supplement formulated with patented pH and temperature responsive micro-gel technology developed by New World Pharmaceuticals, LLC.  XRCEL is a caffeine and banned substance free supplement designed to provide athletes with extended release muscle and brain fuel so that they may get the most out of their training and competitions. NCAA & WADA Compliant.
New World Pharmaceuticals is based in Charleston, South Carolina. For more information, please visit http://www.NewWorldPharma.com.
For More Information 
Media Inquiries:
Lisa Sexton
843.737.6192 Ext 104
Lisa@XRCEL.com