Gran Fondo New York extends partnership with Elite
August 19, 2015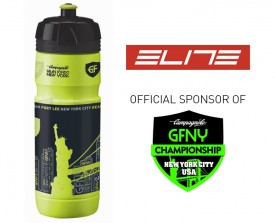 (New York, NY – August 19, 2015) – Gran Fondo New York extends its long-standing partnership with Italian company Elite. Since 2012, all GFNY riders receive a custom designed GFNY bike bottle. It adds to the experience of the race's motto "Be a Pro for a Day" because Elite sponsors most of the World Tour Teams with that same bottle.
"The GFNY-themed Elite bike bottle has become a hallmark of our Campagnolo Gran Fondo New York. GFNY riders are eagerly looking forward to the May race to get their GFNY Elite bottle, and they use it proudly throughout the rest of their season," says GFNY President Lidia Fluhme. "While we change the design annually to be in line with the race's theme, the bottle's fluo green shows boldly that its owner did GFNY."
But GFNY's collaboration with Elite doesn't stop there. Since 2012, cyclists who use Elite's indoor trainers have had the chance to ride the Campagnolo Gran Fondo New York course, year round, wherever they are. And as of 2015, with the creation of Elite's RealVideo platform, cyclists will be able to ride all GFNY World races on Elite's RealVideo system for free, starting with GFNY Mont Ventoux 2015, the first amateur race to end atop the famous mountain, and the first GFNY Championship qualifier race of the 2015/16 season.
"Campagnolo Gran Fondo New York is a unique experience for riders from all over the world," says Nicoletta Sartore of Elite. "We're proud to continue our partnership with this prestigious event."
GFNY World Calendar 2015/16 Season
June 28, 2015 – Wear-Design GFNY Mont Ventoux – gfnymontventoux.com
September 20, 2015 – GFNY Italia – gfnyitalia.com
November 22, 2015 – GFNY Cozumel-Mexico – gfnycozumel.com
December 6, 2015 – GFNY Argentina – gfnyargentina.com
April 10, 2016 – CRM GFNY Colombia – gfnycolombia.com
May 15, 2016 – GFNY Championship at Campagnolo Gran Fondo New York gfny.com
About Gran Fondo New York
The 6th annual Campagnolo Gran Fondo New York will take place on May 15, 2016 and will be the GFNY Championship. The race features the world's most international peloton with riders from over 70 countries and 48 US states. Athletes take on a challenging 100-mile route from NYC to Bear Mountain and back to compete against each other, the clock and themselves in a personal endurance challenge.
The 50-mile GFNY BEAR on the same day is a non-competitive ride from NYC to Bear Mountain.
GFNY WORLD features events in France-Mont Ventoux, Italy, Cozumel-Mexico, Colombia, and Argentina. At each event, athletes can qualify for the elite corral at the GFNY Championship in NYC by finishing in the top 10% of their age group.
The official Gran Fondo New York website is:  gfny.com.
Further Material for your use
2015 Race Video: here
2015 Race Pictures (credit: sportograf.com): here