Gran Fondo New York announces GFNY Mont Ventoux to be held on June 28, 2015
September 10, 2014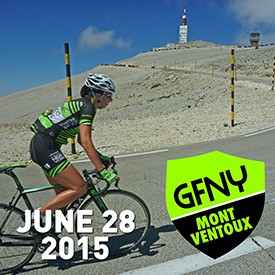 GFNY Mont Ventoux will start in the historic Provencal town of Vaison-la-Romaine and finish on top of the legendary Mont Ventoux
Gran Fondo New York adds Mont Ventoux, France to its GFNY World calendar. GFNY Mont Ventoux kicks off the 2015/16 GFNY WORLD season on June 28, 2015 with a remarkable experience in France's top destination, Provence. The race is staged in Vaison-la-Romaine and finishes atop Mont Ventoux, arguably the world's most iconic cycling mountain where many Tour de France stages have been held and legends have been born.
GFNY Mont Ventoux is strongly supported locally by Vaison-la-Romaine, a medieval town equally known for its Roman ruins, situated at the bottom of Mont Ventoux. The small town is a powerhouse for cycling race logistics and has hosted the entire 2013 Tour de France entourage for two days. The department Vaucluse and the region of Provence-Alpes-Cote d'Azur bring decades of Tour de France experience to the table in order to make sure the course is safe for the athletes. The event will also feature a 2-day pre-race expo in Vaison-la-Romaine, creating a three-day cycling festival in the town.
"Here in Vaison-la-Romaine we live and breathe Mont Ventoux", says Nicolas Garcera, the former pro cyclist turned co-founder of GFNY Mont Ventoux. "The views from Mont Ventoux make you breathless and so does riding it. We're excited to partner with GFNY to bring cyclists from around the world to experience Mont Ventoux in the best way possible: during a granfondo with a finish on top of this monument."
GFNY Mont Ventoux will provide two distance options. Both will be – like all GFNYs – fully timed. The long route is 87mi / 140km and has 11,500ft / 3500m of climbing. The medium route is 71mi / 115km long and has 9,800ft / 3,000m of climbing. Both routes travel over several cols and finish on the 6,237ft / 1,912m-high Mont Ventoux. From there, riders enjoy a relaxed post-race descent back to Vaison-la-Romaine to take part in the finish festivities.
"Bringing GFNY to the legendary Mont Ventoux is a dream come true for us," adds Uli Fluhme, Gran Fondo New York's CEO. "Mont Ventoux is beautiful and brutal at the same time which makes it so unique. It decided many Tour de France wins, created legends and crushed dreams. Staging the event in historic Vaison-la-Romaine with all its offerings means a magical time not only for riders but also friends and family traveling with them."
Campagnolo Gran Fondo New York's goal is to bring GFNY WORLD events into countries that are particularly strongly represented at Campagnolo Gran Fondo New York or are hotbeds for cycling. Whether it's a new or an already existing event, each is required to adhere to the standards of a true Gran Fondo: they must have road closures or police moderated intersections to allow riders the right of way, individual chip timing and rankings based on finish time. All GFNY events also offer a consistent high-quality experience, ensuring cyclists a safe, challenging and enjoyable experience from start to finish.
2014/15 GFNY WORLD CALENDAR
September 21 – GFNY Italia – gfnyitalia.com
November 23 – GFNY Cozumel-Mexico – gfnycozumel.com
February 15, 2015 – GFNY Puerto Rico – gfnypuertorico.com
March 21, 2015 – GFNY Barcelona – gfnybarcelona.com
March 29, 2015 – GFNY Colombia – gfnycolombia.com
May 17, 2015 – GFNY Championship at Campagnolo Gran Fondo New York – granfondony.com
June 28, 2015 – GFNY Mont Ventoux – gfnymontventoux.com
 ###
About Gran Fondo New York
The 5th annual Campagnolo Gran Fondo New York on May 17, 2015 will be the first GFNY Championship. The race features the world's most international peloton with riders from over 70 countries and 48 US states. Athletes will take on a challenging 100-mile route from NYC to Bear Mountain and back to compete against each other, the clock and themselves in a personal endurance challenge. The 50-mile GFNY BEAR on the same day is a non-competitive ride from NYC to Bear Mountain. New for the 2014-2015 season, GFNY WORLD features events in Italy, Mexico, Puerto Rico, Colombia, Spain and France. Campagnolo Gran Fondo New York raises funds for Operation Smile, the international children's medical charity. The official Grand Fondo New York website is:www.granfondony.com.