Going Green Made More Cost Friendly for Events
May 15, 2019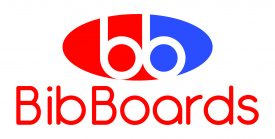 (May 15, 2019, California)  – Gear up for summer fun as Fun Races of every kind are on the works. BibBoard is giving everyone a summer treat to kick off its Mission: No more rusty safety pin by 2021 – Go Recyclable! They've lowered the price for their BibBoards "May Race My Pace" to $0.97 with 4 pieces per pack. Lowering the price will help organizers and events to be more committed to going green. 
Aside from going green, the new pricing will also encourage participants for the #SaveTheShirt. BibBoard creators know the cost of racing shirts, the quality, and material used to keep participants comfortable and dry while running or biking. By switching to the best safety pin alternative, racing enthusiasts can save on money and the shirt. The production of T-shirts, jerseys and other sporting apparels also leave a carbon footprint. Through #SaveTheShirt, participants and organizers save on money and lower our carbon emission. 
BibBoards were designed and created by racing enthusiasts and organizers who know the dilemma of picking up every safety pin participants lose during races. They also know how safety pins ruin or damage shirts from holes or fabric tears as well as rusts marks. #SaveTheShirt is another way to conserve and protect the environment as well as save participants from unnecessary buying.
BibBoards encourage recycling to a whole new level by providing racing and endurance events newer, more sustainable and environmentally friendly technologies. Organizers and participants save the environment and save their shirts as well.
Support BibBoards drive towards no more rusty safety pin by 2021 – Go Recyclable! Go Green and Clean in the Endurance Racing industry. 
Join the #SaveTheShirt movement to support participant environmental awareness.
For more details on BibBoards' environmental visions and upcoming projects, email [email protected] and get on board the Green and Clean BibBoard Campaign!