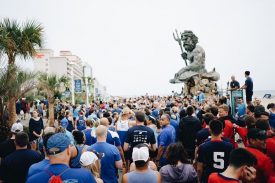 Virginia Beach Running Community proves they are #vbstrong
June 6, 2019 – VIRGINIA BEACH – On Wednesday, June 5th, the local running community came together to honorthe victims affected by the senseless tragedy that took place in our community last week as part of the annual Global Running Day tradition. Together they raised over $10,000 for the Virginia Beach Tragedy Fund.
 As soon as the tragedy occurred, J&A Racing alongside local run clubs came together and immediately knew that this year's event would serve as a fundraiser for the victims and the families.
Global Running Day, a worldwide celebration of running designed to inspire everyone to be active, served as the perfect platform for local run clubs, community members and first responders to join together as Virginia Beach Strong.
"We decided to give back to the Virginia Beach Tragedy Fund set up by United Way," said J&A Racing owner Jerry Frostick. "When it comes to Global Running Day, we are all runners, and I think we all feel that when things are tough, a run always seems to help heal. Running with good friends and the community is the best way for us to start the healing process in Virginia Beach."
The event brought together nearly 1,000 community members and dozens of run clubs including November Project and North End Run Club.
"November Project is all about people and bringing the local communities together," said Bernard Molina, co-leader of November Project – Virginia Beach. "Without the people of Virginia Beach there is no November Project. We support each other and lift each other up, especially at times like this. Joining all the run clubs together for this run on Wednesday truly shows what November Project and this community is all about: spreading love."
Spreading love is exactly what happened on Wednesday night. The evening started with the reading of the twelve victims' names following by a moment of silence and a playing of Amazing Graceby a local bagpiper. The crowd immediately erupted into a chant of VB Strong before heading out for the run on a 1.2 mile route to honor the twelve victims.
"Our local run community has a place for everyone and as shown yesterday for the #VBstrong Global Running Day event, will be there with open arms when needed the most," said Barry Clark, leader of North End Run Club. "It means so much to so many people to all come together to build longer tables in our community instead of taller fences."
Fundraising efforts continue with shirt sales, and our miles will always be dedicated to being #vbstrong.
To support the Virginia Beach Tragedy Fund, shirts can be purchased here: https://store.jandaracing.com/product_p/vbstrong.htm
About the Virginia Beach Tragedy Fund
Virginia Beach has asked United Way to be their partner on creating a fund for the victims. 100% of the funds raised will go to the victims affected by this senseless tragedy in our community. Please note, donations given to victim assistance funds are generally considered personal gifts and are not guaranteed to be tax deductible, so you will not be receiving a tax donation receipt.
About J&A Racing
J&A Racing is a nationally recognized race management company based in Virginia Beach, Virginia. With a portfolio of seven events and two training programs, J&A Racing's mission is to promote and support healthy lifestyles and the sport of running through all stages of life. Since 2003 when J&A Racing Owners Amy and Jerry Frostick took over the Shamrock Sportsfest, the Yuengling Shamrock Marathon Weekend has become one of the most popular running events in the country, growing from 3,000 participants to a record 30,000 in 2015. Additionally, J&A organizes the Anthem Wicked 10K, Old Point National Bank Monster Mile; the MSP Design Group Big Blue 5K; the Surf-N-Santa 5 Miler; the Neighborhood Harvest Crawlin' Crab Half Marathon & 5K; the Chartway Norfolk Harbor Half Marathon and We Promise Foundation 5K; and the ADP Corporate 5K. For more information on J&A Racing's events, visit jandaracing.com.
###