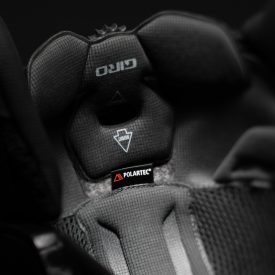 Giro Partners with Polartec to Become the First Helmet Brand to Incorporate Polartec Fabric into its Helmets
(January 29, 2019 – Park City, Utah) Giro Sport Design, the leader in high-performance snow helmets and goggles, is proud to partner with Polartec®, the leader in performance temperature-regulating fabrics, to integrate Polartec® Power Grid™ into its new line of helmets. The new Power Grid™ fabric debuts in a variety of Giro's all mountain and freestyle helmets and will be available starting Fall 2019 from authorized Giro retailers and from www.giro.com.
David Karstad, Polartec® VP of Marketing and Creative Director, remarked, "Polartec's thermoregulation expertise is a natural complement to Giro's industry-leading helmet design. By bringing safety and comfort closer together, it's a collaborative partnership that ultimately empowers athletes everywhere."
As one of the most advanced fabric technologies available, Power Grid™ not only increases warmth and compressibility, but also enhances wicking efficiency and breathability by generating channels of targeted touch points to absorb and diffuse moisture vapor and speed up evaporation.
Power Grid™ fabric has been engineered to be close to skin, offering riders exceptional comfort and feel thanks to its bi-component knit construction that uses different yarns to create two different surfaces—one that is optimized to move moisture away from the skin, the other to dry quickly. Additionally, Power Grid™ fabric includes a Silver Salt (Salt Chloride) that inhibits the growth of odors.
Polartec® fabrics provide riders with significant performance benefits, including:
Superior mechanical wicking action that allows for faster drying.
Increased breathability, allowing excess body heat to release more easily.
Reduced material mass and weight in the helmet, enabling better compression and thus optimized fit.
Exceptional comfort throughout a wide range of conditions and activity levels.
Voided construction, a patented technology which simultaneously insulates and provides room for airflow, providing superior temperature regulation.
Compressibility with a soft feel, which fine-tunes the comfort of the helmet.
Riders will find Polartec® Power Grid™ fabric in new models of Giro's all mountain helmets, including Range™ MIPS, Zone™ MIPS, Jackson™ MIPS, Union™ MIPS, Vue™ MIPS as well as in its popular freestyle helmet, Emerge™ MIPS. 
High Resolution Imagery: http://bit.ly/Giro-Polartec
Media Contact:
Garin Fons | TRUE Communications | garin@truecommunications.com | 952-239-1422
Giro Sport Design: Founded in Santa Cruz, California in 1985, Giro Sport Design develops new ideas to enhance the ride. Since creating the first lightweight, high-performance helmets for cycling and snowsports, we have maintained a strong focus on products that enhance the feeling of freedom and independence that riding brings to life. As the leader in the design, fit and engineering of products that complement the body, Giro is the first choice of riders worldwide. Learn more at Giro.com/TheGiroStory.