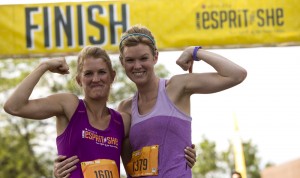 Sponsorship celebrates active women who inspire others at 13 Gildan Esprit de She events nationwide
CHANHASSEN, Minn. (March 18, 2015) — Life Time—The Healthy Way of Life CompanySM (NYSE: LTM), today announced that Gildan, a leading brand and supplier of quality t-shirts, activewear, underwear and socks for the entire family, will be the title sponsor of its premiere athletic event series for women, Esprit de She – The Spirit of Her Race Series. Since its inception in 2013, more than 25,000 women ranging in age from 5 to 80 have participated in the series with sellout registrations at multiple events.
The race series, which features fitness-inspired 'happy hour' 5k and 10k runs, duathlons and triathlons for every pace and passion, is a perfect addition to the Gildan sponsorship portfolio allowing the company to celebrate women who have been vital to the growth of its brand. The sponsorship also allows Gildan to activate another cornerstone of its brand: corporate social responsibility. Girls on the Run, a physical-activity based, positive youth development program for girls in the 3rd – 8th grade, returns for the third year as the National Charity Partner and beneficiary of the Gildan Esprit de She race series and creates the opportunity to build the next generation of empowered women as the non-profit celebrates its milestone in serving one million girls this year.
"More than a race series, the Gildan Esprit de She initiative is a true celebration, elevating the positive, active, empowered lifestyles that Gildan built its brand on," says Rob Packard, Vice President Marketing, Gildan Brand. "Gildan has always connected well to the values held by women and families, and we'll be adding more women's apparel in the near future, making this the right opportunity to more directly support women."
The 2015 series celebrates the theme "Happy in Numbers" and kicks off May 3 in Tempe, Az. with a duathlon and triathlon; subsequent races take place in key markets across the nation, including: Atlanta, Chicago, Dallas, Denver,  Houston, Minneapolis, Raleigh and San Diego.
"Gildan Esprit de She events are known for uniting women, families, communities and like-minded partners including Gildan in the spirit of fitness," says Lindsey Kurhajetz, Gildan Esprit de She Brand Director. "During each race, women's personal fitness milestones are honored and celebrated. Welcoming Gildan to the Esprit de She family as title sponsor is an iconic milestone we are proud of as we prepare to launch the 2015 race season. Our race participants will notably enjoy getting to know Gildan throughout the year and will enjoy the special event activations Gildan has designed."
To RSVP for any of the Gildan Esprit de She events, visit www.espritdeshe.com, the official website of The Spirit of Her Race Series. Gildan Esprit de She can be found on Twitter @EspritdeShe and on the Esprit de She Facebook page.
Images and b-roll video are available for download at: https://qlnk.io/ql/5508a18be4b098d997e928fd
About Gildan
Gildan is a leading supplier of quality branded basic family apparel, including T-shirts, fleece, sport shirts, underwear, socks, hosiery and shapewear. The Company sells its products under a diversified portfolio of company-owned brands, including the Gildan®, Gold Toe® and Anvil® brands and brand extensions, as well as the Secret®, Silks® and Therapy Plus™ brands. The Company also has the U.S sock license for Under Armour®, and licenses for Mossy Oak® and New Balance® brands. The Company distributes its products in printwear markets in the U.S. and Canada, as well as in Europe, Asia Pacific and Latin America. The Company also markets its products to a broad spectrum of retailers in the U.S. and Canada.  The Company also manufactures for select leading global athletic and lifestyle consumer brands.
Gildan owns and operates vertically-integrated, large-scale manufacturing facilities which are primarily located in Central America and the Caribbean Basin to efficiently service the quick replenishment needs of its customers in the printwear and retail markets. Gildan has over 43,000 employees worldwide and is committed to industry-leading labour and environmental practices in all of its facilities. More information about the Company and its corporate citizenship practices and initiatives can be found at its corporate websites www.gildan.com and www.genuinegildan.com, respectively.
About Life Time Fitness, Inc.
As The Healthy Way of Life CompanySM, Life Time Fitness (NYSE:LTM) helps organizations, communities and individuals achieve their total health objectives, athletic aspirations and fitness goals by engaging in their areas of interest — or discovering new passions — both inside and outside of Life Time's distinctive and large sports, professional fitness, family recreation and spa destinations, most of which operate 24 hours a day, seven days a week. The Company's healthy way of life approach enables members to achieve this by providing the best programs, people and places of uncompromising quality and value. As of March 18, 2015, the Company operates 114 centers under the LIFE TIME FITNESS® and LIFE TIME ATHLETIC® brands in the United States and Canada. Additional information about Life Time centers, programs and services is available at lifetimefitness.com.
# # #