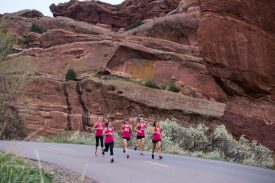 – Event features 5K and10K, yoga and fitness classes with Gina Caputo, and a concert by country artist and "Dancing with the Stars" contestant Jana Kramer
– New 'All Access' Pass Gives Participants Access to Entire Event Lineup
Louisville, Colo., October 6, 2016—Colorado women are invited to "Be Your Potential" in a first-of-its-kind, female-focused fitness event at the inaugural Gildan Esprit de She Red Rocks 5K/10K, Yoga and Jana Kramer concert presented by Sleep Number at the iconic Red Rocks Amphitheatre on October 22.
Gildan Esprit de She moves beyond a typical race or yoga experience with an all-encompassing afternoon that unites fitness, healthy lifestyle brands and music; a day for women to celebrate, network and inspire each other. Participants can design their day by selecting their desired fitness activities including a 5K or 10K run through the beautiful Red Rocks park and/or can bliss out on the rocks during Yoga Rocks! classes taught by Boulder's own Gina Caputo – Yogini on the Loose. Throughout the day, participants will enjoy the signature Lifestyle Market featuring more than 30 local and national brands offering samples and freebies, complimentary manicures, massages and more. The evening culminates with a sunset concert by Jana Kramer, 2016 Academy of Country Music nominee for Female Vocalist and current "Dancing with the Stars" contestant. The event benefits Girls on the Run of the Rockies, a leadership and development program that creatively integrates running for girls in 3rd-8th grade to help them reach their limitless potential.
The new 'All Access' event pass is now available for $65 allowing participants to enjoy their desired combination of fitness activities, plus the concert. Concert-only tickets are also available to men and women for $35.
Produced by Life TimeSM – The Healthy Way of Life Company, the Gildan Esprit de She Series champions the opportunity for women to connect year-round through training, social connection and accomplishing fitness goals at 5K/10K runs, triathlons, and duathlons events across the country.
"We are thrilled to create this one-of-a kind event for Colorado women at the iconic Red Rocks Amphitheatre and offer an expanded fitness experience that will cultivate stronger communities enabling women to connect and realize their true potential through living a healthy way of life," says Lindsey Sachs, Gildan Esprit de She Founder. "Gildan Esprit de She Red Rocks is all about women having fun, getting fit and enjoying time together. This will be the perfect girlfriends day out!"
To learn more and register for the event visit www.espritdeshe.com. Follow Gildan Esprit de She on Instagram @espritdeshe, Twitter @EspritdeShe and on the Esprit de She Facebook page.
About Gildan Esprit de She – The Spirit of Her Race Series
Gildan Esprit de She – The Spirit of Her Race Series is the nation's premier designer event series for women offering a race for every pace and passion. Hosting 11 races in 9 cities across the United States, Gildan Esprit de She hosts 5K/10K fitness-inspired "happy hour" runs, Triathlons and Duathlons. Owned and operated by Life TimeSM – The Healthy Way of Life Company, the series was founded in 2013 and is currently in its fourth event season. 
About Life TimeSM – The Healthy Way of Life Company
Life Time is a privately held, comprehensive health and lifestyle company that offers a personalized and scientific approach to long-term health and wellness. Through its portfolio of distinctive resort-like destinations, athletic events and corporate health services, the Healthy Way of Life Company helps members achieve their goals everyday with the support of a team of dedicated professionals and an array of proprietary health assessments. As of October 4, 2016 the company operates 121 centers in 26 states and 35 major markets under the LIFE TIME FITNESS® and LIFE TIME ATHLETIC® brands in the United States and Canada. Additional information is available at www.lifetimefitness.com. 
About Gildan
Gildan is a leading supplier of quality branded basic family apparel, including T-shirts, fleece, sport shirts, underwear, socks, hosiery and shapewear. The Company sells its products under a diversified portfolio of company-owned brands, including the Gildan®, Gold Toe® and Anvil® brands and brand extensions, as well as the Secret®, Silks® and Therapy Plus™ brands. The Company also has the U.S sock license for Under Armour®, and licenses for Mossy Oak® and New Balance® brands. The Company distributes its products in printwear markets in the U.S. and Canada, as well as in Europe, Asia Pacific and Latin America. The Company also markets its products to a broad spectrum of retailers in the U.S. and Canada.  The Company also manufactures for select leading global athletic and lifestyle consumer brands.
Gildan owns and operates vertically-integrated, large-scale manufacturing facilities which are primarily located in Central America and the Caribbean Basin to efficiently service the quick replenishment needs of its customers in the printwear and retail markets. Gildan has over 43,000 employees worldwide and is committed to industry-leading labour and environmental practices in all of its facilities. More information about the Company and its corporate citizenship practices and initiatives can be found at its corporate websites www.gildan.com and www.genuinegildan.com, respectively.