GFNY Lourdes Tourmalet: Dutch and French win after 4064m of climbing
June 14, 2023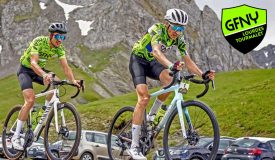 Nicolas Capdepuy and Nicolien Luijsterburg prevail in the Pyrenées
New York City, June 14, 2023 /ENDURANCE SPORTSWIRE/ – The famous pilgrimage town of Lourdes hosted the second edition of GFNY Lourdes Tourmalet this past Sunday. The racecourse was 157 km long with an elevation gain of 4064 m and included the legendary Pyrenées climbs Col d'Aspin and Col du Tourmalet.
The race started fast with a lead group of sixteen riders attacking Col d'Aspin together. French riders Nicolas Capdepuy and Sebastien Pillon hit the gas hard and exploded the group.
On the ascent of the famous Col du Tourmalet the two riders kept attacking each – to no avail. During the descent off Tourmalet, Pillon put pressure on Capdepuy and gained a 45 second lead with 30km to go. But Capdepuy didn't give up and came back to Pillon. On the last rolling hill with 2 km to go to the finish, Capdepuy launched the final attack and finished solo in 4:47:33 after a hard battle against a very strong Sebastien Pillon on this difficult course. Aimeric Bardoulat closed out the all French podium four minutes back. It's going to be interesting to see them compete at the GFNY World Championship in NYC on May 19, 2024 on a course that favors punchy riders over pure climbers.
In the female race, Dutch rider Nicolien Luijsterburg (Team RETO) took the solo win in 5:41:48, 38 minutes ahead of GFNY Cannes runner-up Celine Bourbousson (France, Team Veloshop) and Selenne Bonnefoy (France) in third.
Next up on the GFNY calendar is the second edition of GFNY La Vaujany which will take place Sunday, July 2, 2023.
About GFNY Global Endurance Sports Series
GFNY Global Endurance Sports Series is a sports event company with three decades of experience in racing, planning and organizing events. The global endurance sports brand hosts multiple events throughout the year around the world on five continents.
Working with partners around the world to deliver a first-class experience, GFNY Global Endurance Sports Series puts its athletes first.
Cycling
30-plus events held around the world. View the latest calendar here
Riders get to BE A PRO FOR A DAY ® by competing against others, themselves and the clock in a personal endurance challenge.
Top 10% (20% at regional championships) of finishers in each age group qualify for the Elite Qualifier Corral at every GFNY World event.
GFNY World Championship NYC
The 12th annual GFNY World Championship New York will be held on May 19, 2024. The race features the world's most international peloton with riders from over 90 countries. Athletes take on a challenging route to compete against each other, the clock and themselves in a personal endurance challenge.
The official GFNY website is: www.gfny.com.
Further Material for Media Use
Official GFNY Lourdes Tourmalet video: here
GFNY Press Images: here
GFNY Results: here
GFNY World calendar graphic: here
Previous GFNY press releases: here
Media Contact
Gran Fondo New York Inc.
Uli Fluhme, uli@gfny.com
Caroline Lindsay, caroline@gfny.com