GFNY Florida: bike race and marathon
October 20, 2022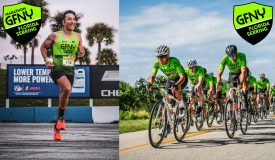 The GFNY Marathon Florida Sebring this Saturday, October 22 is followed by the GFNY Florida Sebring cycling race on Sunday, October 23
/ENDURANCE SPORTSWIRE/ – The 2nd GFNY Marathon Florida Sebring offers runners a full and half marathon. Start and finish take place at the Barn at Paso Fino. The course is flat and lightning fast on roads dedicated specifically for GFNY athletes. The USATF measured course is not only a Boston and NYC qualifier but also a chance for runners to qualify for the Wanda World Marathon Majors Age Group World Championship at the Chicago Marathon 2023.
Website: floridamarathon.gfny.com
GFNY Florida Sebring
The 3rd GFNY Florida Sebring is Florida's toughest cycling race: the 95 miles course and stiff international competition ensure that the podium will be hard earned. From the Barn at Paso Fino the race enters the closed to traffic Highway Route 66. 5 miles later, riders enter a two loop course where the wind will be the main challenge aside from the high pace.
Website: florida.gfny.com
About GFNY Global Endurance Sports Series
GFNY Global Endurance Sports Series is a sports event company with three decades of experience in racing, planning and organising events. The global endurance sports brand hosts multiple events throughout the year around the world on five continents.
Working with partners around the world to deliver a first-class experience, GFNY Global Endurance Sports Series puts their athletes first.
Cycling
30 plus events around the world. View the latest calendar here
Riders get to BE A PRO FOR A DAY ® by competing against others, themselves and the clock in a personal endurance challenge.
Top 10% (20% at regional championships) of finishers in each age group qualify for the Racer Corral at every GFNY World event.
GFNY World Championship NYC
The 11th annual GFNY World Championship New York will be held on May 21, 2023. The race features the world's most international peloton with riders from over 90 countries. Athletes take on a challenging 100-mile route from NYC to Bear Mountain to Fort Lee to compete against each other, the clock and themselves in a personal endurance challenge.
The official GFNY website is: www.gfny.com.
Further Material for Media Use
Official GFNY Florida Sebring video: here
Official GFNY Marathon Florida video: here
GFNY Press Images: here
GFNY Results: here
GFNY World calendar graphic: here
Previous GFNY press releases: here
Media Contact
Gran Fondo New York Inc.
Uli Fluhme, uli@gfny.com
Caroline Lindsay, caroline@gfny.com