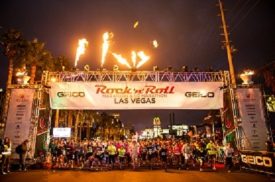 More than 45,000 runners ready to rock the strip at the GEICO Rock 'n' Roll Las Vegas Marathon & ½ Marathon this weekend
LAS VEGAS – Nov. 8, 2016 – In a running display of glitz and glamour, GEICO is back as the title partner of the GEICO Rock 'n' Roll Las Vegas Marathon & ½ Marathon, which will draw more than 45,000 runners to Las Vegas this weekend.
2016 marks the second year that GEICO will serve as the title partner for the only running event that takes place on the Las Vegas Strip at night. The unique course and nighttime race attract runners of all abilities to participate in this event. The race features live bands at every mile, a Run-Thru Wedding, and pre and post-event parties throughout the weekend at Las Vegas' top nightlife venues.
"GEICO is delighted to continue our partnership with the Rock 'n' Roll Marathon Series as the title partner in Las Vegas," said Melissa Halicy, senior Marketing Manager at GEICO. "The Las Vegas Marathon and Half Marathon is a one-of-a-kind experience that brings people from all across the country together for a weekend full of events and activities. We look forward to joining all the runners in Las Vegas again this year."
The GEICO Rock 'n' Roll Marathon & ½ Marathon returns to Las Vegas the weekend of Nov. 12 and features four days full of events. The marathon and half-marathon routes highlight the must-see Vegas sights – from the iconic 'Welcome to Las Vegas' sign to the Fountains of Bellagio and finishing at the base of the Mirage Volcano.
Among groups of 'running Elvi' eager to sing their latest rendition of "Viva Las Vegas," participants will be treated to a pre-race extravaganza. Multi-platinum recording artist Snoop Dogg will headline the pre-race concert on Sunday, Nov. 13 at 3 p.m. He will kick off the race day party by performing his chart topping hits.
Event activities will begin with a free three-day Health & Fitness Expo, where participants can pick up their race number, t-shirt and gear bag. The running showcase will kick off Thursday, Nov. 10 at the Las Vegas Convention Center. It will feature more than 100 fitness retailers, exhibits, free samples and interactive clinics. For more information or to register for the event, visit StripAtNight.com and follow @RunRocknRoll on Twitter.