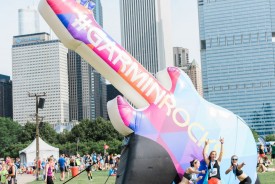 Garmin is Rock 'n' Roll Marathon Series' longest standing partner spanning 10 years; Global leader in GPS wearable technology is official series wide partner through 2017
SAN DIEGO – April 21, 2016 – Rock 'n' Roll Marathon Series and Garmin today announced an extended partnership through 2018. The agreement spans all U.S. and Canadian Rock 'n' Roll Marathon Series events where Garmin will be the official GPS and fitness watch. Garmin is Rock 'n' Roll Marathon Series' longest standing partner, dating back to 2007.
"Garmin is excited to continue our partnership with the Rock 'n' Roll Marathon Series as the official GPS and fitness watch," said Jon Cassat, Garmin vice president of communications. "The energy, professionalism, and entertaining atmosphere at Rock 'n' Roll events is a perfect fit for us to connect with runners of all levels and share our longtime passion for the sport."
As part of the agreement, Garmin will continue to have a presence at the Health & Fitness Expo. The brand will also maintain their social media campaign and sweepstakes, #GarminRocks. Participants who post a photo on social media and use the #GarminRocks will be entered to win a grand prize free trip to Las Vegas to participate in Rock 'n' Roll Las Vegas Marathon & ½ Marathon and a Garmin Forerunner GPS. Additionally at each Rock 'n' Roll Marathon Series event throughout the season a winner will be selected from the social media contest participants to receive a Forerunner of their choosing.
"Garmin has been our partner for more than a decade now and a true part of the Rock 'n' Roll family," said John Smith, Senior Vice President of Sales of Rock 'n' Roll Marathon Series. "This partnership has been a success thanks to our common goals to be leaders in our respective industries and provide our customers with a quality product. We look forward to working with them for another 10 years."
More than 600,000 professional and amateur athletes from all over the world will participate in a Rock 'n' Roll Marathon Series event in 2016, which has expanded to 30 markets worldwide. The series of marathons and half marathons are known for placing entertainment stages along the course, lining the route with cheerleaders and topping the experience off with a finish line concert celebration for all participants. The musically-themed races helped spearhead an active lifestyle movement that provides unique entertainment for runners of all abilities.
About Garmin
The ever-expanding Garmin fitness segment develops technologies to enhance and promote healthy and active lifestyles. Whether users are runners, cyclists, swimmers, multi-sport athletes, or simply looking to stay active throughout the day, there is a product that can help them reach their health and fitness goals.
For decades, Garmin has pioneered new GPS navigation and wireless devices and applications that are designed for people who live an active lifestyle. Garmin serves five primary business units, including automotive, aviation, fitness, marine, and outdoor recreation. For more information, visit Garmin's virtual pressroom at garmin.com/newsroom, contact the Media Relations department at 913-397-8200, or follow us at facebook.com/garmin, twitter.com/garmin, or youtube.com/garmin.
About the Rock 'n' Roll Marathon Series
With more than 600,000 runners taking part in 30 destination events around the world every year, more runners choose the Rock 'n' Roll Marathon Series than any other running series. Established in 1998, Rock 'n' Roll Marathon Series' simple idea of making running fun has transformed the U.S. running landscape by infusing the course with live bands, cheer teams and entertaining water stations, creating a block-party atmosphere for participants and spectators alike.