Fred Henninger Prepares to Take on His 100th Rock 'N' Roll Running Series Event at The Inaugural Publix Rock 'N' Roll Running Series Clearwater on October 1-2, 2022
September 21, 2022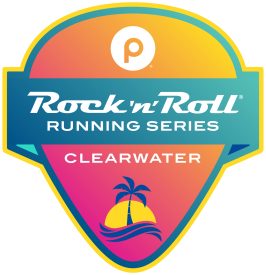 - Monroe, N.J. native has been participating in Rock 'n' Roll Running Series events since 2012
CLEARWATER, Fla. (September 21, 2022) /ENDURANCE SPORTSWIRE/ – Thousands of runners are scheduled to participate in the inaugural Publix Rock 'n' Roll® Running Series Clearwater on Saturday and Sunday, October 1-2, 2022 but the race will be serving as a true milestone for one of the participants.
Fred Henninger, 56, of Monroe, N.J. will be taking on his 100th Rock 'n' Roll Running Series event when he participates on Sunday in the half marathon. While he was always fairly active given his job with the United States Postal Service, Henninger didn't begin running until later in his life. He had a dog that loved to run and was always trying to get Fred to pick up the pace during their walks, which inevitably led to Fred running and getting hooked on the sport. He first tried some local 5K's in New Jersey before taking on Rock 'n' Roll Las Vegas in 2012.
"My friend told me to start reading some running magazines and the last page advertising races was really interesting," said Henninger. "It showed run the Strip At Night® and I decided I wanted to do that. I went to Vegas in 2012 and it was the third half marathon I had ever done and I was really happy. The experience was amazing. I couldn't believe that the whole Strip was closed. I originally only planned to do one race, but I decided I wanted to do each race once and it just went from there."
From that first event in Vegas, Henninger kept coming back for more Rock 'n' Roll Running Series races not only because of the destinations but because of all the friends he made within the running community.
"I've met all of these really crazy and fun runners," said Henninger. "I've gotten to know them and they were doing all of these runs and asked me to join them, so I just started doing all of the races and my biggest year in 2015 I did 22 of them. The people I was running with just became such good friends and we would make every event a big and fun time. It's been amazing going to all of these cities with people who have become close friends. If it was just the running, I would've dropped out a long time ago."
Participating in the Rock 'n' Roll Running Series races has made an impact in his life due to him making new friends and getting in shape. It also helped him through the early days of the COVID-19 pandemic as he used the Rock 'n' Roll Virtual Running Club to stay active and continue challenging his mind and his body.
"I got all the virtual medals when there weren't races," said Henninger. "That really helped during COVID. I was going out every weekend and I was serious about getting those medals. I work overnights so I would go out in the middle of the night and run around with my little spotlight on so I could run without anyone around. It was just nice to have a challenge and get us through until the live races came back."
Reaching the 100-race milestone took Henninger a little bit longer than he expected due to the COVID-19 pandemic forcing the cancellation of races and some injuries. While it will be meaningful to cross the finish line for the 100th time, Henninger isn't planning to slow down any time soon.
"I should've had my 100th occur at Vegas last year, but I hurt my back and had to cancel some races," said Henninger. "I knew I had to make it back to take part in these special moments. I've done other races and I've just always felt special doing races with Rock 'n' Roll. We've got Ann Wessling always as our cheerleader. As long as she's up there on the announcing stand, we always feel at home and have a good time."
Clearwater, Fla. is set to host the inaugural Publix Rock 'n' Roll® Running Series Clearwater event on Saturday and Sunday, October 1-2, 2022 as the Rock 'n' Roll Running Series makes its return to the Sunshine State. Race week will kick-off on Friday, September 30 with the Health & Fitness Expo at Pier 60 Park, which is open to the public, featuring the latest products and trends in the running industry. The Publix Rock 'n' Roll Clearwater event weekend will feature 5K and KiDS ROCK® races on Saturday at Sand Key Park along with a half marathon on Sunday starting and finishing at Pier 60 Park. Following Sunday's half marathon will be Encore Entertainment featuring No Filter and Jah Movement. Participants that want to register for Publix Rock 'n' Roll Clearwater can do so onsite by visiting the Health & Fitness Expo.
For more information about the 2022 Publix Rock 'n' Roll® Running Series Clearwater, visit www.runrocknroll.com/clearwater. Media-related inquiries may be directed to press@runrocknroll.com.
###
About Rock 'n' Roll Running Series
The Rock 'n' Roll® Running Series is the world's largest running series taking part in destination locations around the world every year. Established in 1998, the Rock 'n' Roll Running Series simple idea of making running fun has transformed both the U.S. and global running landscape by infusing the course with live bands, cheer teams, and entertaining water stations, creating a block-party atmosphere for participants and spectators alike. Focused on running, music and community, race weekend kicks off with a free Health & Fitness Expo showcasing the latest in running gear, sports apparel, health and nutritional information and much more. Events culminate with an Encore Entertainment experience featuring eclectic musical artists from a variety of genres. With a goal of helping participants find the Beat in Their Feet™, the Rock 'n' Roll Running Series has also featured some of the biggest names in music, with past performances including the likes of Macklemore & Ryan Lewis, O.A.R., Aloe Blacc, Pitbull, Flo Rida, The Band Perry, Fitz and the Tantrums, the Goo Goo Dolls, Bret Michaels, Kesha, The Revivalists, Hunter Hayes, Capital Cities, and Matt Nathanson. Further information about the Rock 'n' Roll Running Series can be found online at www.RunRocknRoll.com and follow @RunRocknRoll on all social platforms.
About The IRONMAN Group
The IRONMAN Group operates a global portfolio of events that includes the IRONMAN® Triathlon Series, the IRONMAN® 70.3® Triathlon Series, the IRONMAN® Virtual Racing™ (VR™) Series, 5150™ Triathlon Series, the Rock 'n' Roll® Running Series, the Rock 'n' Roll Virtual Running™ Series, IRONKIDS®, World Triathlon Championship Series, premier running events including the Standard Chartered Singapore Marathon™ and City2Surf®, UTMB® World Series events including Tarawera Ultra and Ultra-Trail Australia™, Epic Series™ mountain bike races including the Absa Cape Epic®, road cycling events including Haute Route®, and other multisport races. The IRONMAN Group is the largest operator of mass participation sports in the world and provides more than a million participants annually the benefits of endurance sports through the company's vast offerings. Catering to the full athlete experience, the company portfolio also includes FulGaz® virtual cycling, the most realistic indoor riding experience connected fitness application aimed at preparing athletes for real-world events. Since the inception of the iconic IRONMAN® brand and its first event in 1978, athletes have proven that ANYTHING IS POSSIBLE® by crossing finish lines around the world. Beginning as a single race, The IRONMAN Group has grown to become a global sensation with hundreds of events across 55+ countries. The IRONMAN Group is owned by Advance, a private, family-owned business. For more information, visit www.ironman.com/about-ironman-group.
About Advance  
Advance is a private, family-held business that owns and invests in companies across media, entertainment, technology, communications, education and other promising growth sectors. Our mission is to build the value of our companies over the long-term by fostering growth and innovation. Advance's portfolio includes Condé Nast, Advance Local, Stage Entertainment, The IRONMAN Group, American City Business Journals, Leaders Group, Turnitin, 1010data and Pop. Together these operating companies employ more than 17,000 people in 29 countries. Advance is also among the largest shareholders in Charter Communications, Warner Bros. Discovery and Reddit. For more information visit www.advance.com.