Former Saris, Dorel Executive Jeff Frehner Named Chief Operating Officer at Lectric eBikes
September 14, 2021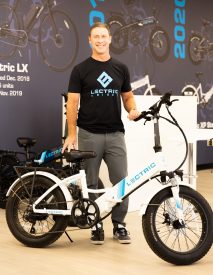 E-Bike industry leader poised for sustained growth with recruitment of industry veteran
PHOENIX (September 14, 2021) — Lectric eBikes, one of the fastest growing electric bike companies in the nation, announced the hire of Jeff Frehner as its new chief operating officer. Frehner, a former executive at Saris Cycling Group and Dorel Sports, joins co-founders Levi Conlow and Robby Deziel in their mission to deliver high-quality, affordable electric bikes to an expanding community of riders.
Frehner is a long-time industry executive, most recently serving as president of Saris Cycling Group. He previously served as president and executive of Dorel Sports-owned Pacific Cycle and Cannondale Sports Group (now Cycling Sports Group). Frehner holds a juris doctor degree from the Mitchell Hamline School of Law and acted as general counsel and director of human resources for Quality Bicycle Products from 1996 to 2001.
"We're fortunate to have Jeff join our team at a critical moment in our company's lifecycle, nearing 100,000 bicycles in circulation in less than two years," said Levi Conlow, Chief Executive Officer and Co-Owner at Lectric eBikes. "Jeff's deep industry connections and experience in building successful teams will help Lectric continue to deliver the most accessible electric bikes on the market. He shares our vision, which is to get as many people riding bikes as possible. Beyond his executional strengths, his veteran leadership and knowledge of the industry will be invaluable to a young and growing business."
Lectric has increased production by more than 500 percent since July 2020 and has been in a heavy hiring cycle since the first quarter of 2021, increasing the company's headcount by 40 team members. Frehner's experience will be paramount in successfully scaling the operational side of the business.
"An exceptional culture and vibe already exist at Lectric eBikes; it's infectious," said Frehner. "The goal is to help owners Levi Conlow and Robby Deziel set up Lectric eBikes for sustained success. We expect the company to continue to experience explosive growth given consumer demand for bikes in general, coupled with the brand proposition and unparalleled community engagement Lectric eBikes has developed in the electric bike vertical. Recent global conditions, including the pandemic, have jumpstarted direct-to-consumer shopping behaviors in the outdoor recreation category. Making sure the right foundation and a talented team are in place to meet a growing customer base is crucial."
Additional information on Lectric eBikes and its products can be found at www.lectricebikes.com.
ABOUT LECTRIC eBIKES
Lectric eBikes is one of the fastest growing electric bike companies in the nation. Its flagship XP 2.0 is exceptionally designed so that everyone can ride, delivering all the high-quality features of an elite e-bike, offered at an affordable price.
The commitment to ultimate accessibility originated in 2019 as the only brand in its category to be uniquely founded on trust. It started with a dad, a son and the dream of an electric bike: Brent Conlow simply wanted a sweet ride at an honest price. He invested retirement funds in his enterprising son, Levi, to develop the concept. Levi, in turn, entrusted his childhood friend, Robby Deziel, to engineer the prototype. At just 23 years old, the pair leaned into the accumulated wisdom and experience of a multigenerational population, tailoring an e-bike to their core customers' specifications. The brand's focus on approachability ultimately changed lives, enabling riders of all ages to go further and faster while empowering those with limited mobility to roam and to explore in a whole new way. It was the ride of a lifetime for everyone involved; Lectric achieved sales of $1 million in just three weeks, driven largely by word-of-mouth advertising. Today, the XP 2.0 and its counterpart, the XP Step-Thru 2.0, represent the most popular single models in the country, featuring unparalleled performance and speed—combined with signature accessibility, adjustability, foldability, sustainability and (of course) industry-shattering affordability. Lectric eBikes has sold nearly 100,000 electric bikes in just under two years. Their brand pillars of honest pricing, design integrity and real customer service have served as the catalyst for true adventure and, importantly, created an authentic community of biking enthusiasts.
###