Former pro Matthew Holmes joins the team at Sportive Breaks
January 11, 2023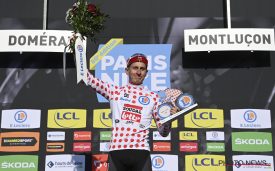 The team at Sportive Breaks are delighted to welcome former Lotto-Soudal rider Matthew Holmes to their team.
11th January 2023 – Manchester, UK /ENDURANCE SPORTSWIRE/ – British born, Matthew Holmes has enjoyed a successful cycling career, most recently riding for UCI World Team Lotto-Soudal: with career highlights including a stage win at the Tour Down Under, completion of the Giro d'Italia in both 2020 and 2022 and obtaining a polka dot jersey on the Criterium du Dauphine and Paris Nice. Holmes retires from professional sport this season, and his appointment at Sportive Breaks marks the start of an exciting new career path for the talented rider.
Sportive Breaks offered premium travel packages for cyclists looking to take part in Europe's most prestigious cycling events, including Etape du Tour and Paris Roubaix, as well as organising international cycling breaks and weekenders.
Holmes brings years of cycling and travel knowledge to the team at Sportive Breaks, and starts his new full-time position this week, in which he will be cultivating and developing bespoke travel packages for those looking to participate in the most prestigious and adventurous cycling events around the world. He will also be a friendly face on the ground at some of the most popular 2023 events, giving customers the chance to cycle with a former world team rider.
'We are thrilled to have Matt join us at Sportive Breaks, he will be a key asset to the logistics behind the preparation of our tours' says Alex De Waard, Director of Destination Sport Experiences UK and Sportive Breaks.
Alex continues, 'we are also very much looking forward to having him join us on some of our 2023 events, and are confident that he'll bring with him unrivaled wealth of experience and insight."
And Matthew adds, 'I'm extremely happy to be joining the team at Sportive Breaks. I have raced and trained abroad for most of my cycling career, so I feel I can understand the needs of the clients. I can't wait to help create memorable trips'.
For more information on Sportive Breaks, please visit https://sportivebreaks.com. The team can also be found on Facebook, Twitter and LinkedIn.
———————————————————- ENDS ———————————————————–
Images: https://drive.google.com/drive/folders/1QH2_7tHe4NyFJJTWxYFGZQd-w84D8cxV?usp=sharing
Contact
Name: Jordan Matthews – Compete PR
Email: jordanematthews1993@gmail.com
Phone: +447850 275234
EDITORS NOTES
Destination Sport Experiences caters for athletes who want to participate in the very best cycling, running and triathlon events across the world.
Created by Portman Travel Group, who have made significant moves in the sports travel industry in recent years launching Clarity Sports, Sportsbreaks.com and Amaze, Destination Sports Experiences is headed-up by Managing Director, Brendan Fox, who alongside his team, has decades of experience working in the global sports travel industry.
Destination Sport Experiences offer travel packages and guaranteed entry to marathons, cyclosportives and long distance triathlons around the world, together with VIP hospitality access to many of the top professional cycling events.
The Destination Sport Experiences team offer an impressive assortment of packages, including the Schneider Electric Paris Marathon, BMW Berlin Marathon and Etape du Tour – the only event that gives riders the chance to ride the exact same route as Tour de France pros, amongst many other great trips.
Destination Sport Experiences are fully ABTA bonded with an ATOL license, in line with the consumer financial protection requirements of UK travel law and also offer a COVID-19 guarantee, where a full refund, or the option to transfer a booking to another event, will be offered for all elements of a travel package if an event is cancelled or changes dates due to COVID-19.
The team have also opened offices in the US and Australia, with cycling travel brand Sportive Breaks and world leading running brand Marathon Tours & Travel joining the family.